Question: If you build a glass bridge and hang it 70 feet over the edge of the Grand Canyon, will Las Vegas visitors travel across the desert to see it? Answer: You bet. Each year, more than 250,000 people "skywalk" the West Rim, and demand for this engineering thrill ride is increasing.
The Skywalk is located in a remote stretch of desert owned by the Hualapai Indian Tribe. Diesel fuel, water, and waste are trucked in over a ten-mile dirt road. Cell phone and Internet connectivity is provided by satellite uplinks; in late 2009, satellite repeaters were installed that give visitors cell phone coverage in Guano and Eagle Points. The Bridge is out in the middle of nowhere.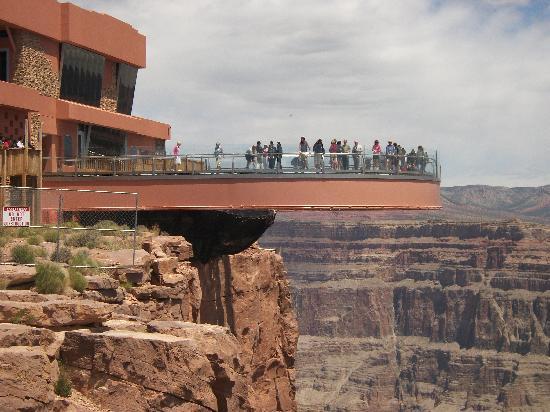 So why do people come? Simple: Nowhere else in Grand Canyon National Park can you walk past the edge and be suspended 4,000 feet above the Colorado River.
Crazy as it sounds, the distance from the Skywalk to the River is more than twice the height of the world's tallest building. For you "fact hounds," here's a short list of the planet's tallest edifices:
> CN Tower – 1,815 ft.
> Taipei 101 – 1,671 ft.
> Petronas Towers – 1,483 ft.
> Sears Tower – 1,450 ft.
> Empire State Building – 1,250 ft.
> Stratosphere Tower – 1,149 ft.
> Gateway Arch – 630 ft.
> Petronas Towers – 1,483 ft.
> Hong Kong & Shanghai Bank – 587 ft.
None of these man-made towers come close to the Bridge, which becomes even more spectacular considering you are supported over the precipice by 10-foot wide by 2-inch thick walkway made of glass. This isn't ordinary material:
Special low-iron glass comprises the Bridge's deck panels, which, as a whole, can support up to 800 people and withstand major earthquakes. The glass railings are five-feet tall by two-inches thick and have been engineered to defeat the high winds which are known to rip through this part of the Canyon.
The effect of this Glass Bridge will leave you breathless.
Looking out toward the horizon or down to the bottom, you'll feel as if your are floating over the Canyon's ageless depths. Cameras and other personal electronics are not allowed on the Bridge because they will scratch the surface if dropped. It's also the reason you'll be required to wear cotton booties over your shoes. If you need a photo of the occasion, simply ask one of the roving photographers authorized to take pictures, which you can pick up in the gift shop or download online at the attraction's website.
There is only one Skywalk Grand Canyon on the planet, and it owes its popularity to the fact that it appeals to a wide range of travelers. It's only 120 miles east of Las Vegas; driving time is 2.5 hours one-way. It's a great value, especially if you book it as a West Rim bus tour (remember, Skywalk tickets are not bundled with bus tour packages and must be purchased when you get to the site).
Making this trip to Sin City one to remember? Then put the Glass Bridge on your "must-do" list.
Visit the website http://www.grandcanyonwest.com/