Nicaragua is the premiere travel destination in Central America. About 50,200 square miles of area is covered by Nicaragua. Their native language is Spanish. The famous festival in Nicaragua is Santo Domingo de Guzman. The place is famous for its crystal clear beaches, crater lakes, tropical climate and myriad of places.
Make your trip an unforgettable experience by traveling to this place. It shares borders with the south of Honduras and north of Costa Rica, and has coastline along the Caribbean and the Pacific Ocean. The place is also famous for the main trading center in various products like cotton, coffee, and many other crops.
The place offers a great deal for those looking for the beauty of lush jungles and the friendly people. The place is blessed with natural attractions, Nicaragua Eco tourism, national parks and many more. The beauty of the place is one of the most prominent factors which compel tourists to opt for Nicaragua travel. There are innumerable islands and beaches on the Caribbean side such as Corn Islands, sandy surf break beaches, Penitas Beach and many more. Also the place is covered with tropical forests, lakes, active volcanoes, and colonial cities. There are also many adventurous sports like hiking, riding, waterfall rappelling and ocean kayaking. Apart from this, the place is known for the eco tours.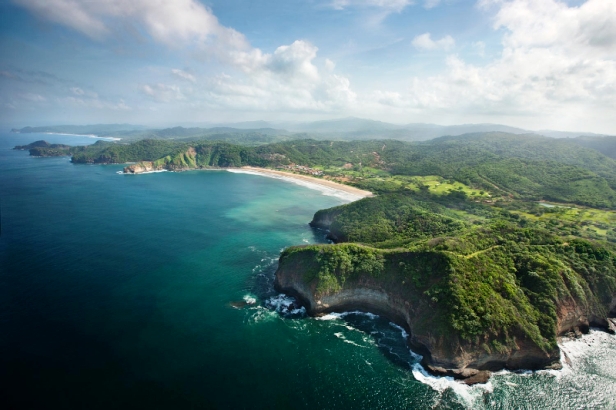 There are many restaurants in Nicaragua. The restaurants offer a wide range of cuisine, including Spanish and Italian. A very famous dish called steak is served with a sauce known as "chimichurri". This sauce is made from garlic, herbs and oil. Rice, beans and cabbage are the most common food found in Nicaragua. Their famous local sweet dish is "Cajeta de leche," which is made from nuts, coconuts condensed milk. Some of the famous destinations in Nicaragua are as follows:
1. Morgan's Rock Beach Ecolodge: The Morgan's Rock Hacienda & Eco-lodge resort is located in the middle of the Nicaraguan Rain Forrest. The place offers an impressive and exclusive natural travel experience. The resort provides you with a private beach and also with a wide range of exciting activities. Located on a 4,000 acre expanse of Nicaraguan jungle, nearly half of Morgan's Rock is a government-protected reserve. The remainder of this breathtaking property is set aside for low-impact agriculture (which provides our restaurant with freshest produce, meat, and dairy) and our award-winning accommodations.
2. The Barceló Montelimar Beach hotel: The Barceló Montelimar Beach is a five-star resort in Nicaraguan located near the Pacific Ocean. The resort provides you with two and a half miles of beachfront, and with the biggest swimming pool in Central America. The package is for 7 days including all your meals and drinks, private motor-coaches and many more. In addition to the hotel's excellent cuisine, and amongst other facilities, you can enjoy its 3 pools – one of them is the biggest pool in all Central America – a gym, a jacuzzi, a riding school, a sports court, and a night club. It is worth highlighting that all rooms and bungalows are spacious, fully equipped and have magnificent views.
3. Piedrasolas A Pelican Eyes Resort: This resort is located in the beach town of San Juan del Sur on the Pacific coast. It is an impressive place to stay with your loved ones. The resort laid more emphasis luxury and high-quality accommodations. They offer day amenities which includes surfing, sky diving, sailing, and deep sea fishing. Perched on a lush hilltop on Nicaragua's pacific coast, our San Juan Del Sur hotel overlooks a stunning, crescent-shaped bay and breathtaking sunsets. Romance and relaxation greet you the instant you arrive at this truly unique Central America resort. We proudly offer a distinctive blend of gracious "Nica" hospitality, comfortable Nicaragua hotel accommodations, international cuisine, local charm and panoramic views of San Juan del Sur – Nicaragua's destination beach town.