The historic SoHo neighborhood ("SOuth of Houston") is bounded by Houston Street to the north and Canal Street to the south. Originally known as the Cast Iron District due to the many buildings with such façades, SoHo's historic roots date to the mid-19th Century, when cast iron was discovered as an architectural material that was cheap, flexible, yet sturdy enough to use to build decorative building facades.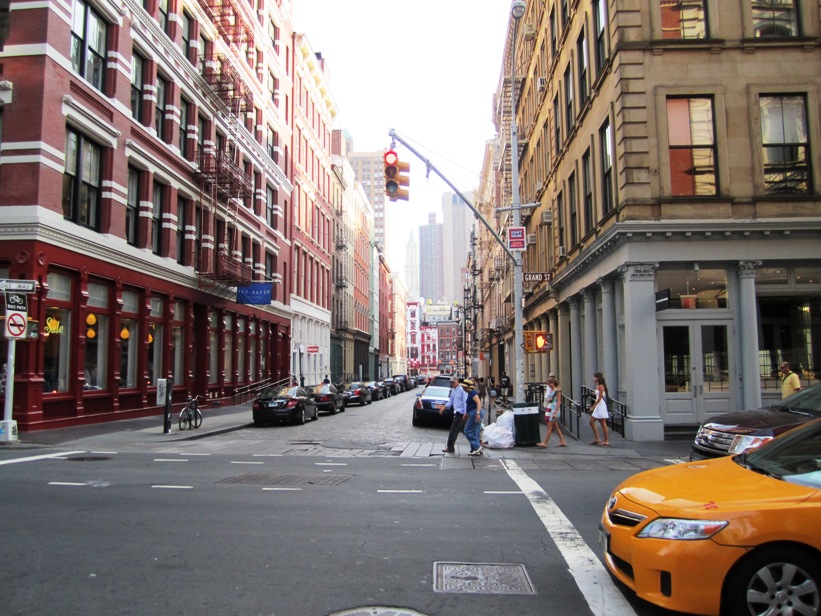 Craftsmen transformed what had been rather bleak looking industrial buildings made of brick and mortar into structures of architectural splendor and grace. SoHo today still exhibits the greatest concentration of cast iron architecture in the world. SoHo's decorative facades, along with its ornate fire escapes, Corinthian columns, oversized windows, and beautiful lobbies, are the signature features of a neighborhood that first-time visitors often instantly fall in love with.
For the bulk of the 20th century, this neighborhood remained a relatively quiet and unassuming manufacturing district. The SoHo we know today emerged in the 1960's and 70's when artists discovered that the cheap factory spaces vacated by departing businesses could be converted into lofts and studios. The wide spaces and tall ceilings the factories had required were especially appealing to artists as they could create and store large pieces of artwork there.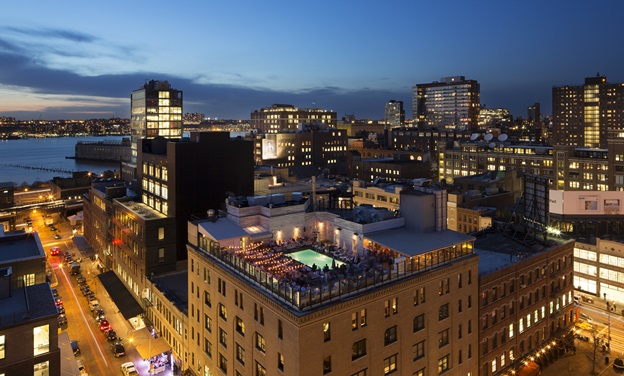 After the SoHo Cast Iron Historic District became synonymous with the inflated art prices and lavish exhibits of the 1980s, more and more artists sought out other areas to work and reside, such as Long Island City, Williamsburg, and Chelsea. In turn, SoHo loft prices skyrocketed, and multimillion-dollar prices for full-floor lofts became rather common in the new millennium. Rents rapidly increased, and galleries moved north to the old garages of far-west Chelsea. In an ironic twist of fate, now galleries are leaving overpriced far-west Chelsea for the Lower East Side in the wake of the New Museum of Contemporary Art building its permanent home on the Bowery.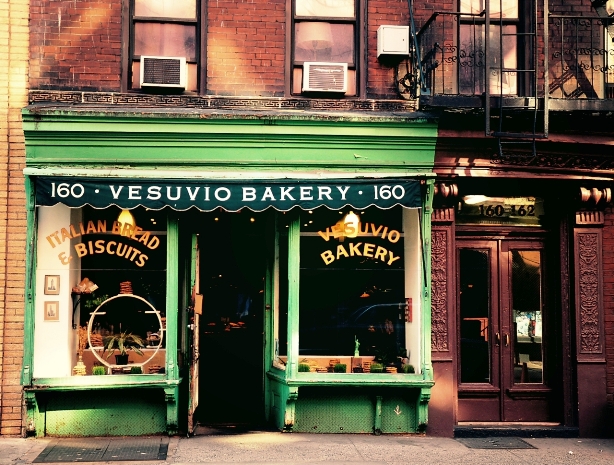 While western SoHo fortunately is largely protected from the current spate of building ugly large glass towers, Donald Trump's massive hotel on its westernmost fringes as well as forthcoming projects on the Bowery will permanently change the historic character of this fragile neighborhood. Architecture buffs will want to take our walking tour of the new architecture of Manhattan, which takes in a number of recent SoHo creations.
Now that SoHo has flourished and grown for over 35 years—ever since it gained credibility and status as a neighborhood when New York City officially recognized this up and coming district in 1973—visitors marvel not only at the architecture, but also at the vibrant cultural and commercial life on the neighborhood's historic streets.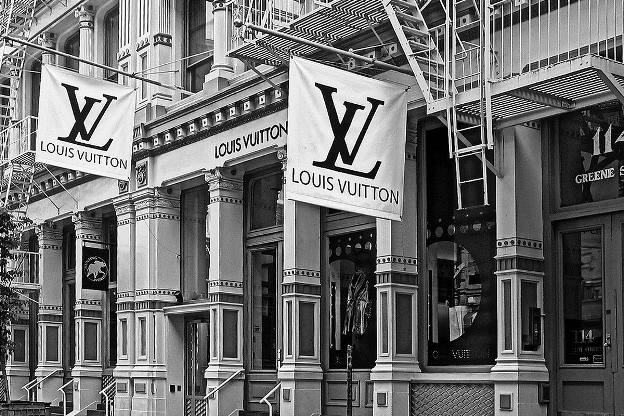 During the day, the sidewalks in this district are generally teeming with tourists, shoppers, and vendors selling t-shirts, jewelry, and original works of art. Shopping addicts know the area has some terrific vintage clothing stores that are true SoHo shopping experiences and bargains. Lower Broadway is home to everything from Bloomingdale's to Calypso (whimsical, gorgeous clothing and furnishings) to Pearl River Mart (Asian housewares and gifts.) Many of SoHo's famous stores and boutiques are found on Prince and Spring streets, with Prada, Chanel, Kid Robot, and two relatively new additions, Jill Sander (at the corner of Crosby and Grove Streets), and an Apple Computer Store (in a former post office on Prince Street) all located in this vicinity.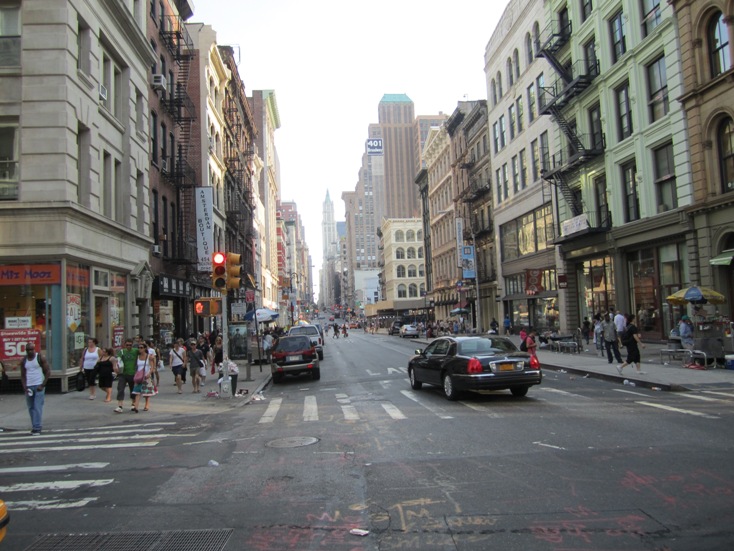 In fact, there are so many cool boutique, vintage and consignment stores in SoHo to choose from. Add, a spacious accessories shop, caters to handbag connoisseurs who worship designer bags but would rather not drop thousands at a luxury boutique like Prada or Louis Vuitton. West Broadway, the Champs-Elysées of SoHo, also features an impressive list of boutiques across a broad spectrum of choices. Tag Heuer Boutique presents an impressive collection of Swiss luxury sports watches.
Cleo & Patek, also on West Broadway, deserves mention for its fine accessories collection, and if men's fashion is what you're looking for you'll find high quality clothing at Ralph Lauren, Tommy Hilfiger, and Reiss of London here, or just around the corner and down Spring Street, you can check out the latest J. Lindeberg collections.
Great restaurants are literally everywhere you turn in SoHo, and they are well-known for both the fine cuisine they serve and their stylish milieus. The French bistro Balthazar, the romantic new American cuisine of Savoy, and authentic Raoul's and Fiamma for Italian fare are all highly recommended. Along West Broadway you'll find celebrity hotspot, Cipriani Downtown, Barolo, and the inviting, often open-windowed façade and lively atmosphere at Felix. For Japanese cuisine two blocks over on Sullivan Street you can dine at Blue Ribbon Sushi.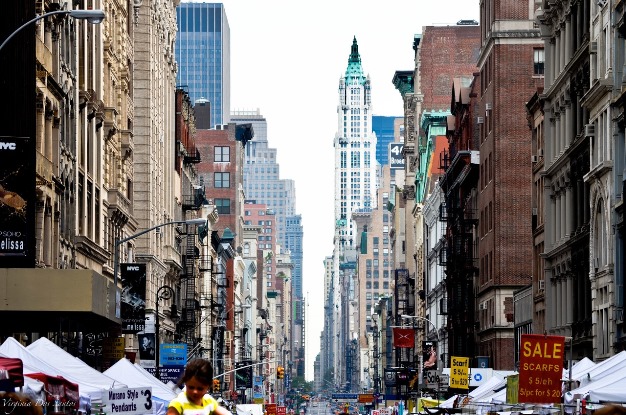 Beloved for its neighborly old world beauty and charm, and its nearly skyscraperless skyline, SoHo has also become a favored choice for luxury hotel dwellers, especially among those who wish to escape the hustle and bustle of midtown Manhattan. The Mercer Hotel is SoHo's foremost luxury boutique hotel and the first of its kind to offer an authentic taste of loft living.
At the lower end of West Broadway near Canal Street sits the noble SoHo Grand, a popular overnight choice for visiting celebrity clientele, and on the western side of SoHo lies 60 Thompson, a boutique hotel designed by famed interior designer, Thomas O'Brien.
Notable landmark architecture in the SoHo neighborhood, aside from the approximately 250 cast iron buildings (such as the E.V. Haughwout Building at 488 Broadway), include The Little Singer Building on Broadway, designed by Beaux-Arts trained New York architect Ernest Flagg in 1902; the six-story iron front building at 112 Prince Street designed in 1889 by Richard Berger; and lastly, New York's most peculiar subway map, an 87-foot long work of art consisting of concrete rods embedded in the sidewalk at 110 Greene Street which was created by Belgian artist, Francoise Schein, in 1986. You might also admire the five-story trompe l'oeil mural at 114 Prince Street, which is a longstanding two-dimensional cast iron façade—in paint.
If you want to stay in a historic neighborhood where great restaurants abound, where the stores are boutique chic, and hotels marvelously accommodating, SoHo is simply the place to be.