For those who like bikes, there's no place like Sturgis, a small town (population 6,442) that annually hosts the biggest motorcycle rally in America. Historians trace the event back to 1936, when Clarence 'Pappy' Hoel established an Indian motorcycle franchise in town and founded the Jackpine Gypsies Motorcycle Club. Two years later, the club held the first Black Hills Motor Classic, with nine participants and a small audience.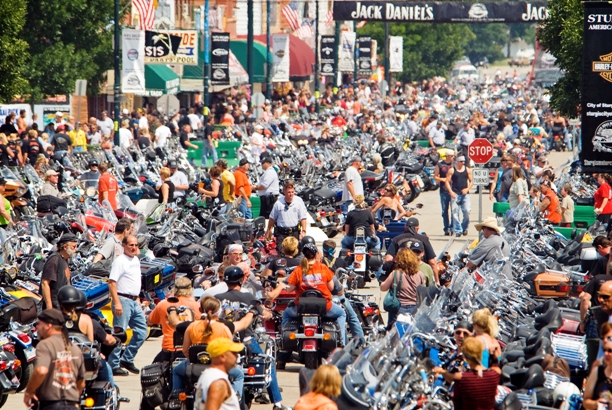 Today, the rally—known to most as just Sturgis—attracts over half a million people every year for a week of bike shows, concerts, races, demos, group rides, camaraderie and plain old partying.
Attendees run the gamut from those who live the Harley life to CEOs who put on their leathers only on weekends. Hundreds of vendors sell clothing, accessories, food and drink, and tattoo artists do a brisk business. It's like Mardi Gras with chrome, though things have quietened down some since the good old days, when it was fairly common to see naked people riding down Main Street. The average attendee is in his mid-forties, and it's not uncommon to see baby strollers among the hogs.
Yes, there's lots of booze (Jack Daniel's is a major sponsor, and bobbing for free beer in a bucket of ice water is a tradition at the Dungeon Bar); yes, there's a lot of rock 'n' roll (recent concerts have included ZZ Top, Kid Rock and George Thorogood); and campgrounds like the Buffalo Chip (site of many of the concerts) get pretty wild, but Sturgis isn't all just a big party. Outside town, the scenic minor roads of the Black Hills National Forest are some of the most gorgeous anywhere, and legions of riders head to Mount Rushmore and the Crazy Horse Memorial, and beyond. Back in town, bike buffs explore the Sturgis Motorcycle Museum and Hall of Fame. And lest we forget that bikers are all big romantic softies at heart, each year Sturgis's county courthouse issues more than 100 marriage licenses during bike week. Ain't love grand?