The Disney film The Princess and the Frog was based in New Orleans during Mardi Gras, and used the beignet as an important part of the overall plot. The main character, Tiana, works hard to open her father's dream restaurant using her own beignet recipe to earn much needed start-up cash. The movie is targeted towards children, but any parent viewing it alongside their enchanted little one will no doubt wonder about those seemingly magical beignets. Tiana can't seem to make them fast enough, so what exactly are they?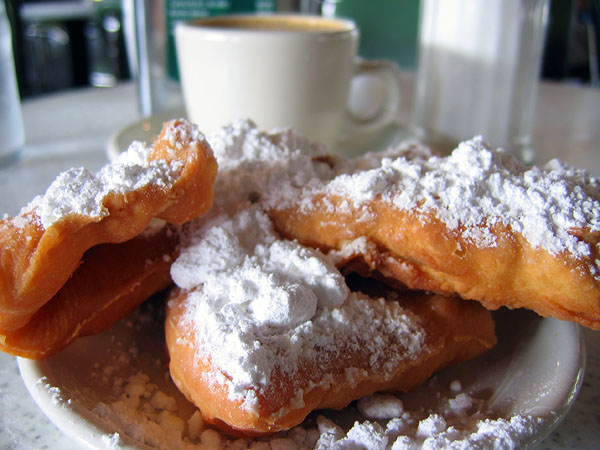 Beignet is French for 'bump', which does nothing to describe the actual food. A beignet is a sort of fritter, deep-fried and later doused in icing sugar. Fritters are nothing new to North American cuisine; we see apple fritters at every coffee shop and bakery from Miami to Vancouver. However, the beignet is specifically French and subtly different from those coffee shop knock-offs.
To begin with, the French brought over beignets to New Orleans during the 18th century. Fritters originate in England and are made from yeast pastries. Beignets are made from choux paste, a mixture of butter, water, flour and eggs. Since there is no rising agent, the ratio of liquid to dry ingredients is much higher. With more water in the recipe, steam is created during the frying process, causing the choux paste to quickly rise. Of course, the only way to eat a beignet is immediately after frying, fresh and hot and delicious!
New Orleans tradition dictates every meal be followed with a serving of sweet beignets covered in icing sugar (yum!). Café du Monde is arguably the most famous venue for the New Orleans beignet, served as a trio alongside a steaming café au lait. However, if one were to venture out to some of the more upper class restaurants in New Orleans, one could definitely find savoury versions of beignets on the menu. The Upper Savoy serves a potato beignet that has become extremely popular.
The New Orleans beignet is not a donut, a fritter, or even an éclair. The beignet is a New Orleans symbol of French colonialism, enduring faith in the success of settling the New World. It may be a simple food, but it gives a lot of people a lot of pleasure every single day, and sometimes that is all we need. Just a bit of pastry to put that spring back in our step.