On a sunny Sunday morning, December 7, 1941, Japanese planes appeared over the island of Oahu and began bombing the U.S. Navy's Pacific fleet, the bulk of which was docked in Pearl Harbor. Ninety minutes later, 2,403 Americans had been killed. Nearly half died on the 608-foot battleship USS Arizona, which sank in nine minutes without firing a shot after its forward ammunition magazines exploded catastrophically, taking 1,177 sailors and marines to their deaths. The attack crippled the fleet, severely damaging or destroying 12 warships; destroyed 188 aircraft, representing nearly all the planes on nearby air bases; and catapulted the U.S. into WWII.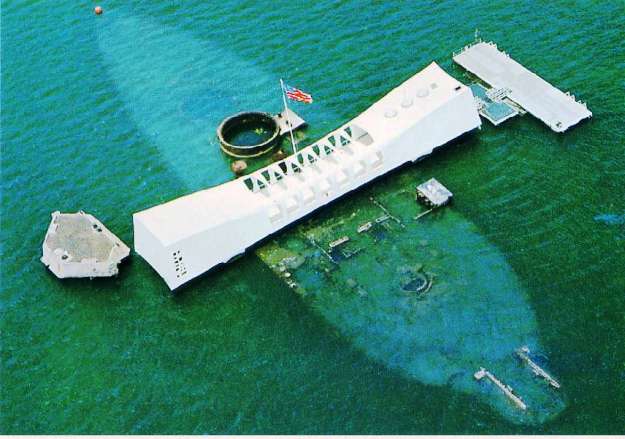 More than 20 years later, in 1962, the USS Arizona memorial opened to the public, its bone-white rectangular structure spanning the middle portion of the sunken ship, which lies untouched and rusting just a few feet below the surface. A visit is a sombre, poignant event, as you step from the ferry—the only access—into the shrine-like space, peer over the side towards the sunken ship, and begin to notice the spots of oil that still bubble up from her tanks to the surface, about a quarter of a gallon a day, like a dark shadow of blood. At the far end, a memorial marble wall includes the names of all those killed on the Arizona, along with those of surviving crewmen who later chose to have their ashes interred with their comrades in the sunken ship.
At the opposite end of Battleship Row, where eight ships were moored together off Ford Island on that grim day, sits the 58,000-ton battleship USS Missouri, which served as part of the force that carried out bombing raids over Tokyo and provided firepower in the battles of Iwo Jima and Okinawa. While the nearby Arizona represents the beginning of American involvement in the war, the Missouri represents its end, as it was on the deck of this great ship, the last battleship the Navy ever built, that the war finally came to an end with the signing of the Japanese surrender on September 2, 1945. Visitors are shuttled to Ford Island on military-type buses while listening to a 1940s-style radio programme (complete with news clips, wartime commercials and music).
Once aboard the ship, you watch an informational film and are then free to explore on your own or take a 60-minute guided tour. The last stop on the tour of Hawaii's role in the war is the slender 311-foot USS Bowfin, one of only 15 WWII submarines still in existence today. You can go below decks on this famous submarine—nicknamed the 'Pearl Harbor Avenger' for its successful attacks on the Japanese—and see how its 80-man crew lived during wartime.