The Greater Fort Lauderdale area is a vibrant, year-round vacation destination offering more with 23 miles of Blue Wave Beaches, 300+ miles of inland waterways that run from the Intracoastal to the Everglades, 4,000 restaurants, top shopping, attractions, and a thriving arts and culture scene. One of America's greatest and most unusual treasures is the unique natural landscape of South Florida with its remarkably diverse flora and fauna and rare ecosystems.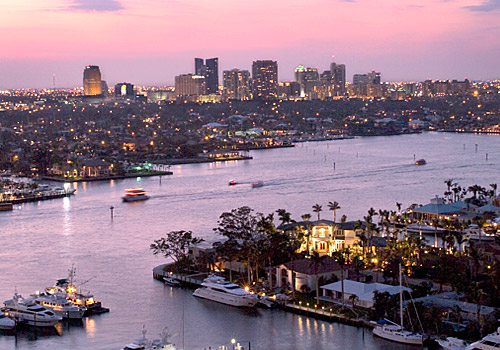 And there is no place better to travel to experience the Everglades, explore a magical underwater world, study fossils, butterflies, or tropical flowers, or simply soak up the pleasures of parks and Blue Wave beaches than at the very center of South Florida's Gold Coast: Greater Fort Lauderdale.
Offering every attraction and activity from airboat tours to Scuba expeditions to museum discoveries, there are few vacation destinations that can match the Fort Lauderdale region's experience with nature.
Greater Fort Lauderdale, the "Venice of America" and "Yachting Capital of the World" is all about enjoying the water. Whether you want to float on top of it, swim through it or dive under it, there's no better place to "make a splash" than Greater Fort Lauderdale.
Fort Lauderdale Must-Sees
Stroll along the Riverwalk, a tree-lined esplanade along the New River, to Fort Lauderdale's Arts and Entertainment District, home of the Museum of Art, the Museum of Discovery & Science and the Broward Center for the Performing Arts.
With 300 miles of navigable inland waterways, Fort Lauderdale has been called "the Venice of America." Board the Water Taxi and take the scenic route, cruising past opulent waterfront mansions along the Intracoastal Waterway and New River.
Las Olas Boulevard, the lively heart of Fort Lauderdale, features several blocks of chic shops, galleries and bistros.
Get lost in a colorful swirl of Lepidoptera at Butterfly World, home to 10,000 butterflies of 50 different species. Also check out the gem-hued hummingbirds.
Just a short ride out to sea, Fort Lauderdale offers some of the best shallow-water diving and snorkeling on the East Coast, thanks to a 69-mile natural coral reef system and numerous shipwrecks.