Barbecue is one of the most beloved food items Texas. Texas barbecue has a number of variations that range between different regions of the state. Texas barbecue can be divided into four basic regions, central Texas, East Texas, West Texas and South Texas. In the center of the state, barbecue is known for the high quality of the meat, and is considered by some to be the best barbecue in the state of Texas.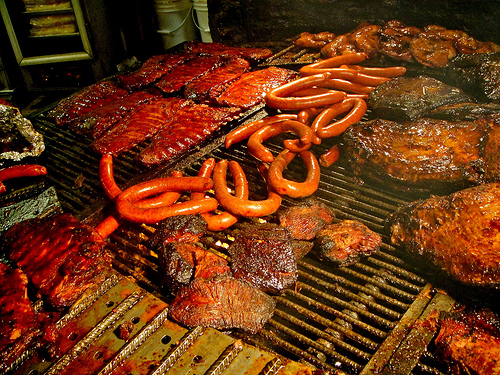 Barbecue holds a special place in the heart of the people of Central Texas. Cities like Lockhart, Taylor and Luling serve some of the best barbecue at some very famous long standing barbecue restaurants. The tradition of serving Central Texas barbecue started way back in the 19th century. Original settlers of the region from Germany and other European countries started the tradition of Central Texas barbecue. The meat markets in those periods used to serve cooked meat on butcher papers.
These settlers established meat markets and according to their culture they used to smoke the leftover meat in an attempt to preserve it for future meals. They smoked these leftover cuts of meat (usually pork and beef) over firewood mostly of pecan or oak and occasionally mesquite. The leftover cuts of meat were never called barbecue by the original locals, the Anglo farmers in the area started calling it barbecue and that is where the term earned its fame.
The experience of having a barbecue dinner in any Texas restaurant is unique. A popular method of getting your food at a typical Texas barbecue restaurant consists of taking a tray from the counter and preparing to load it up with the local barbecue and side dishes. You are then served the meat, along with slices of bread and in most cases chopped onions. The meat is usually carved in front of you right on the spot. The most available types of meat for a barbecue include brisket, sausage, pork ribs and beef ribs.
Categories: Abacos, Texas, USA