They say the sands are softer than a feather blanket, they say that this is a little spot of heaven on earth and they are right. It won't be long until you are the 'they' spreading the word about the Maldives, a charming geological eccentricity nestled in the middle of the azure Indian Ocean. But shush, we don't want too many people to disturb these islands which are quintessentially picture perfect, where you'll find the most pristine sands, palm fringed beaches and crystal clear waters that are so warm you'll feel like you're in a bath.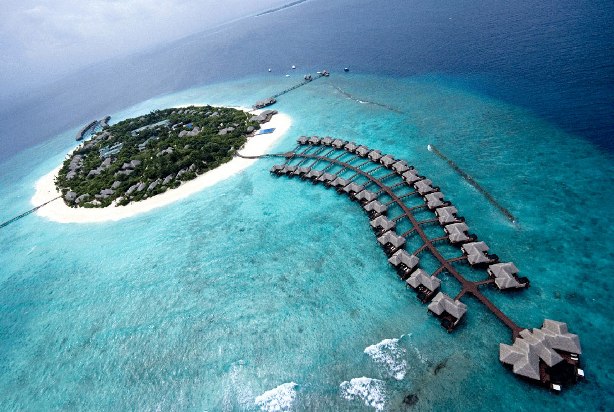 To experience the above you will want to stay in one of the best resorts that the Maldives has to offer. Please have a look at our top five:
Kuredu Island Resort – From the moment you arrive you at Kuredu Island Resort will see just how much this large island has to offer you and the potential it has to create incredible memories. For those who like relaxing there is of course the white soft sand to lie on and the azure sea to swim in. A massage would be the perfect way to end the afternoon before heading to one of the a la carte restaurants for a romantic dinner.
Meeru Island Resort – You just have to head a little further east to reach Meeru Island Resort, a location which is perhaps more remote than other islands in the Maldives but what you discover here, off the beaten track, is well worth the extra bit of travel. You'll be welcomed by 70 acres of lush vegetation, married with the white sands which are fringed by tall coconut palms.
Vilamendhoo Island Resort – They say good things come in small packages and that's certainly true for Vilamendhoo Island Resort & Spa which is just 250m wide. After a stunning flight in by seaplane, as you step on the island you will feel as if it is all yours. Some days it may be hours until you see another person particularly if you make the most of your terrace and start the day with a romantic breakfast for two there.
Lily Beach Resort – Perhaps the Lily Beach Resort & Spa was named so because of the lily white sand that beautifully borders Huvanhendu Island, or perhaps it was named so because you'll leave feeling as pure as a newly blossomed lily. As your holiday unfurls like the petals of the lily itself you will learn that this resort is about more then the pristine beaches, lush tropical vegetation and the exotic house reef.
Olhuveli Beach Spa & Resort – This is truly your time, if you want to laze about all day you can or if you want to be an explorer you can, Olhuveli Beach Spa & Resort is your oyster and it's up to you what you do. Escape the pressures of modern life, as you forget the real world and become immersed in all that this tropical Maldivian island has to offer you.