Born in Shirley Center, Massachusetts, in 1879, Benton MacKeye was a naturalist, an early employee of the U.S. Forest Service and a man who thought big. In 1921, fearing that the pace of urban-industrial life along the eastern seaboard was taxing people's sanity, he proposed a trail that would run from the highest point in New England to the highest point in the South, with wilderness camps along the way.The camps were never built, but the Appalachian Trail was, its last link blazed in 1937.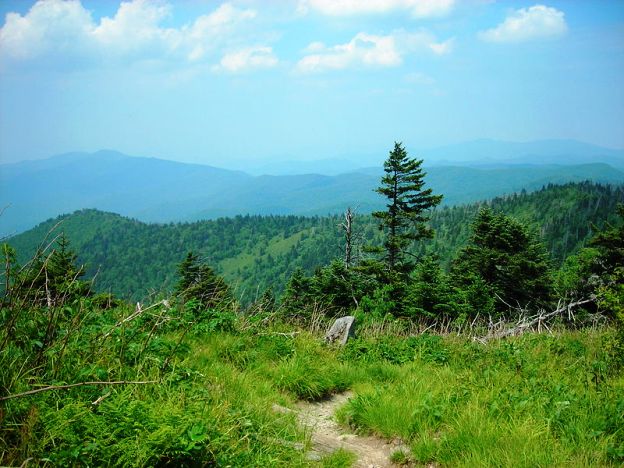 Today, between three and four million people take a hike along a portion of the trail every year, while 500 to 600 'through-hikers' complete the entire 2,175-mile journey from Georgia's Springer Mountain to Maine's Mount Katahdin —a trek of about five million steps, passing through 14 states, eight national forests and six national parks.
Most through-hikers travel north, leaving Springer Mountain in March or early April and finishing on Mount Katahdin in September. The first leg of rugged wilderness hiking runs through the Chattahoochee National Forest in the southern Appalachians near Dahlonega. The trail then threads the border between Tennessee and North Carolina, with more than 70 miles within Great Smoky Mountains National Park.
A full quarter of the trail (544 miles) runs through Virginia including 107 miles through Shenandoah National Park, known for its gorgeous scenery and an excellent option for people who want to do only part of the trail. West Virginia's section is only two miles long, but ironically, the state's Harpers Ferry is the home of the Appalachian Trail Conservancy headquarters. In Maryland, the trail runs for 41 miles across the Potomac River and along the Chesapeake and Ohio Canal.
Once you cross into Pennsylvania you're about halfway done, heading along easy trails in the Michaux State Forest and the Cumberland Valley, and then crossing the Susquehanna River and beginning a hard, rocky route northeast along the eastern rim of the Alleghenies. At the Delaware Water Gap, the trail enters New Jersey, passing through High Point State Park and at spots, affording views of the Manhattan skyline.
Categories: Abacos, Georgia, USA
Tags: Adventure Travel, Appalachian Trail, Georgia, Hiking