A true gem of an island of the coast of Naples (Italy) lies the beautiful Capri (pronounced Ca-pry, with the emphasis coming on the first syllable). It is a small Mediterranean island approximately two miles wide and four miles long. It is mostly mountainous and it rises majestically out of the sea. There is no need for a car, as the island is well-served by buses, taxis, and believe it or not funiculars.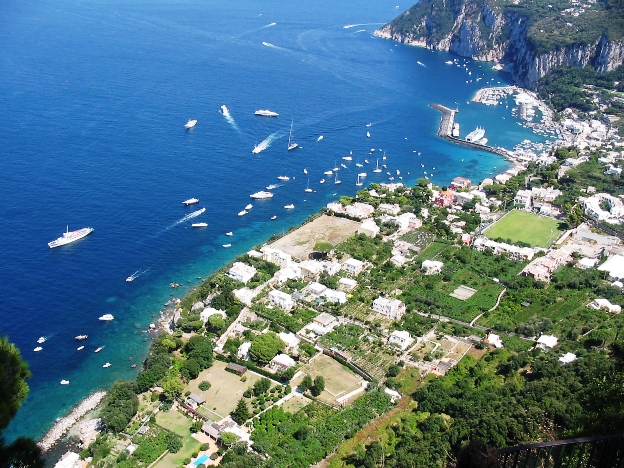 Capri is a tiny Italian resort town, but it is full of jet setters, movie stars, international businessmen, tourists, etc. This is "the place" to be seen in southern Italy, rivaling the resort of Costa Smeralda on the island of Sardinia.
The island has a charm like no other with outdoor cafes, restaurants, shops, white colored buildings, archways, narrow passageways, wrought-iron decor and many unique flowers and vegetation.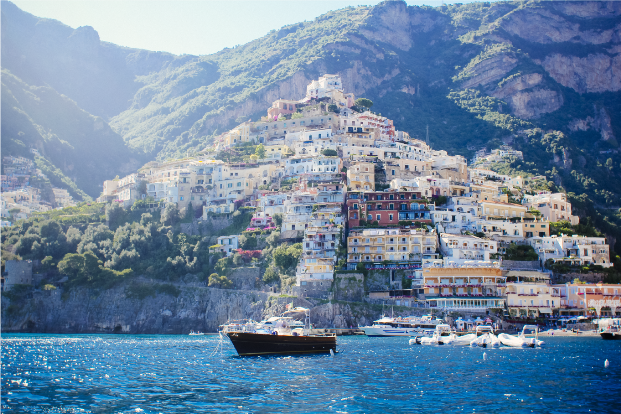 The best time to visit is in the spring when the island is overrun with fragrant orange blossoms, roses and jasmine.
The air becomes more crisp and the fresh smell of ocean is evident as the spring-time breezes gently blow across the island.
Arriving in Capri
When you arrive in Capri, you will most likely dock at Marina Grande, the busy port bustling with tourists and visitors. It has a little sand-pebble beach where you may see some folks playing some ball. This is the least attractive of the island communities.
From there you can take a funicular up to the part of town where the hotels (alberghi) are located. It is recommended that you travel lightly.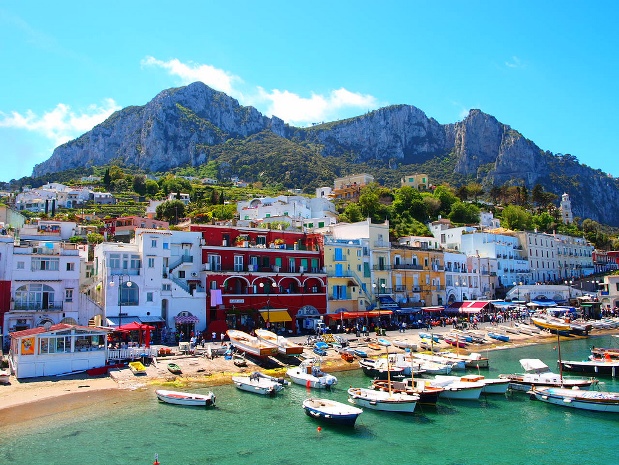 Grotta Azzurra (Blue Grotto)
The main attraction on Capri is the Grotta Azzurra, or the Blue Grotto. It is a true and beautifully work of mother nature. It is a sea cave flooded with a unique and brilliant light that is uniquely formed by the conditions of that particular cave. There are a few of these in the world, and the one in Capri is one of the most famous.
Swimming in Capri
The coastline of the island is very rocky and jagged, so it does not allow for good swimming. There are very few sandy beaches. Most people opt to use their pool in their hotel.
Near the Blue Grotto is the Bagni Nettuno where you can swim, however, you must pay a fee for use of a cabana, deck chairs, towels, etc.
Another option for swimming is Bagni di Tiberio, it is a short walk from a villa that has many ancient Roman ruins.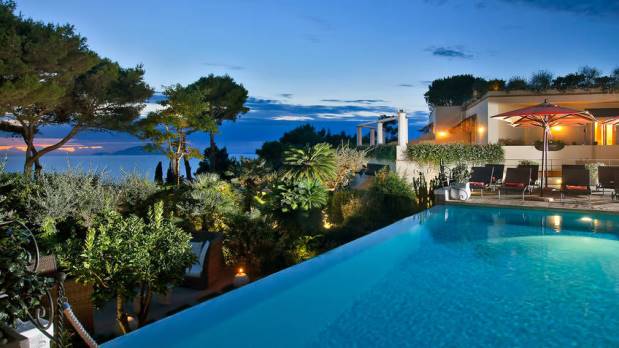 Where to Stay in Capri
Because of the popularity of the island, it can be known as a tourist trap, so be careful not to overspend. After all, it is a ritzy resort town, so it is best to try and book ahead for hotels and other accommodations. Do not even think of arriving on the island without a reservation in the summer. There are many sites online where you can review the hotels that are within your budget.
A trip to Capri should be on everyone's agenda if you are planning a vacation in Italy. It is a truly remarkable place filled with great beauty that shouldn't be missed.