The Caribbean has, in our humble opinion, the best beaches in the world, and choosing just 10 is, well difficult. The Beach List is the product of our travels across the region, having combed beaches, snorkeled reefs and waded in waves across the Caribbean Sea. Now we offer our picks for the best beaches to visit, in no particular order. See you in the sand!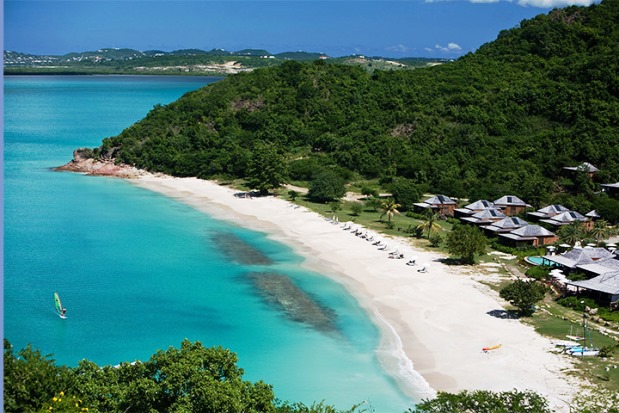 1 Palm Beach (Aruba) – The renowned two-mile-long strip known as Palm Beach is home to glamorous high-rise hotels and dotted by water sports concessions, piers, beach bars, restaurants and shops. Calm waters make this a comfortable haven for swimmers and snorkelers.
A walk along the coast at dawn or sunset is perfect for exercise and quiet reflection. Taking in the magnificent tangerine sunset or enjoying candle-lit, barefoot dining on the beach can be the perfect finale to a lazy or exciting day of sun and sea.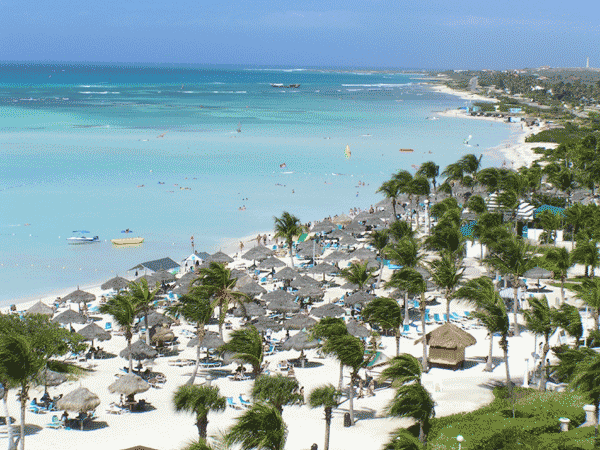 2 Grand Anse Beach (Grenada) – 3km beach with sugar-white sand, lots of space & shallow waters. A silky stretch of sheltered white sand where visitors and locals enjoy the view of the capital, this world famous beach spans two miles/three kilometres along the southwest coastline. Nearby water sport specialists, hotels, restaurants and vendors offer a variety of services and local products.
3 Johnson's Point (Antigua) – Johnson's Point beach is a unique beach because of its combination of relative seclusion and connectedness. This isn't as crowded as some of the other Antigua beaches, but it still within reasonable distance to civilization. During peak tourist times, Johnson's Point can still get a bit crowded, yet it remains as one of the more remote beaches on the island year-round. From St. John's, Johnson's Point is located on Valley Road coastal highway between English Harbor and North Antigua. Stop over while exploring the island and your bound to appreciate this great tropical location.
Made up of secluded coves; these white soft sand beaches are a must for snorkeling & swimming
4 Pink Sand Beach ( Bahamas) – One of the world's most photographed beaches, often voted world's best by travel publications. 5km's of salmon pink colored sand, due to red plankton that has mixed with the fine white sand.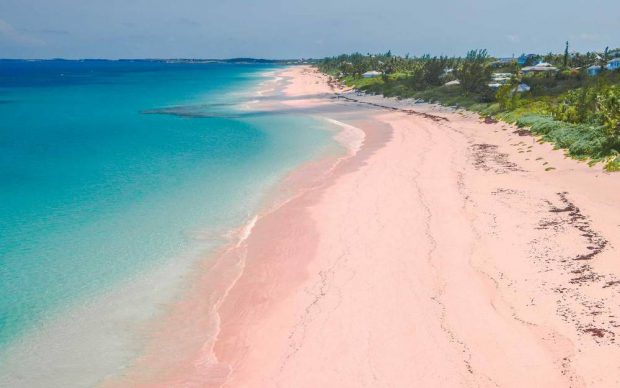 5 Crane Beach (Barbados) – Often voted as Barbados' most beautiful beach. Crane Beach boast a powder soft white/pinkish sandy beach, with crystal clear azure waters and a backdrop of jagged cliffs and wavering palm trees.
6 Negril Beach (Jamaica) – Negril, Jamaica is home to miles of pristine sand beaches, crystal clear waters and dramatic rugged cliffs; a stunning combination of landscapes that cannot be found anywhere else on the island. The locals have dubbed this city the "Capital of Casual" for its informal island vibe. Laid back atmosphere and Jamaica's prettiest beach. A lot quieter than Seven Mile beach.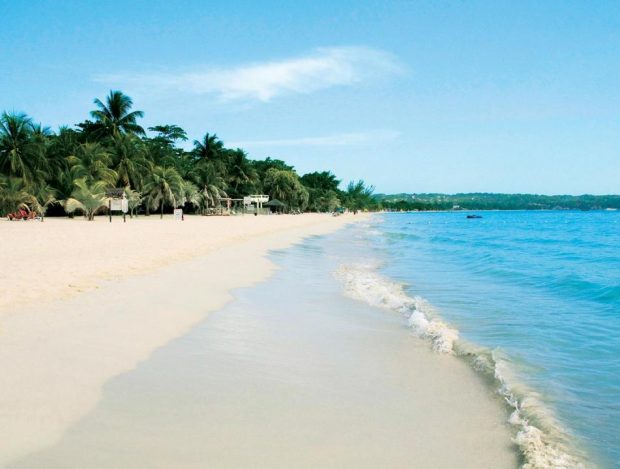 7 Englishman's Bay (Tobago) – Englishman's Bay is a secluded beach on the leeward coast of Tobago, between Castara and Parlatuvier. Although the bay does not draw the large numbers of beach goers that Tobago's western beaches do, it is considered of the island's most beautiful sheltered beach with fine white sand, crystal waters & surrounded by a palm jungle.
8 Grace Bay (Turks & Caicos) – Grace Bay Beach is situated on the north-east coast of Providenciales stretching over several miles. It provides access to water sports activities such as parasailing, hobie-cat sailing and windsurfing and is considered to be one of the best beaches in the world.Part of a national marine park, this beach has fine white sand, calm turquoise waters and is protected by a barrier reef.

9 Trunk Bay (US Virgin Islands) – Trunk Bay has sands white and sparkling, water crystal clear, little fish peeking at your toes,gently rolling swells or mightily pounding surf, all surrounded by coconut palms gracefully waving a welcome. A beautiful beach with crystal clear waters, considered one of the best places for snorkeling in the Caribbean.
10 Shoal Bay (Anguilla) – Put Angullia on the tourism map; sugar-white sand, crystal clear blue waters & coral reefs. Anguilla's most famous beach, Shoal Bay East, has it all: a wide swath of creamy soft sand over a mile long; the island's most extensive buffet of beach bars and restaurants; a comfortable collection of small beach resorts; and an offshore reef that attracts colorful tropicals along with snorkelers, divers and glass-bottom boaters.