The French Quarter is a fascinating, sultry melting pot of French, Spanish, Italian, Caribbean, African and Southern styles that magically blends decadence and elegance, conservatism and debauchery, extroversion and sleepiness, gentility and tawdriness. It's hard to imagine a more impulsive or seductive city (this is where Rhett Butler brought Scarlett O'Hara for their honeymoon). Much changed superficially and profoundly when one of the nation's fiercest storms ever, Hurricane Katrina, damaged levees, which led to widespread flooding in August, 2005. But the city has shown formidable resilience. Within a year, the majority of the sites that made 'The Big Easy' a perennially favorite tourist destination were back and going strong.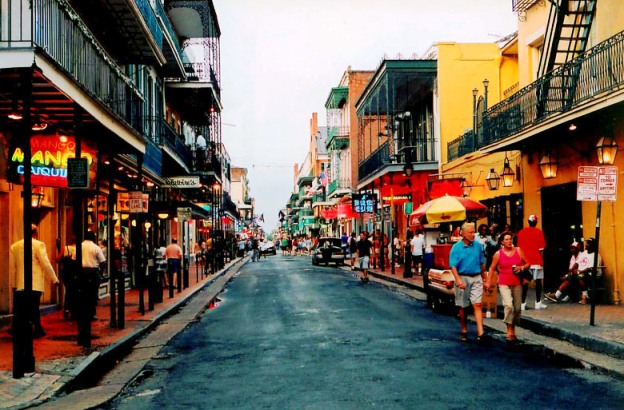 Many of these myriad pleasures are packed within the lively grid of streets that make up the Vieux Carré (aka the French Quarter), which escaped most of the flooding and suffered relatively minor storm damage. It is the city's most touristy area, yet also its heart. The French laid out the Quarter's 90 blocks of narrow streets in the 1720s, and the Spanish—who ruled the Louisiana Territory during the mid to late18th century—further developed it.
Indeed, despite its name, the neighbourhood looks more Spanish than French architecturally. Gloriously faded landmark buildings with wrought-iron balconies contain quirky, sometimes swanky, stores selling museum-quality antiques, alongside others hawking alligator T-shirts and voodoo paraphernalia.
Wherever you stroll, you'll see musicians, magicians, psychics and tap dancers (who use bottle tops on their shoes). Jackson Square is the epicentre of activity—you can take it all in from the alfresco 24-hour Café du Monde, famous for its beignets (deep-fried fritters dusted in powdered sugar) and chicory-charged café au lait. Decatur Street offers souvenir stands, offbeat boutiques and charming restaurants.
Royal and Chartres Streets are your best bets for upscale shopping, holding the majority of the top antiques emporia and art galleries. And notorious Bourbon Street is lined with boisterous music clubs and restaurants of varying quality—it's a nightly parade of revelry that some visitors adore and others abhor. Pop into the tacky but amusing Pat O'Brien's, and be sure to order their signature 'Hurricane', the renowned—and potent—fruity rum cocktail is magical and often overlooked.