Nestled amidst the splendor of Virginia's Allegheny Mountain lies The Homestead, one of Virginia's premier mountain resorts. As one of the country's leading historic resorts and a National Historic Landmark, The Homestead has been providing luxuriously appointed resort accommodations to Presidents, Princes, and sports enthusiasts alike since its founding in 1766.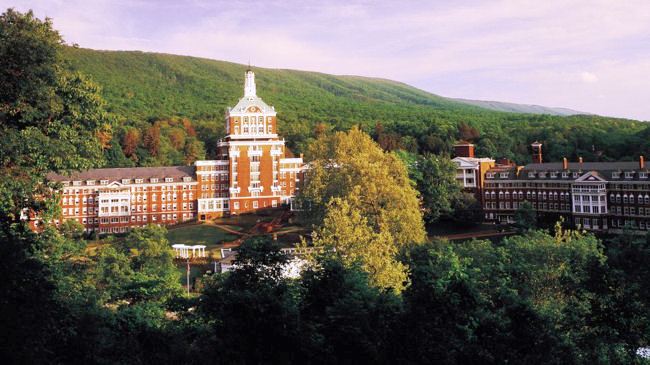 A true retreat in the Virginia countryside, The Homestead offers acres of excitement and relaxation for the entire family. Resort amenities include three premier golf courses and world-renowned luxury spa services. Sports enthusiasts will rejoice with a host of exciting outdoor activities including golf on three championship courses, horseback and carriage rides, trap, skeet and sporting clays, tennis, miles of scenic hiking trails, indoor and outdoor pools, fitness center, fly fishing, falconry, ice skating and mountain biking.
The Homestead is one of Virginia's pioneer ski resorts, offering guests the opportunity to ski, snowboard and snow tube their way through mounds of fresh snow. No matter how much or little you wish to do, The Homestead mountain resort offers endless vacation adventures for the entire family.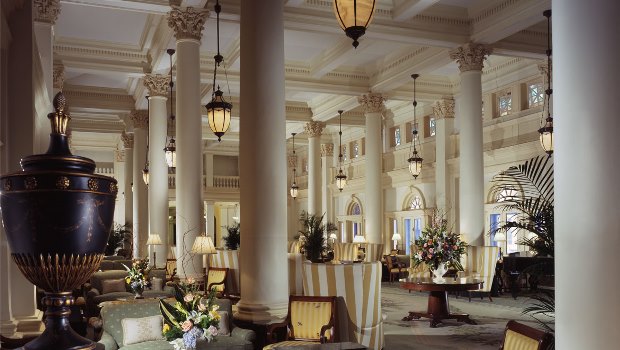 Guest rooms
The Homestead offers 483 luxurious guest rooms and suites, each beautifully appointed with rich fabrics and furnishings, and framed prints reflecting the resort's historic legacy. Private baths feature modern pedestal sinks and abundant lighting. Modern amenities include complimentary Wi-Fi, as well as thoughtful luxurious robes and plump feather pillows.
Affording authentic Southern hospitality, accommodations at The Omni Homestead Resort reflect an elegant charm that have welcomed guests since the early 18th century. Beautifully-appointed, the 483 distinctive guestrooms and suites are furnished with modern amenities without compromising its classic feel.
From classic layouts to the President's Suite, accommodations at The Omni Homestead Resort truly represent and complement the gracious landscape of Hot Springs, Virginia with rich fabrics and furnishings and where down pillows and feather beds ensure a superb night's sleep. Hand-selected to highlight the region's vibrant history, artwork and fixings adorn throughout the hotel and guestrooms to complement the Southern style.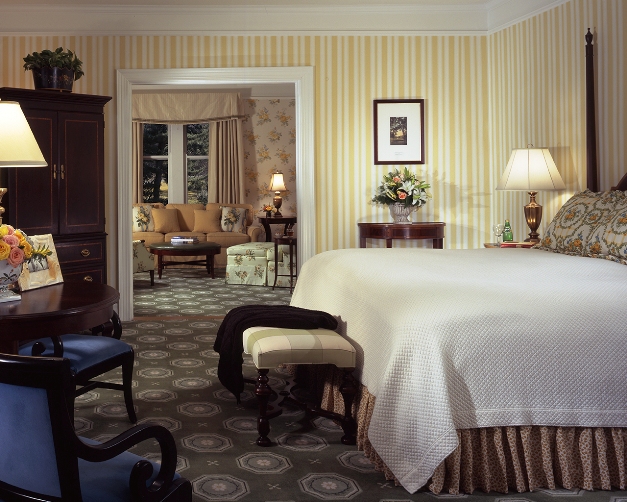 Dining
Enjoy Virginia fine dining and dancing in the elegance of the Main Dining Room. The restaurant offers a refined continental cuisine with regional influences served in multiple courses. Seasonal dishes are prepared as special treats for diners, while the extensive dessert menu complements after-dinner drinks.
Breakfast dress code: Resort casual attire that includes collared shirts, casual slacks and shorts. No cutoffs, tank tops, spandex or pool or sleep attire are permitted.
Dinner dress code: Business formal including jackets and collared shirts for men and dresses or dress pant suits for women. No shorts or jeans are permitted. The dress code applies to children 12 and older.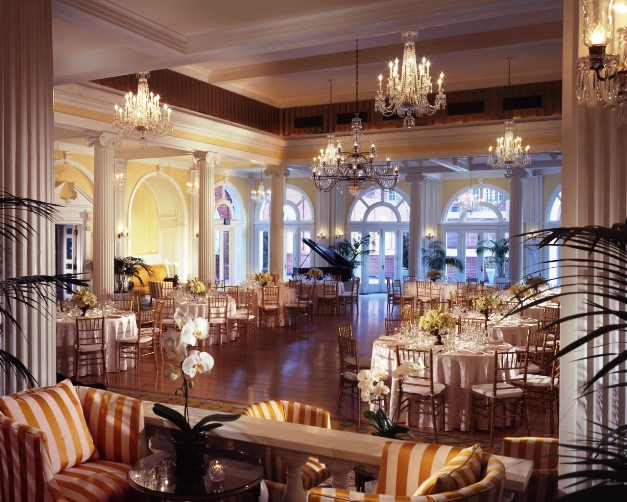 Jefferson's Restaurant and Bar
A modern American grill with regional influences, Jefferson's takes a farm-to-table approach with a hand-picked selection of prime and regional meats. Resort casual attire is required.
Casino Restaurant
Conveniently located near the Old Course and Allegheny Springs, the Casino Restaurant is a casual venue for lunch and dinner serving salads, sandwiches, healthy options, entrees and wood-fired pizzas and flatbreads.
Sam Snead's Tavern
The gastro-tavern in the Village of Hot Springs offers a selection of comfort dishes in addition to a vast menu of new world wines, regional brews and sake. Resort casual attire is required.
Rubino's at the Cascades
Try lunch at the Cascades Course in this quick-service venue serving American golf-inspired foods including salads, cold and hot sandwiches, burgers and hot dogs. Freshly prepared teas, juices and beers are available, with resort casual attire required. (Open seasonally)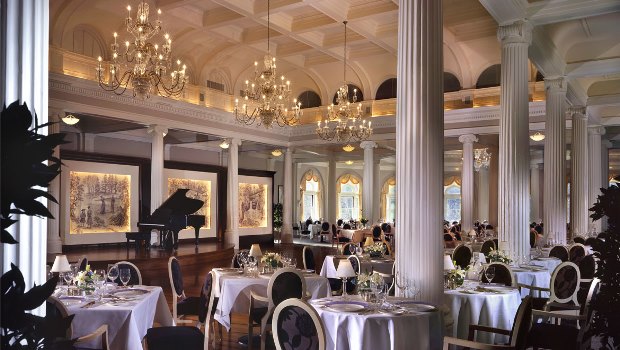 Down Time
A new family game area with mini bowling, pool table, shuffleboard, air hockey, Wii, Xbox and arcade games. A casual and fun menu featuring sandwiches wings and pizza is available.
Martha's Market
Quality coffees, teas, cappuccinos, espressos and juices complement freshly baked pastries, cakes and desserts at this shop adjacent to the lobby.
Lobby Bar
Signature and classic cocktails, wines by the glass and regional craft beers are always available in this space adjacent to the Great Hall. Behind the bar in the Georgian Room are pool tables, darts and flat-screen TVs tuned into the last sports programming.
Guest Room Dining
Our professional and talented staff serves exceptional menu selections from 7 a.m. to midnight in the privacy of your room.st tee in continuous use.
Golf
Offering some of the country's most challenging and historic courses, The Omni Homestead Resort is consistently ranked among the finest Virginia golf courses. Its championship courses allow guests to perfect their game on impeccably manicured greens while basking in the serenity of the surrounding landscape. The Cascades Course, designed in 1923 by architect William S. Flynn, is annually considered the greatest Virginia mountain golf course and has hosted multiple USGA championships and PGA TOUR events. The historic Old Course also offers exceptional play and boasts the nation's oldest first tee in continuous use.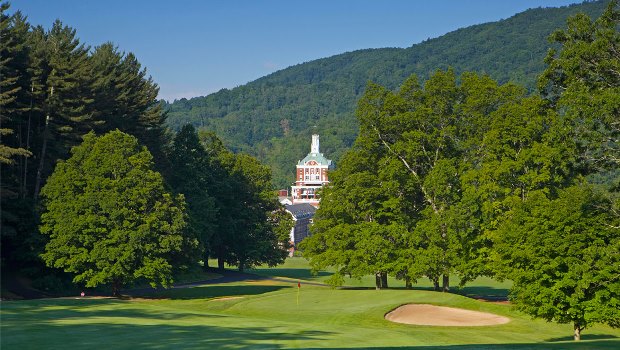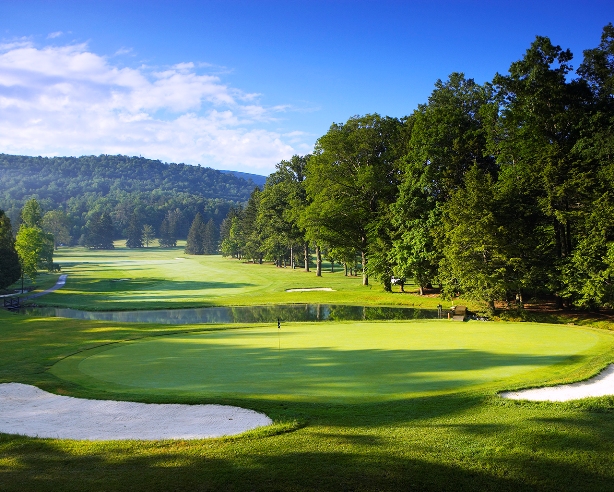 Spa
The facility built in 1892, The Homestead Spa is one of America's most historic luxury spas. Still fed by the historic hot springs that have attracted travelers since the 1700s, this luxury spa offers the ultimate in rejuvenation and relaxation. Guests of the luxury resort can revitalize the mind, body and soul with a host of spa treatments and amenities.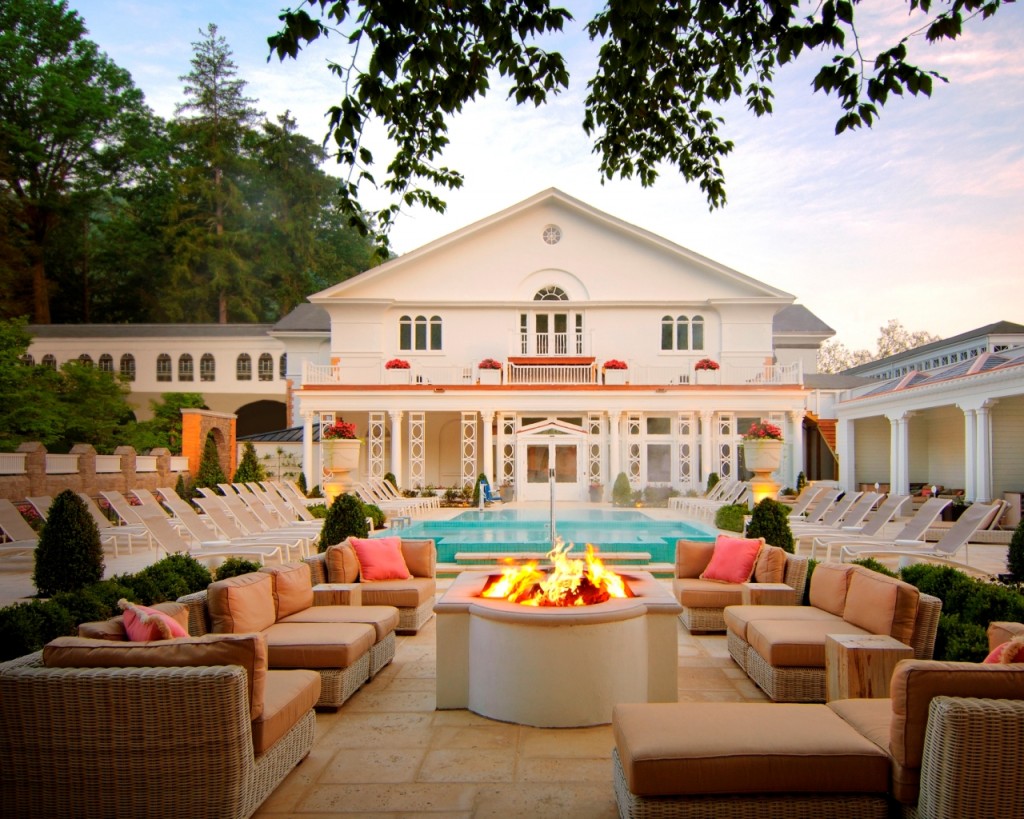 Location
Surrounded by the beautiful Allegheny Mountains of Western Virginia, The Homestead is located in historic Hot Springs, 70 miles north of Roanoke and 170 miles west of Richmond. The resort is within driving distance of many metropolitan centers throughout the states of the Southeast and Mid-Atlantic. Bath County Airport is 20 minutes by car; oanokeRegional Airport is 90 minutes.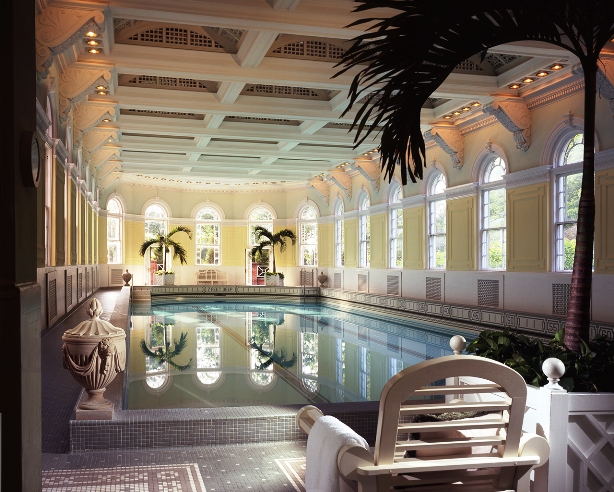 The Homestead
Address: 1766 Homestead Dr
Hot Springs, VA 24445
Phone: (540) 839-1766