In summer, the New York/New Jersey metropolitan area turns into one giant steam room, sending residents to pitch their sun umbrellas and stake their space on the Jersey Shore's nearly 130 miles of beaches. Resorts and boardwalk entertainment districts boomed beginning in the late 19th century, and today the shore is a glorious mishmash, from hard-partying seaside bars, famous rock 'n' roll clubs and neon-lit boardwalk Americana to family-oriented beaches, beautiful lighthouses and a whole galaxy of motels, inns and summer rental properties.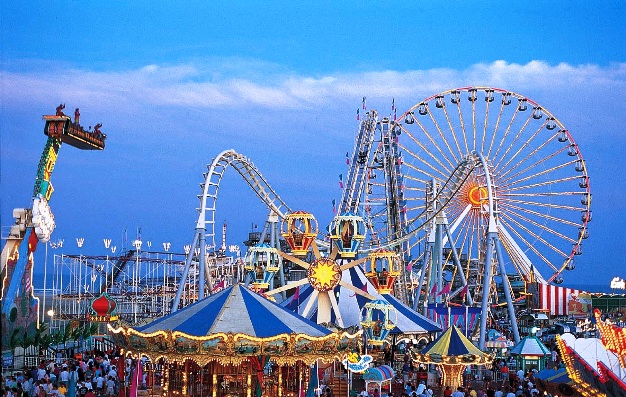 Down south, near the very tip of the shore, Wildwood boasts a 38-block boardwalk with huge amusement piers, waterparks, carnival and arcade games, souvenir shops, tattoo parlours, pizza and funnel-cake stands, tram cars and everything else you'd want from a great American boardwalk. On one side of the boardwalk, Wildwood's white sand beach is nearly half a mile wide in places, and packed with families throughout the summer months. On the other side, the town is full of beautifully preserved 'Doo-Wop' architecture, a 1950s style that mixes space-age angularity with Caribbean and Hawaiian tiki motifs.
Twenty-five miles to the north, Ocean City's boardwalk offers a calmer, more polite version of the same, with roller coasters, games, miniature golf, and the Spanish-style Ocean City Music Pier, which dates back to 1928. Considerably further north, only about 90 minutes from New York City, Seaside Heights completes the trilogy of active boardwalks, advertising itself as 'Your home for family fun since 1913!' At the Casino Amusement Arcade, the wooden 1910 Dr. Floyd L. Moreland Carousel is one of America's great remaining carousels, with a 1923 Wurlitzer Military Band Organ providing the irreplaceable sound track.
Another kind of sound track got its start even further north, in Asbury Park. A major resort city from 1870 until WWII, Asbury had experienced such a palpable decline by the early 1970s that its mood influenced local boy Bruce Springsteen's songs of desperation and redemption, spawning the 'Born to Run' New Jersey zeitgeist. You can still hear the Asbury Park sound at the Stone Pony, a legendary rock club where Springsteen has made scores of appearances over the past 30 years.
Last but not least, there's Atlantic City. The city by the sea was created in the 1850s as a seaside escape and has worn a lot of hats over the years: from the glamorous 1920s (which marked the birth of A.C.'s signature event, the Miss America Pageant, last held here in 2005) to the 1930s (when the value of Boardwalk property lent the city's street names to the game of Monopoly) through the swingin' postwar years (when Dean Martin and Jerry Lewis first teamed up at Skinny D'Amato's legendary 500 Club) and on past the gritty 1960s to the post-1977 renaissance, when casinos saved the city's life. Today, A.C. is a pastiche of all those things, juxtaposing remnants of its golden era with the pseudo-glam escapism of 21st-century resorts and a certain retro seediness that's tantalisingly attractive.
Far from the Boardwalk, the billion-dollar Borgata resort and casino opened its doors in 2003, setting a new A.C. standard with its sleek styling, luxurious rooms, 125,000-square-foot gaming floor, huge spa and top-drawer restaurants. Two large theatres bring in top-name acts and prizefights. Elsewhere in town, The Quarter (an adjunct of the Tropicana) and the Pier at Caesars are entertainment complexes full of theatres, restaurants, comedy and dance clubs, and inviting shops.