The Lighthouse Trail on Maine's coast
If you had to pick one symbol to represent coastal Maine, it would have to be the lighthouse. Standing out on a cliff, or on top of a storm-racked island, these beacons act as earthbound stars to sailors on the dark sea. More than 60 of them dot the state's shoreline, from Cape Neddick in the south to West Quoddy Head in the north, at the Canadian border; and many of them are accessible to the public.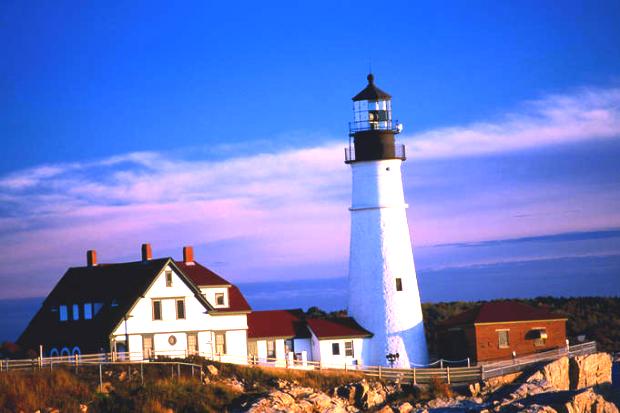 Cape Neddick Light, aka the 'Nubble Light', sits on a small, characteristically rocky Maine island, just 100 yards off the mainland. First lit in 1879, it's one of the most picturesque lighthouses in the country—so much so that the crew of the Voyager II space probe, launched in 1977 in the hope of finding extraterrestrial life, brought a picture of the Nubble with them, intending to use its image to represent all earthly lighthouses.
Further north up the coast, the majestic Portland Head Light is Maine's oldest, dating back to 1791. Though the tower isn't open to the public, the grounds and outbuildings are. The former keeper's quarters houses a museum, while the Cliff Walk trail winds along the coast, offering spectacular views. Nearby, South Portland's conical 'sparkplug-style' Spring Point Ledge Light sits at the end of a 900-foot stone breakwater that allows pedestrians and fishermen to walk out on to Casco Bay. At the foot of the jetty is the Portland Harbor Museum, with exhibits chronicling the history of the port.
South of Bath, at the mouth of the Kennebec River, the Seguin Island Light is perched on what looks like a Scottish moor. Though the present tower dates back to 1857, lighthouses have occupied the site since 1797. The Maine Maritime Museum in Bath offers boat tours that visit the Seguin Light and up to nine others.
Categories: Abacos, Maine, USA
Tags: Adventure Travel, Cape Neddick Light, Family vacations, Lighthouse, Maine, Marshall Point Light, Monhegan Maine, Pemaquid Point Light, Portland Head Light, Seguin Light, West Quoddy Head Light