The seat of American government Washington District of Columbia
The seat of American government is also a beautiful city, a celebration in marble and stone of the ideals on which democracy was founded. Though laid out roughly according to the original 1791 plan by French military engineer Pierre-Charles L'Enfant, the city has changed considerably over the years. Even its centrepiece National Mall—a majestic two-mile greensward running west from the Capitol Building, lined with some of the nation's most important monuments and civic and cultural institutions—didn't assume its current form until the early 20th century.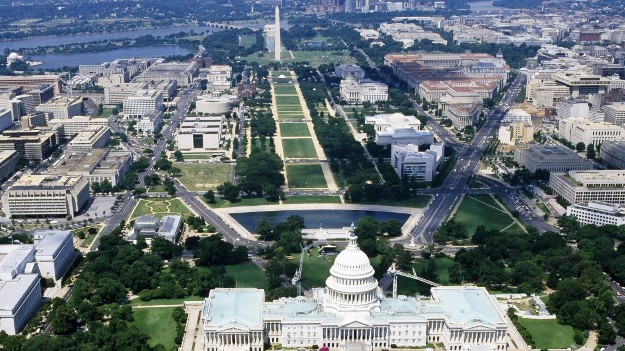 At its centre, the Washington Monument was the Mall's first presidential memorial, completed in 1884. Thrusting skyward 555 feet, it offers visitors a spectacular 360-degree view from its peak. To the west, the neoclassical Lincoln Memorial is probably the most emotional of the Mall's presidential memorials. Built to resemble a Greek temple, it has 36 Doric columns representing the 36 states in the union at the time of Lincoln's death. Inside, Daniel Chester French's massive sculpture of the seated president gazes out, the powerful words of his Gettysburg Address etched behind him, below a mural depicting the unity of North and South. For the most profound experience, visit at night, after the crowds have thinned out.
South of the Washington Monument on the banks of the Tidal Basin, the Thomas Jefferson Memorial was designed in 1936 by John Russell Pope and modelled on the Pantheon in Rome. Inside, a 19-foot bronze statue of the third president stands surrounded by passages from the Declaration of Independence. The Jefferson Memorial was planned and constructed during the presidency of Franklin Roosevelt, so it's apt that the next presidential memorial built on the Mall was to that great man himself.
Categories: Abacos, USA, Washington DC
Tags: Jefferson Memorial, Korean War Veterans Memorial, Lincoln Memorial, National Mall, National World War II Memorial, Washington DC, Washington Monument