The Great Island of Kauai Hawaii
Kauai is Hawaii's fourth largest island and is sometimes called the "Garden Isle," which is an entirely accurate description. The oldest and northernmost island in the Hawaiian chain is draped in emerald valleys, sharp mountain spires and jagged cliffs, aged by time and the elements. Centuries of growth have formed tropical rainforests, forking rivers and cascading waterfalls. Some parts of Kauai are only accessible by sea or air, revealing views beyond your imagination.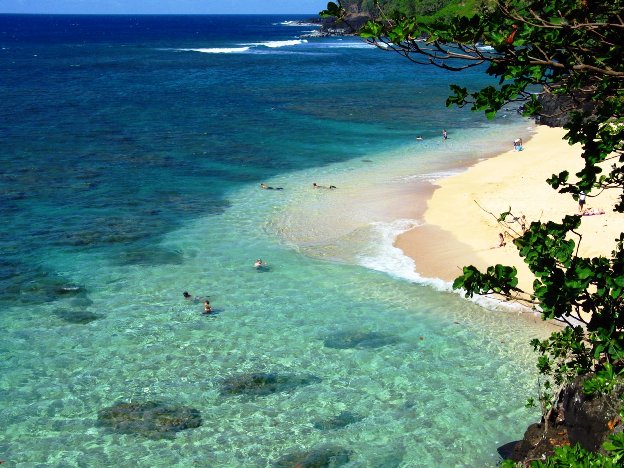 Beyond Kauai's dramatic beauty, the island is home to a variety of outdoor activities. Kayak the Wailua River. Snorkel on Poipu Beach. Hike the trails of Kokee State Park. Even go ziplining above Kauai's lush valleys. But it is the island's laid-back atmosphere and rich culture found in its small towns and along its one-lane bridges that make it truly timeless. Make your escape to Kauai and discover the undeniable allure of Kauai.
Family Fun on Kauai
The serene environment of Kauai is ideal for keiki (children) of all ages. From beaches to old-fashioned railroad trains, this island offers a variety of fun activities for the whole family.
See Waimea Canyon and learn about Kauai's environment at the Kokee Natural History Museum in Kokee State Park. Let the little ones walk to the end of the pier at Hanalei Bay and play in the sand on the North Shore. You can also catch the hula show at the Smith Family Garden Luau or head to Lydgate State Park to play in the wooden play structure that will entertain your kids for hours. Don't forget a ride on the Kauai Plantation Railway in the Kilohana Estate, which is bound to bring a smile to your child's face. And that's what really counts on your family vacation on Kauai.
Categories: Abacos, Hawaii, Kauai, USA
Tags: Adventure Travel, Beach Vacation, Family vacations, Hanalei Bay, Hawaii, Kauai, Poipu Beach Park, Princeville, Robert Trent Jones