Kauai is Hawaii's fourth largest island and is sometimes called the "Garden Isle," which is an entirely accurate description. The oldest and northernmost island in the Hawaiian chain is draped in emerald valleys, sharp mountain spires and jagged cliffs, aged by time and the elements. Centuries of growth have formed tropical rainforests, forking rivers and cascading waterfalls. Some parts of Kauai are only accessible by sea or air, revealing views beyond your imagination.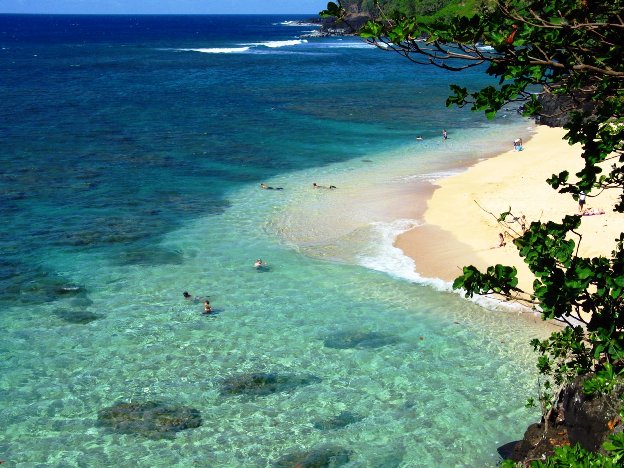 Beyond Kauai's dramatic beauty, the island is home to a variety of outdoor activities. Kayak the Wailua River. Snorkel on Poipu Beach. Hike the trails of Kokee State Park. Even go ziplining above Kauai's lush valleys. But it is the island's laid-back atmosphere and rich culture found in its small towns and along its one-lane bridges that make it truly timeless. Make your escape to Kauai and discover the undeniable allure of Kauai.
Family Fun on Kauai
The serene environment of Kauai is ideal for keiki (children) of all ages. From beaches to old-fashioned railroad trains, this island offers a variety of fun activities for the whole family.
See Waimea Canyon and learn about Kauai's environment at the Kokee Natural History Museum in Kokee State Park. Let the little ones walk to the end of the pier at Hanalei Bay and play in the sand on the North Shore. You can also catch the hula show at the Smith Family Garden Luau or head to Lydgate State Park to play in the wooden play structure that will entertain your kids for hours. Don't forget a ride on the Kauai Plantation Railway in the Kilohana Estate, which is bound to bring a smile to your child's face. And that's what really counts on your family vacation on Kauai.
Kauai Golf
Find the golf course of your dreams on Kauai. From Princeville to Poipu, Kauai is home to some of the world's best golf. Visitors can play beautiful resort courses or affordable independent courses, where the rough is lined with lava rocks while mountain ranges and seascapes frame the greens.
There are 10 golf courses at seven venues on Kauai. Princeville on the North Shore offers two challenging options with an 18-hole and a 27-hole course. PGA legend Jack Nicklaus and Robert Trent Jones, Jr. also designed signature courses in this resort area. You may even see some PGA pros out on the greens during on your visit. After all, even they dream about Kauai, too.
Beaches of Kauai
While known for its impressive cliffs, canyons and rainforests, Kauai also has some of Hawaii's most picturesque beaches. 50 miles of white sand surround Kauai, and many of these beaches provide intimate atmospheres away from the crowds.
North Shore Beaches:
During the winter, swells and currents on the North Shore can increase, so use caution and heed warning signs when swimming.
Anini Beach Park: Features miles of white sandy beach. A quiet lagoon created by a reef is perfect for beginning snorkelers. Facilities are available but there are no lifeguards.
Hanalei Bay Beach Park: Just west of Princeville in Hanalei Town, Hanalei Bay is a perfect, curved bay of incredible beauty known for the Hanalei Pier. Restrooms, a pavilion and lifeguards are available. Note that the beach is subject to strong currents so heed all warning signs.
Kee Beach: Found at the end of Highway 560, the reefs here make for great shoreline snorkeling. Kee Beach is also ideal for sunbathing. This is where you'll find the trailhead for the Napali Coast's Kalalau Trail. Lifeguards on duty.
Lumahai Beach: Among the most beautiful beaches on the island, with a wide sandy shoreline, this is where Mary Martin "washed that man right out of my hair" in the film "South Pacific." Since there is no lifeguard and currents are strong, swimming is not recommended.
East Side Beaches:
Lydgate Beach Park: Protected from the open ocean by a lava rock wall, the snorkeling lagoon at Lydgate is a popular place for keiki (children). Restrooms, picnic grounds and lifeguards are available at this East Side beach.
Kalapaki Beach: A favorite spot to watch Kauai surfers and offering calm waters for keiki (children), Kalapaki fronts the Marriott Kauai's Beach Club.
Kealia Beach: A half-mile stretch of golden beach hugging the curve of Highway 56, Kealia Beach has a long sand bar bottom which provides a nice surf break. Visitors are asked to swim near the north end, where a breakwater creates a protected area. Lifeguards on duty.
South Shore Beaches:
Poipu Beach Park: With crystal clear waters and occasional Hawaiian monk seal appearances, Poipu Beach Park is one of Kauai's most popular beaches. Poipu also has a natural wading pool for young swimmers. Lifeguards, picnic facilities, showers and pavilions make this a great beach for the family on the South Shore.
West Side Beaches:
Salt Pond Beach Park: Located near Hanapepe on the West Side, this inviting park is a great place for relaxing, swimming and sunbathing. During the summer, generations of Hawaiian families have produced natural sea salt here. Lifeguards and facilities available.
Kekaha Beach: This long, sandy beach is a great place for sunbathing. This is also a local surf spot, but be cautious when swimming because of strong currents. Ask the lifeguard on duty about conditions.