The island of Santorini Greece
The island of Santorini Greece or Thira is located in the Cyclades islands, in the middle of the Greek Islands of the Aegean Sea. Santorini is, along with Mykonos and Crete, the most famous holiday destinations in Greece. It is a small group of volcanic islands and its name refers to to Saint Irene. Called also Strongili and Kalisti, the island was the site of one of the largest volcanic eruptions in the world and what remains today is a submerged volcano and a caldera.
The island of Santorini is related to the myth of Atlantis, the amazing views from the villages of Fira, Oia perched on cliffs, santorinian sunset, the black and red beaches, the wine.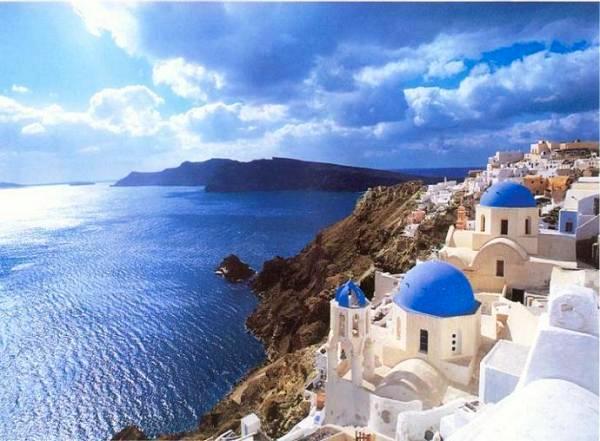 Beaches
The volcanic activity that shaped the archipelago left its mark on Santorini's beaches as well. The southern half of Thira is speckled with multicolored sand overlooking the crystal clear waves of the Aegean Sea, and writers particularly like the black shores of Kamari and Perissa. For a change of scenery, take a westward drive to the fiery cliffs, red sand and sapphire water of the caldera in Akrotiri.
The festive beach towns of Perivolos and Perissa lie along an expansive 9km stretch of black sand on the southeastern coast, welcoming a more casual crowd of beach bums to its cheap bars and laid-back rooms for rent.
Archaeological Sites
Several thousand years ago, a volcanic eruption buried Santorini's settlements under waves of molten lava. These towns were thought to be lost forever until archaeologists uncovered the remains of Ancient Akrotiri on the southwestern shore of Thira. While Ancient Akrotiri still remains one of Santorini's most coveted experiences, a 2005 roof collapse at the excavation site has limited the number of visitors. Because the site is said to be closed until further notice, professional and leisure travelers suggest you check to see whether the site is open upon arriving in Santorini.
Categories: Abacos, Europe, Greece, Santorini
Tags: Aegean Sea, Beach Vacation, Greece, Historical site, Museums, Mykonos, Red Sand Beach, Santorini