Top Bahamas Scuba Diving Sites
With so many dive sites to choose from, Bahamas scuba diving will be one of the memorable experiences that will remain in a person's mind forever. Surrounded with warm and clear waters, there are around 1,000 dive sites spread across the 700 islands of the Bahamas. Because these Bahamas scuba diving spots have a lot of beautiful sights and diverse creatures to show off, many dive operators earn a living by giving the tourists scuba diving lessons and tours of the many coral reefs and shipwrecks that are found in the Bahamas.
Some of these operators include diving with dolphins and feeding sharks as part of their repertoire. These services are usually included in dive and accommodation packages that are offered by hotels and resorts.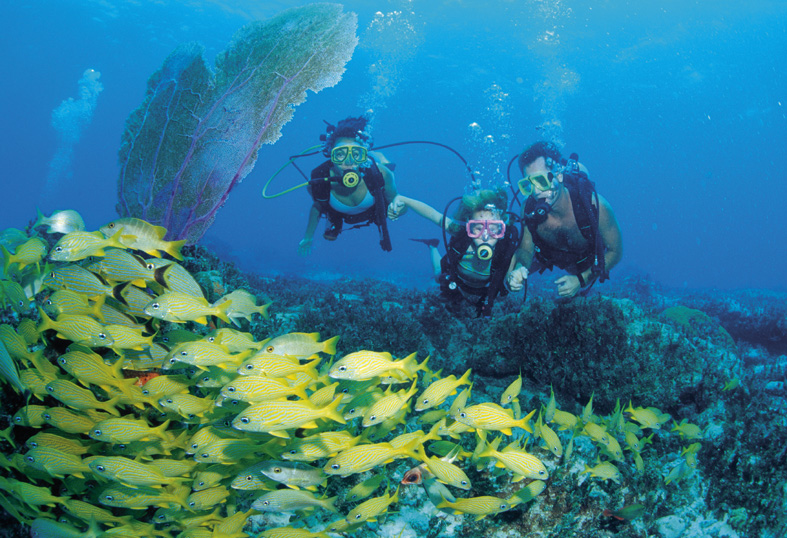 Most diving packages are priced based on the number of dives per day as well as a person's stay in a hotel or resort. For this reason, divers should make the most of their stay by picking the best Bahamas scuba diving spots the islands have to offer.
Get An Eyeful in Abacos
Being an area with a lot of wildlife sanctuaries and parks, this Bahamas scuba diving spot has an abundance of colorful corals and fishes. Green turtles, porpoises, seahorses and moray eels can also be found in the Abacos islands. Because this area has a lot of shallow reefs, divers can go snorkeling while they are decompressing.
The diverse marine wildlife is not the only attraction in Abacos. This area is quite well known to wreck divers. The USS Adirondack, a Civil War gunboat that struck a reef in 1862 is quite well-known for enthusiasts of wreck diving. Because a lot of Spanish galleons sunk in the waters near the Abacos, divers may want to profit from their trip by looking for the lost treasures that went down with these ships.
Categories: Abacos, Bahamas, Caribbean, Eleuthera, Exuma, Paradise Island
Tags: Abaco, Abaco Islands, Andros Bahamas, Bahama, Blue hole, Exuma, Scuba Diving, sightseeing, Tongue of the Ocean, USS Adirondack