Top golf courses in South Africa
For the golf enthusiast, South Africa is a wonderful destination – and that's an understatement. The country boasts an ideal climate for spending time out on the fairways under the bright African sun, and golfers here are blessed for choice.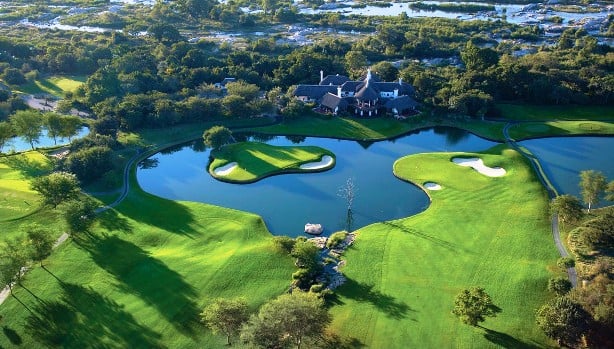 If you enjoy the challenge of a coastal course, there is a stunning selection available; if you prefer playing at altitude, where the ball flies that much further, the selection is just as good. Probably the most famous golf course in South Africa is the Gary Player Country Club at Sun City, home to the Nedbank Golf Challenge, that offers the biggest first prize of any tournament in the world.
Leopard Creek
Rated the best course in South Africa, Leopard Creek is situated on the border of the world-famous Kruger National Park, so it's not unusual to come across wildlife when you play a round there.
Players are protected from the wildlife by means of innovative architectural and landscaping techniques – although water hazards might include the odd hippopotamus or crocodile!
Gary Player's design takes advantage of the natural environment, which is home to Africa's "big five" – lion, leopard, elephant, rhinoceros and buffalo – and over 200 species of birds that make their homes in the surrounding trees, some of which are over 100 years old.
The 505 metre par-five 13th is is a standout hole and plays along the contours of the Crocodile River. The green hangs out over the edge of the river, but is 32 metres above it and provides amazing views of the Kruger National Park on the other side.
Course designer Gary Player especially likes the par-five 18th with its island green and the par-four 9th, a downhill hole surrounded by water and challenging bunkers.
Categories: Abacos, Africa, Cape Town, Nelspruit, Port Elizabeth, South Africa
Tags: Gary Player, Gary Player Country Club, Golf, Golf course, Golf Vacation, Kogelberg, Kruger National Park, Nedbank Golf Challenge, south africa