The Na Pali ('The Cliffs') Coast is the Hawaii of your dreams: 22 miles of vibrant green valleys with nearly vertical walls and thundering waterfalls plunging into the sea from cliffs as high as 4,000 feet. Hawaii's last true wilderness, where no road will ever cross, it is protected as the Na Pali Coast State Park, whose 6,500 acres hug the northwest shore of Kauai between Ke'e Beach and Polihale State Park. You can view this magnificent piece of Eden by helicopter or boat, but the best way to experience the thickly jungled shore at the base of its craggy palisades is on foot.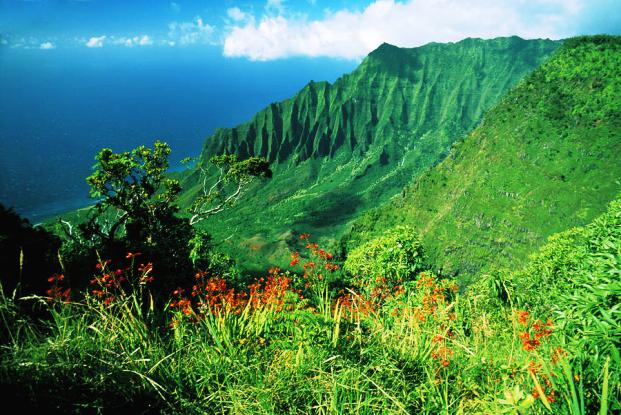 Even fit, seasoned hikers find a challenge in the narrow, strenuous Kalalau Trail, an ancient 11-mile footpath that winds along imposing cliffs through the Hanakapi'ai, Hanakoa and Kalalau valleys—a remote, spectacular region that's home to long-plumed tropical birds, golden monarch butterflies and many of Kauai's rare and endangered plant species. The hike all the way to the end of the trail at Kalalau Beach is both gorgeous and gruelling, so hikers are advised to spend two full days on the way in, stopping often to admire the view, swim, pick fruit and revel in the experience. Note, though, that the sometimes-precipitous heights aren't for those who suffer from vertigo.
The golden-red sands of Ke'e Beach, at the start of the trail, lie at the foot of sheer volcanic cliffs and are a favourite of swimmers, snorkellers, divers and kayakers. The two-mile stretch of the Kalalau Trail from here is a popular, moderately difficult day hike that climbs from sea level to 400 feet in the steep first mile, then descends to sea level at Hanakapi'ai Beach, which has sand in summer, but just rocks when the winter waves roll in.
The trail here is narrow and often so crowded that the hike takes up to two hours one way. Bear in mind also that Hanakapi'ai is not a swimming beach—the undercurrents are fierce, and there are no lifeguards. If you have the energy, you can continue along a two-mile inland trail from the beach to Hanakapi'ai Falls, a 120-foot cascade.
On the other side of the wilderness from Ke'e is Polihale State Park, home to Hawaii's biggest beach—17 miles long and as wide as three football fields. Located on the remote, extreme western end of Kauai (and lacking any kind of facilities), it's an exceptionally beautiful spot, positioned at the base of the Na Pali cliffs and offering one of the best places on Kauai for watching the sunset. The park includes ancient Hawaiian heiau (temples) and burial sites, views of the neighbouring islands of Ni'ihau and Lehua Rock, and the famed Barking Sands Beach, where your footsteps make a sound like squeaking snow.