Peasant Restaurant is a cozy, romantic Italian restaurant features three rows of tables packed tightly together and perfect mood lighting for surreptitious corner canoodling. The ambiance is just right, and the menu from owner-chef Frank DeCarlo does not disappoint, either, especially the lasagne, spaghetti, risotto and open-fire-cooked pizzas.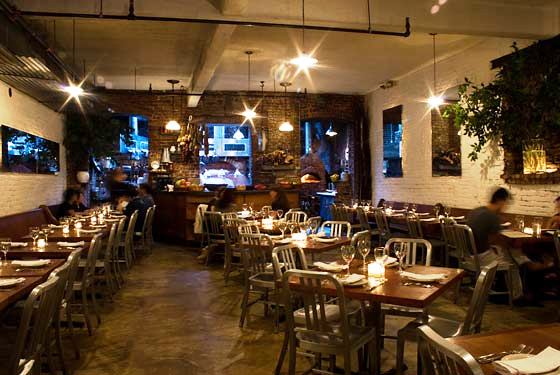 The scents alone are worth it: Since everything on the Italian menu is slow-cooked over a wood fire, and since the kitchen is open to the dining room, the aromas of rosemary-garlic-tomato-accented meats and fish are guaranteed to work up even the most jaded appetite. The dining room is as simple—brick walls, plain wooden tables, bare floors—and the crowd laid-back.
This is the real Italian thing, people, and the menu's all in Italian, but the un-harried servers will patiently help you out with pronunciation and explain it all slowly to ensure good picks. Try the prosciutto to start, and then maybe a speck and rucola perfect-crust pizza, then move on to the insanely creamy polenta or roasted porchetta. It's hard to go wrong.
And if there are specials available, they're usually the best thing on the menu. The extensive wine list is also good for perusing. And not to worry, if you can't get a table right away, eating at the bar is conveniently satisfying and offers fun people-watching through the floor-to-ceiling front windows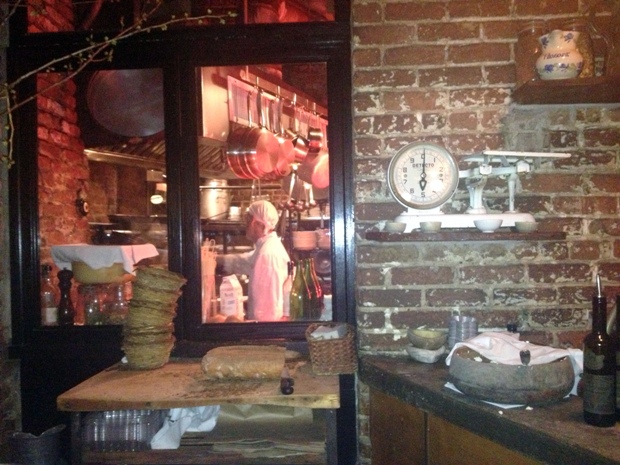 Neighborhood: Nolita
194 Elizabeth St.
New York, NY 10012
212-965-9511
Hours:
Tue-Sat, 6 p.m.-11 p.m.
Sun. 6 p.m.10 p.m.
Cuisine:
Italian
Meals Served:
Dinner
Price Range:
$$$ ($16-$25)
Reservations:
Recommended
Alcohol:
Full Bar
Restaurant Style:
Bistro
TRAIN: B, D, F, Q to Broadway-Lafayette; N, R to Prince St
For more information: http://peasantnyc.com/
To reserve a table on OpenTable: http://www.opentable.com/peasant