The most famous national landmarks blend our colorful history with beautiful or quirky aesthetics.
1. Built over the course of 36 years, the Washington Monument sits on the National Mall in Washington, D.C. The obelisk is the tallest structure in town.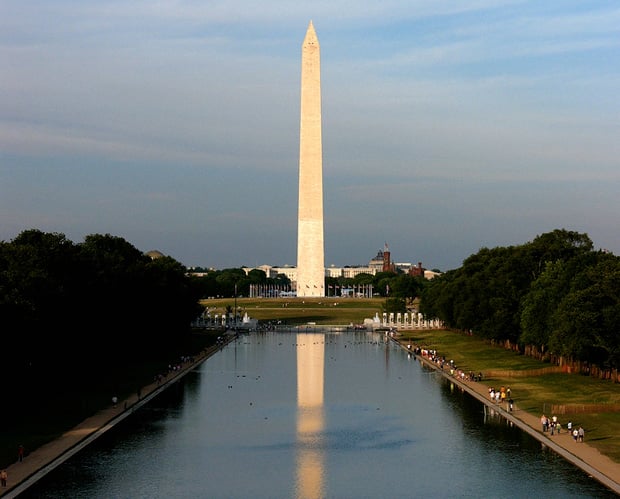 2. Between 1892 and 1954, New York City's Ellis Island processed more than 12 million immigrants. Today, combined with the nearby Statue of Liberty, the monument celebrates America's diversity.
3. What would Los Angeles be without the Hollywood Sign? These iconic letters, which have stood on Mount Lee since 1923, welcome visitors to the film and television capital of the U.S.
4. Carved into the Black Hills near Keystone, S.D., Mount Rushmore National Memorial depicts the busts of four former U.S. presidents: George Washington, Thomas Jefferson, Franklin Roosevelt and Abraham Lincoln.
5. Former President Thomas Jefferson designed and inhabited the neoclassical Monticello mansion near Charlottesville, Va. Today, the site provides an informative look at the politician's life and times.
6. Faneuil Hall Marketplace, downtown Boston's most famous shopping center, has been a commercial hotspot since the 1740s. Don't miss the food vendors in Quincy Market.
7. The Gateway Arch in downtown St. Louis was built in the 1960s as a monument to the westward expansion of the U.S. For amazing views, take a tram to the top.



8. Bells were rung to mark independence in 1776, and historians believe that Philadelphia's Liberty Bell was among them. The icon is now part of a national park.
9. Engineering buffs will love Hoover Dam, which spans the Colorado River on the border of Arizona and Nevada. The structure, which created Lake Mead, provides power to four states.
10. The floating USS Arizona Memorial commemorates all military personnel who perished in the bombing of Pearl Harbor, near Honolulu, Hawaii, on Dec. 7, 1941.