As a neighborhood, TriBeCa is a part of New York to see and be seen, especially if you're a financier bigwig who's decided to settle down and raise a family. As it consistently ranks as one of the most expensive zip codes in the country, prices at restaurants often follow suit, but that doesn't mean the food doesn't live up to the sticker shock.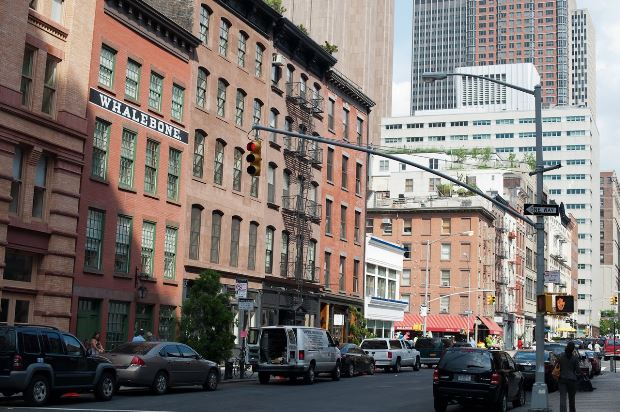 While most spots in the area cater to a family clientele (albeit the Louis Vuitton onesie type ones), the quality of the fare goes toe-to-toe with many other more food-centric parts of town. And the diversity of the cuisine isn't one to shake your head at either.
From the the high-end Indian cuisine and experience at Tamarind to Italian favorites like Locanda Verde, you can drop dough while adding some to your waistline with no problem.
But if you're looking for a place to nosh that's a little more low-key, TriBeCa's got that, too. Enjoy "Midnight Brunch" at Bubby's or step off TriBeca's cobblestone streets and right into the Bayou at Belle Reve, where you'll find live music, cool cocktails and American classics.
Below, we explore the lap of luxury and the lives of locals when we dive into the 10 best restaurants in TriBeCa.
10 Da Mikele
As a city, New York has an abundance of Italian restaurants. The thing is that the majority of them aren't very good. Enter Da Mikele — the answer you've been looking for when you're searching for great Italian in TriBeCa. From gourmet pizzas to homemade pastas and a well-rounded brunch menu on the weekends, Da Mikele caters to the local crowd with consistently good food. The space is comfortable and breezy, and the staff isn't quick to rush you back out into the street. Instead, this feels like a true Italian trattoria: come, relax, drink, eat, drink some more and take time out to enjoy yourself. (212-925-8800)
9 Bubby's
An institution in the TriBeCa dining scene, Bubby's is synonymous with brunch. It makes sense that it'd be known for sweet stuff considering this neighborhood staple set up shop in 1990 as a pie company. Years later and it's expanded to both the High Line and Japan (random, yeah?) to pedal its delicious fare to the masses. It may also be one of the only places in town with a dedicated "Midnight Brunch" menu. Served from Thursday – Saturday, 11pm-7am, Bubby's spectacular late night grub includes everything from buffalo wings and nachos to huevos rancheros and Bubby's burgers, butchered in-house and double ground daily. (212-219-0666)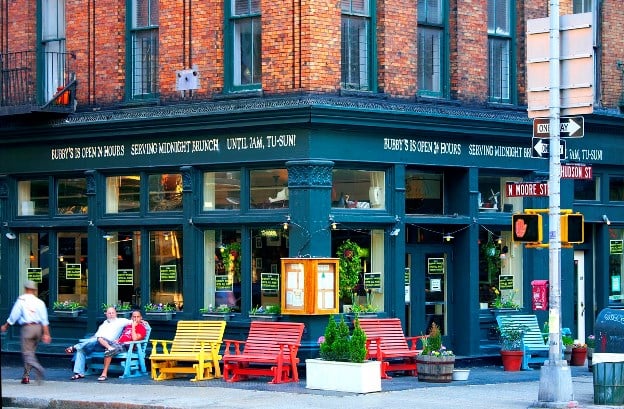 8 Sushi Azabu
Unlike many sushi restaurants, the menu here is separated into courses, including four options for omakase dining — otherwise known as chef's choice. The omakase at Sushi Azabu is the way to go, but depending on your budget, you have a few different price points. Regardless of which option you choose, expect impeccably fresh fish, artfully presented and served in a space hidden beneath the hustle and bustle of the city. Regulars put this spot in the ranks with Sushi Yasuda, often regarded as the best sushi joints in town. If you're wise, you'll snag a seat at the sushi bar versus opting for the dining room. (212-274-0428)
7 Landmarc [TriBeCa]
Peel back the layers at Landmarc (brainchild of Marc Murphy — get it?) and you'll find an Italian-French culinary fusion that's taken the city by storm. Murphy honed his skills in restaurants from Paris to Monte Carlo, and diners will spot his international influence all over the menu. From warm goat cheese profiteroles to daily pasta specials like baked lasagna with braised shortrib and ricotta, the fare at Landmarc swings effortlessly through the Italian hillsides and into France's backyard. Brunch features comfort foods like pancakes with chocolate chips, steel cut oatmeal with walnut crumble and Murphy's elevated stab at steak and eggs. (212-343-3883)
6 Brushstroke
There's a chef that reigns supreme in TriBeCa and his name is David Bouley. Owner of another restaurant on this list, Bouley's genius extends to Hudson Street where we find his Japanese masterpiece, Brushstroke. What's unique about this restaurant is that is doesn't exclusively feature sushi — instead Bouley leans on a partnership with Japan's top culinary school to develop entrees like the Wagyu steak platter (Wagyu four ways), or the skate wine and Peruvian red shrimp with sweet vinegar dashi sauce, tomato and early spring green puree. And while the raw goods aren't the only thing on the menu, they still shine: visitors say the sashimi platters are some of the best they've ever eaten. (212-791-3771)
5 Dylan Prime
Dylan Prime shuttered its doors last year after a run-in with the IRS, but its back up and running with a new chef at the helm. While steak is still the name of the game here, the steakhouse look has been revamped into a more industrial-chic space, which also mirrors the updated new American menu. Along with staples like the seafood tower, wedge salad and creamed spinach, newcomers to the table include charred asparagus, charred octopus and the burnt orange panna cotta — are you spotting a trend? In any case, reservations are still recommended for peak dinner times, and you'd be remiss to skimp on any of the steak sauces. Unlike your dad's A1, these ones are plenty worthy of piling high. (212-334-4783)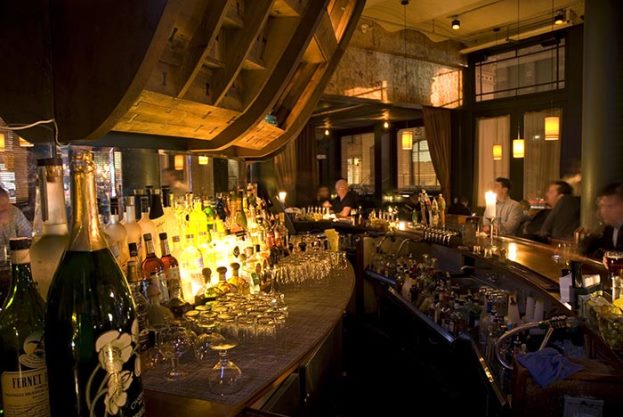 4 Belle Reve
New to the neighborhood in 2015, Belle Reve is already making a name for itself. With quotes from Hunter S. Thompson on the menu, you can tell this cocktail bar-restaurant doesn't take itself too seriously, though what's coming out of the kitchen and from behind the bar is still worthy of professional praise. Opened by a former Employees Only founder, Belle Reve delivers on the classics with a twist. Expect live music and American staples done right: raw steak with Worcestershire chips, Big Easy BBQ shrimp, and a veg-grain menu that will have the token vegan in your crew crying out for more. As for libations, you can't go wrong with house specials like The Grandpa, a concoction of dark rum, orgeat, Cointreau and Prosecco, finished off with bitters. (212-680-0101)
3 Tamarind – Tribeca
Set in a corner art deco building, Tamarind's TriBeCa branch oozes opulence. From the white tablecloths to the window-walled bars, this isn't your typical Indian restaurant. A tandoor kitchen shares space with the bi-level dining area, where waiters scurry up steps to deliver dishes that draw influence from all areas of India. Raj-Kachori, a chickpea flour patty and specialty from Calcutta, may pave the way for a Goan favorite: prawns in coconut sauce with mustard seed, cumin and curry leaves. While this spot did lose its Michelin star in 2015, regulars say the food and service are still top-notch. We don't hesitate to recommend you visit. (212-775-9000)
2 Locanda Verde
Tucked into TriBeCa, Locanda Verde has been delighting Italian food lovers since it opened its doors in 2009. A rustic ease is prevalent in the decor and the menu, which features casual basics like sheep's milk ricotta with sea salt and herbs on chunks of wood-fired peasant bread, to lamb meatball sliders, to squid ink linguini with manila clams, soppressata, garlic and shishito peppers. The vibe here – along with the crowd – is downtown cool, the high heeled fashionistas and established young professionals clinking glasses of vino against a brick-walled backdrop. An Italian taverna dropped into a New York postcard, this Italian joint is worth every penny. (212-925-3797)
1 Bouley
For over a decade, the boisterous David Bouley has been turning heads (and emptying wallets) at this expense account-worthy, New French treasure in TriBeCa. The Connecticut native trained at some of the world's best kitchens in both New York and Paris, and that top-tier training shows. The red, barrel-vaulted ceilings provide a vaguely kingly atmosphere for Bouley's award-winning service and elevated cuisine, with standout dishes focused on impeccably sourced seasonal ingredients. Keep your elbows off the table while tucking into organic baby lamb with eggplant moussaka, roasted Atlantic halibut with baked organic beets, black sea bass in sea scallop crust, and organic Long Island duckling with lavender-honey glaze. (212-964-2525, 212-962-2902)
---
About Andrea Duchon
Andrea Duchon was bitten by the travel bug from an early age, and has lived in New York, Seattle, Cleveland and Sydney, Australia since 2007. When she's not traveling or planning a trip, you'll likely find her eating tacos while throwing darts and watching the Cleveland Browns.
Read more about Andrea Duchon here.
Connect with Andrea via: Blog | Facebook | Instagram | Twitter
---
From Our Partners