Sitting on 300 private acres in the vast Green Mountain National Forest, Twin Farms is about as "away" as it gets, making it a natural draw for celebrities, CEOs, and other A-listers able to part with upward of $1,200 per night. The perks are legion: You get your own cottage, fly-fishing guide, and carriage ride, while sharing the private ski area (which has six runs), sauna, croquet court, pond, and Japanese furo (a sunken, 104-degree stone tub) with a handful of other select guests. Meals and beverages are also included.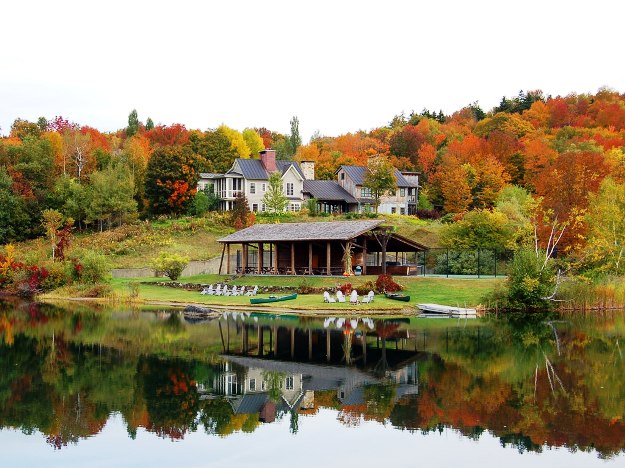 Ten rooms are tucked inside the Main House, a lodge, and a farmhouse, while the ten free-standing cottages range in style and furnishings from purist Scandinavian to Adirondack hunting lodge to Japanese minimalist. If you can't decide, take the whole property for a cool $38,000 per night—which you'll have to do if you want your kids under age 18 to stay with you, too.
Twin Farms offers 20 distinctive accommodations ranging from four large suites in the property's Main House to 10 freestanding cottages varying in size and spirit.  All accommodations feature king-size feather beds with luxurious linens and sitting areas with wood-burning fireplaces.  There is also the sprawling four-suite Farmhouse at Copper Hill overlooking Copper Pond, and the Lodge with two suites and a luxurious living room between them. Amenities include a complimentary fully stocked refrigerator with Kona coffee, tea, seasonal snacks, complimentary laundry service, and twice daily housekeeping service.    
Executive Retreat
Events team can arrange conferences in the most unexpected locations, and adjust every facet to meet your needs.
Fine Dining on Site
Chef Ted Ask's dining philosophy at Twin Farms revolves around the changing seasons, locally-grown herbs and vegetables available each day, and your dietary preferences.
Fitness Center
quipped with treadmills, two
Precor
EFX bicycles, a Flex Circuit System, free weights, yoga equipment and mats, and exercise videos, this popular exercise area provides a sheltered alternative to the range of outdoor activities.
Spa Facility
Massages, facials, scrubs, pedicures, and other treatments beckon in any weather.
Tennis Courts on Site
Located next to the Farmhouse at Copper Hill and the adjacent pond, one court comes equipped with rackets and tennis balls.
Boating
Canoeing.
Fishing – Fly
Rods, reels, flies, and authentic
Cabela's
vests will make you feel like a pro. The fully stocked pond will, too.
Skiing – Snow
Leave behind the crowds. We've reserved the slopes just for you. Six groomed trails on property — Main Street, Man Trap, Free Air, World So Wide, Jay Hawker, and Trail of the Hawk — remain closed to the public. Our Sherpa (high-powered snowmobile) can carry nine guests back to the top after each run.
Hotel Amenities
– Meeting Space
– Executive Retreat
– Fine Dining on Site
– Fitness Center
– High Speed Internet
– Spa Facility
– Tennis Courts on Site
Available Activities
– Biking, Touring
– Boating
– Fishing – Fly
– Scuba Diving
– Shopping
– Skiing – Snow
How to get there
Flights are available to Burlington International Airport (BTV) and Manchester Airport (MHT) from major U.S. cities on a variety of carriers. Private shuttle transfers to/from BTV, about 75 miles away, and to/from MHT, about 105 miles away, are included in the rate and can be coordinated through the guest services representative on property.
For those driving, self-parking is complimentary.
Year Built: 1993
Year Renovated: 2001
Check in Time: 4:00 PM
Check out Time: 12:00 PM
Number of Floors: 2
Total Number of Rooms: 20
Twin Farms
452 Royalton Turnpike Woodstock 05031   Tel: 800 894 6327 (toll-free)
Tel: 802 234 9999  
website – http://www.twinfarms.com/