Vemignano at Castello DI Casole Tuscany Italy
In the heart of Tuscany Italy, near the mythic cities of Florence, Siena and San Gimignano, is Castello di Casole – A Timbers Resorts Hotel & Residences. One of the largest private estates in all of Italy, Castello di Casole is set among 4,200 acres of rolling hills, sweeping valleys, Tuscan vineyards and olive groves.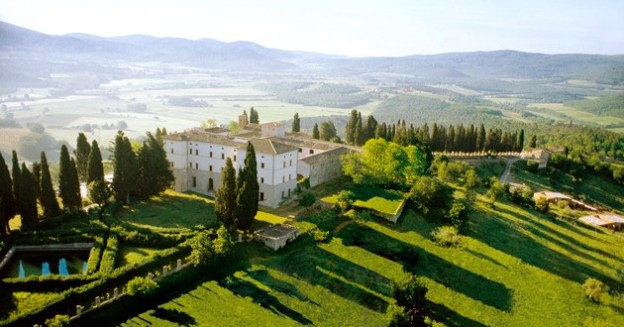 Casale Vemignano commands one of the estate's most prominent hilltops, offering unobstructed vistas in every direction, from the Castello to Casole d'Elsa, Mensano, even to San Gimignano in the distance. The residential compound of three restored buildings and grounds command an expansive grassy plateau above olive orchards that completely surround the property.

The primary residence is organized around a long, open living area with exposed stone walls subtly sectioned off by arched doorways and windows. Magnificent hardwood doors open onto the pergola or patio for evening dining in the spring, summer and fall. The original forno is adjacent to create a warm and intimate dining experience. Two very large master suites on the second floor combined with two large outer sitting rooms offer each suite complete privacy and stunning views of the countryside. There are courtyards everywhere, including a porch opening off the primary guest quarters.
The North Guest Residence, with a soaking tub fronting a massive arched window, is among the most romantic in all of Tuscany. In a property where there is astonishing architecture at every turn, perhaps most memorable is the dazzling glass tiled infinity pool, pictured above, soaring off one edge of the property into the Tuscan hills.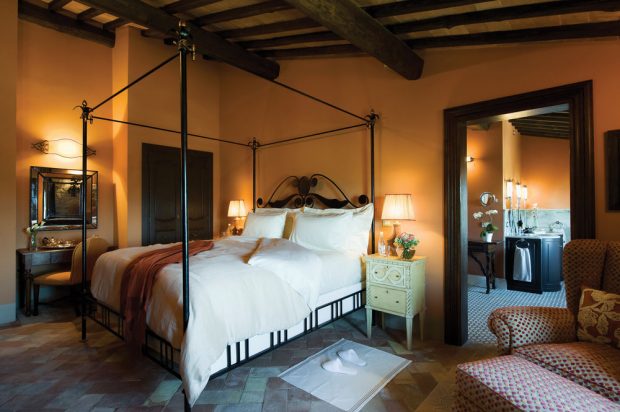 Vemignano is approached from a country lane that crosses meadows, winds up through a forest and then opens to reveal the residence, which crowns the hillside. Olive orchards encircle the property, which offers views in every directions. Vemignano is ideally located within the overall Castello estate, close enough to make the hotel and spa little more than an invigorating walk, but like all the casale, exceptionally private. The 100 acres of Sangiovese and Cabernet vineyards are used to make a private-label vintage that is only available at the estate. In addition, there are 30 acres olive groves that are harvested to create a private-label extra virgin olive oil unlike no other.
Categories: Abacos, Europe, Italy, Tuscany
Tags: Casole, Casole d'Elsa, Castello DI Casole, etraveltrips, Florence, Italy, Italy Travel, Italy Vacation, Luxury Hotels, Olive oil, Romantic getaways, San Gimignano, Siena, travel, Tuscany, Tuscany Travel, Tuscany wines, Wine tours