The State of Maryland is located in the mid-Atlantic region of the United States. Various nicknames including "Old Line State", "Free State", and "Chesapeake Bay State" recall historic and other aspects of Maryland. Maryland is a major hub of American life science research and houses over three hundred biotechnology firms as well as a number of prestigious academic and other research institutions.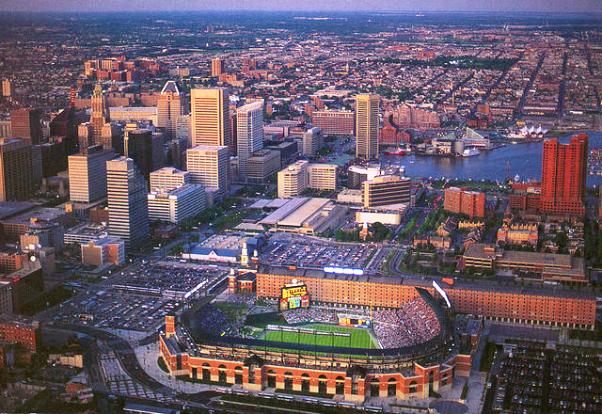 Geography
Also known as "America in miniature," Maryland hosts a variety of geographic regions ranging from sandy sea-grassed dunes in the east, to low bird-filled marshlands near the bay, gentle rolls of forests around Piedmont, and pine groved mountains in the western areas. Chesapeake Bay, which almost cuts the State in half is the destination for almost all the state's waterways and continues to be a major focus point of economic life.
Hove Crest on Backbone Mountain in the southwest part of Garret County is the highest point at just over 1,000 meters. In a curious quirk of nature, Maryland has no natural lakes. This is so because Ice Age glaciers did not reach that far and so did not carve out any suitably deep recesses. As a result, all large bodies of water are man made, the largest being Deep Creek Lake in western Maryland.
Chesapeake BayChesapeake Bay
Climate
The state's climate is as varied as its topography, depending on proximity to water, elevation and protection from down slope winds. The eastern region, which is characterized by flat, sandy soils, enjoys a humid sub-tropical climate with hot summers and short mild winters. The Piedmont Mountains mark the transition point to the subtropical highlands, where summers are still hot, but winters are much colder with heavy snowfalls. Elevated areas further to the west in the subtropical highlands have cooler summers and frequently snowy winters.
Although being near the Atlantic coastline makes Maryland vulnerable to tropical cyclones, the buffers provided by the outer banks of North Carolina and the Delmarva Peninsula keep the risk below category three. The State averages approximately 25 thunderstorm days a year, during which six tornados may strike.
Popular Attractions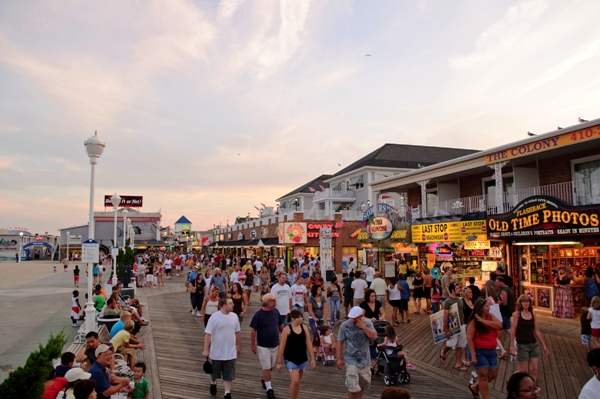 Eastern Maryland
The Ocean City Boardwalk in Ocean City, Maryland has been voted among the Top 10 attractions in America by both Travel Channel and USA Today. It is perfect for the family looking for a fun outing. Early morning bike rides along the Boardwalk are especially popular as they combine talent spotting with healthy exercise along the ocean frontage. Eateries ranging from burger and hot dog stands to upper class seafood restaurants abound, where parents may tarry while the kids chill out on ferris wheels and roller coasters.
South Maryland
St Clement's Island at Colton's Point is where the first settler ships landed in the mid-seventeenth century. There is a great deal more to see than the forty-foot memorial erected in their honor. Picnicking and hiking on the 40-acre island are popular pastimes, as are visits to a fascinating historical museum where you can learn all about the early colonists.
St Mary's City, which was founded in the year 1634, is a destination in itself, being both a pioneer of religious tolerance and the place where women first demanded the right to vote.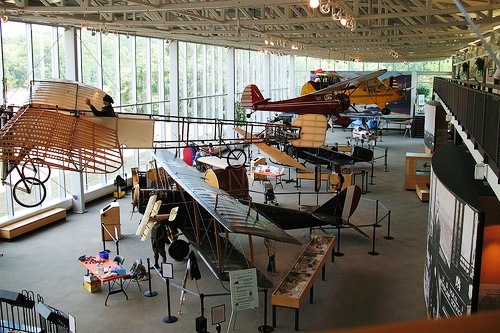 Capital Region
The College Park Aviation Museum, which is associated with the Smithsonian Institute and stands on the grounds of the longest continuously operating airport on earth, was established by American hero Wilbur Wright as the base where he would provide the first flying lessons in America. The museum houses a number of authentic and reproduction aircraft, including Wright's Model B duplication, a 1932 Taylor J-2 Cub, and a 1941 Boeing Stearman, among many other uniquely exciting exhibits.
The Chesapeake and Ohio Canal National Historic Park follows the historic water trail along the Potomac River from Cumberland to Washington, D.C., where hundreds of locks, lock houses, and aquaducts may be viewed in their original settings.
Central Maryland
Baltimore's Maryland Zoo on Druid Hill opened in 1876 and is probably the third oldest facility in the States. Attractions include:
The African Journey, featuring a wide variety of exotic animals in naturally crafted surroundings such as watering holes, forests and islands.
The Maryland Wilderness Children's Zoo, where kids can take camel rides, explore a giraffe feeding station, and feed several large animals by hand.
The Polar Bear Watch, where arctic foxes, snowy owls, noisy ravens and, of course, polar bears may be observed.
The Rocky Gap Lodge and Golf Resort in Flintstone is the perfect place to enjoy indoor and outdoor adventures. Features of this amazing sporting paradise include:
The Rocky Gap Lodge and Gold Resort, which is generally speaking regarded as one of the finest golfing venues anywhere.
Outdoor hiking and fishing opportunities that provide perfect bonding opportunities to grow father-son relationships.
Kayaking adventures to rest every muscle in your body as you steer through white, rocky water. An extensive aviary where small kids can be introduced to their feathered friends.
Visitors who prefer to remain indoors away from the blazing summer sun will appreciate the indoor swimming pools where they may either exercise, or soak away their cares in the embrace of water. Other exercise opportunities for those who either cannot or will not relax include modern, spotlessly clean fitness gyms and indoor tennis. Finally, the Rocky Gap Lodge offers great accommodation and fine dining opportunities, too.
For Hotels in Maryland click the link below