The State of Maryland is located in the mid-Atlantic region of the United States. Various nicknames including "Old Line State", "Free State", and "Chesapeake Bay State" recall historic and other aspects of Maryland. Maryland is a major hub of American life science research and houses over three hundred biotechnology firms as well as a number of prestigious academic and other research institutions.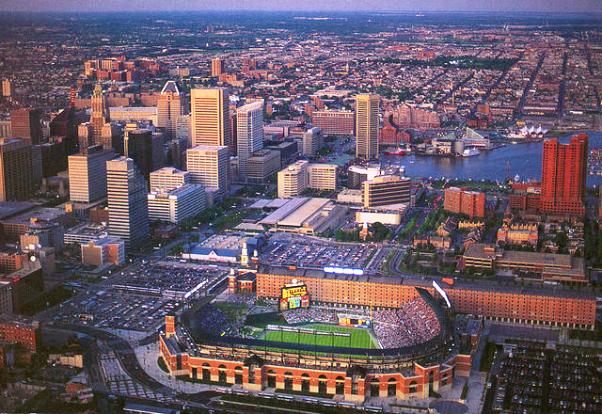 Geography
Also known as "America in miniature," Maryland hosts a variety of geographic regions ranging from sandy sea-grassed dunes in the east, to low bird-filled marshlands near the bay, gentle rolls of forests around Piedmont, and pine groved mountains in the western areas. Chesapeake Bay, which almost cuts the State in half is the destination for almost all the state's waterways and continues to be a major focus point of economic life.
Hove Crest on Backbone Mountain in the southwest part of Garret County is the highest point at just over 1,000 meters. In a curious quirk of nature, Maryland has no natural lakes. This is so because Ice Age glaciers did not reach that far and so did not carve out any suitably deep recesses. As a result, all large bodies of water are man made, the largest being Deep Creek Lake in western Maryland.
Chesapeake BayChesapeake Bay
Climate
The state's climate is as varied as its topography, depending on proximity to water, elevation and protection from down slope winds. The eastern region, which is characterized by flat, sandy soils, enjoys a humid sub-tropical climate with hot summers and short mild winters. The Piedmont Mountains mark the transition point to the subtropical highlands, where summers are still hot, but winters are much colder with heavy snowfalls. Elevated areas further to the west in the subtropical highlands have cooler summers and frequently snowy winters.
Categories: Abacos, Baltimore, Maryland, USA
Tags: Amusement parks, Chesapeake and Ohio Canal National Historical Park, Chesapeake Bay, Cumberland, etraveltrips, Golf, Maryland, Maryland Ocean City, Mid-Atlantic, Shopping, sightseeing, travel, Travel and Tourism, travel deals, United States, vacation, Western Maryland