Visiting Beautiful Austria
Think of Austria and possibly the movie "The Sound of Music" is likely to be uppermost in your thoughts. Certainly, the country's beautiful lakes and mountains are among its most beguiling attractions, but they are just part of its appeal.
Here are 10 tips to help kick-start your holiday planning, with some suggestions and reasons to visit the land of music maestros such as Mozart and Haydn.
Austria is a country of vivid greens, from the fir tree forests and lush alpine meadows of its jagged-peaked mountain ranges to lowland areas of verdant fields, river valleys, diverse woodlands and vineyards. It is also the brilliant white of freshly-groomed ski slopes and thick snow carpeting village rooftops, and it is the deep blue of its lakes and endless summer days strolling the cobblestoned streets of historic cities or sitting on a shaded cafe terrace with a coffee and torte.
Mountains: Austria's Alps are renowned for their beauty. In winter they are criss-crossed by pistes catering to everyone from beginner to budding Olympic champions, with Kitzbuhel's Hannenkham the toughest race on the World Cup ski calendar. When the snow melts the mountains are a haven for hiking, climbing, hang gliding and many other pursuits.
Lakes: The Salzkammergut area is the country's Lake District and is where the Sound of Music was set. Picture-postcard lakes such as Fuschlsee and Mondsee are edged by chocolate-box villages and towns, among them St Gilgen, St Wolfgang, Hallstatt, Gmunden and the town of Mondsee.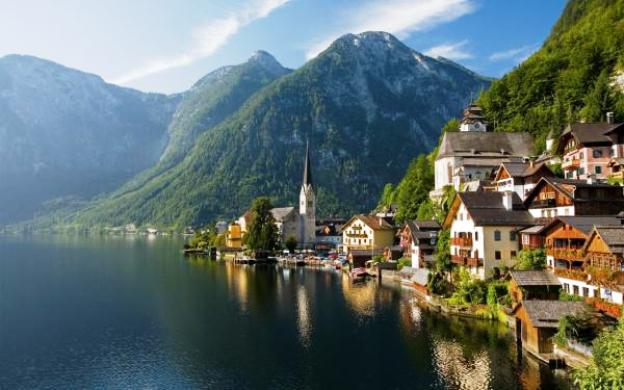 Cities: Take in the baroque splendour of capital Vienna, with architectural treasures including the ornate Opera House and Hofburg Palace, and the charm of Mozart's birthplace, Salzburg. Other gems include Linz, European Capital of Culture in 2009, Styrian capital Graz and alpine beauty Innsbruck.
Categories: Abacos, Austria, Europe, Vienna
Tags: Austria, Danube, Europe, European Capital of Culture, Fuschlsee, Hofburg Palace, Lake District, Sound of Music, Viena, Vienna