There are quite a few things to love about Cartagena, a charming, walled city in Colombia that is as culturally enticing as Havana, but not quite as crowded or as loud. Whether it's the clop-clop of horse-drawn carriages on cobblestone streets or the varied architectural wonders that span old churches and imposing battlements, Cartagena is an enchanting destination considered by many travelers as a "gem of a town."
History, culture and romance come together in this fascinating Colombian city, where it's easy to get lost in its labyrinth of narrow streets and festive evening parties that last until sunrise. Why Visit Cartagena? A cozy, historical city in Colombia, Cartagena has the magic to lure in almost anyone. Whether you simply love traveling to any of the beautiful cities of South America, exploring 16th century walled towns, or are out on a culinary adventure that will have you sampling the best gourmet offerings of the city, Cartagena is not one to disappoint.
Annual celebrations such as The Hay Festival, Cartagena Film Festival, and Gourmet's Delight are just a few of the yearly festivities that make this unforgettable Colombian town a favorite holiday destination for visitors from all over. What to See and Do in Cartagena? From mansions and monasteries to plazas and tree-shaded patios, there are many sights that invite any traveler to linger in Cartagena, Colombia. There's the old city fortified by walls, built during the 16th century, and the architecturally impressive Palace of the Inquisition.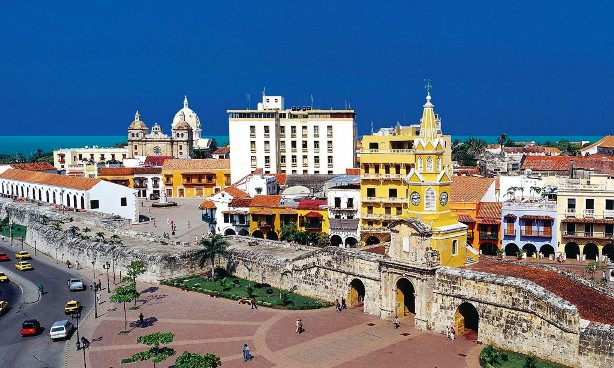 You can explore these sites on foot or by renting a bicycle. If you're feeling more nostalgic, you can always opt for a romantic horse-and-carriage exploration across the city. Cartagena also offers a lot of choices for outdoor activities, such as dancing, game fishing, water skiing, trekking, and kite-surging, among others. A must-visit is the La Vitrola restaurant, where delicious food and an impressive crowd that once included Nobel Prize-winning writer Gabriel Garcia Marquez are bound to make your vacation more memorable. Plus, the beaches of Rosario Islands — where you can sip cocktails while taking in the lovely Caribbean air — are never too far away.
When Is the Best Time to Visit? The Caribbean climate of Cartagena means that you can expect hot days for most of the year. The driest months span from December until April, while the rainiest months are October and November. If you are craving some South American sunshine, traveling to this destination is best any time of the year, although visiting during the summer months is best. The city experiences an annual temperature of 88 degrees all year through. Despite the warm and humid daytime climate, however, Cartagena is known for its cool and breezy nights.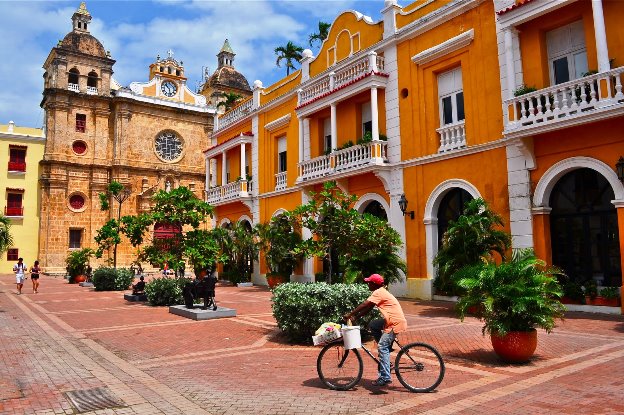 This makes the city ideal for outdoor activities in the evenings, such as strolling through its bougainvillea-lined alleys or lounging in many of its al-fresco restaurants and cafes. Rediscovered by travelers only a few years ago, this city offers traditional South American warmth and excitement. Prepare your itinerary and book your flights today to see why the enchanting, old-fashioned city of Cartagena is one of the best treasures Colombia has to offer.