If you are planning a tour of Europe why not consider the Piedmont region of northern Italy? Depending on your specific interests, this beautiful area might be an ideal vacation spot for you. You can get classic Italian food, and wash it down with fine local wine. Some parts of Piedmont haven't yet been discovered by tourists. This short article presents Turin, the capital and largest city of the Piedmont. A companion article presents the rest of the Piedmont region.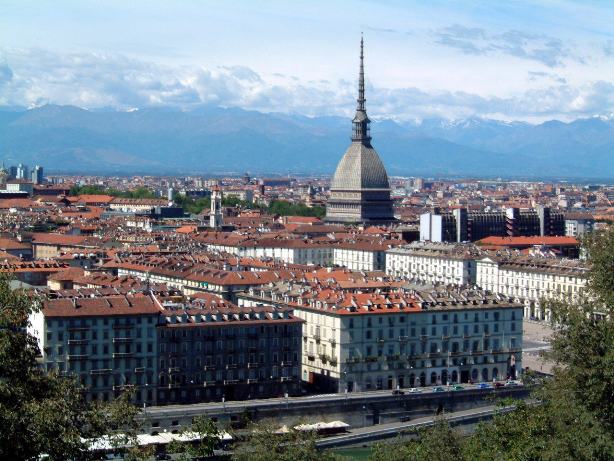 Piedmont means foot of the mountains, and that describes the area perfectly. Turin, in the center of Piedmont, is pretty well surrounded by hills and by mountains such as the Alps. The Piedmont climate is continental especially in the plains.
Turin's population somewhat exceeds nine hundred thousand. The 2006 Winter Olympics have put Turin on the tourist map. Turin, the center of Italy's automobile manufacturing, is more than an industrial city.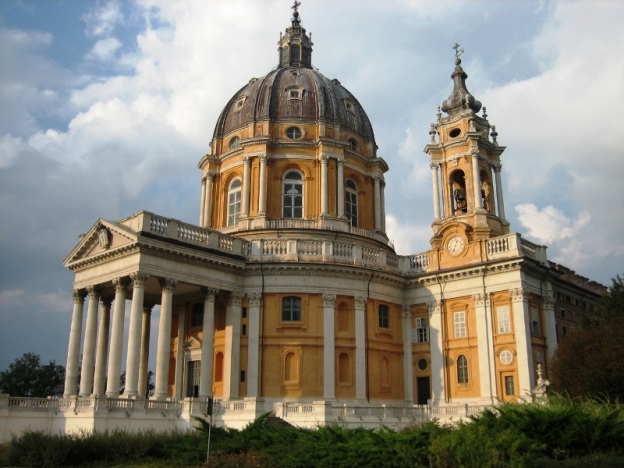 This city was once a walled Roman military camp. The French House of Savoy ruled Piedmont for some five hundred years. Not surprisingly a lot of French influence remains. Turin was the first capital of the United Kingdom of Italy.
We begin our tour of Turin downtown. The Fifteenth Century St. John's Cathedral chapel contained the famous Shroud of Turin. You can see a copy of this shroud near the Duomo's altar. Other downtown churches include the Seventeenth Century San Lorenzo (St. Lawrence) and the twin baroque San Carlo and Santa Cristina Churches. Cross the Po River to see the Nineteenth Century Chiesa della Gran Madre di Dio and the Sixteenth Century Church of St. Maria of the Mountain.
Italy's Detroit hosts the Museo dell'Automobile (Automobile Museum). Its collection includes the first FIAT model, Bugattis, Ferraris, and actress Gloria Swanson's Isotta Franchini from the movie Sunset Boulevard. The Mole Antonelliana, the official emblem of the 2006 Winter Olympics, was once the world's tallest brick structure. It houses the Museo Nazionale del Cinema (National Cinema Museum) with a film library containing seven thousand films.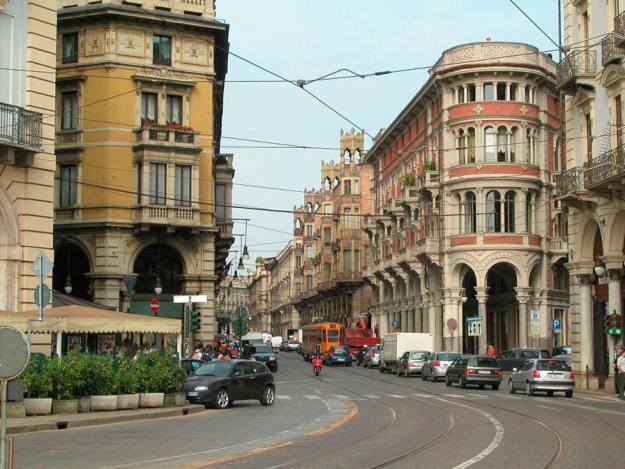 The Piedmont region is well known for all kinds of food, often with a French style. Grissini (Bread Sticks) were also invented in Turin. See our companion article I Love Touring Italy – Turin, Piedmont which provides a sample menu and more information on local wines as well as an in-depth examination of its tourist attractions. Piedmont wines include Barolo, felt by many to be Italy's finest red wine, and Barbaresco.