Seaside Heights in the Jersey Shore packs lots of action into its 16-by-4-block beach side area, pulling in crowds with its whirl of fast-paced activity. The boardwalk here is one of the busiest at the Shore, thanks to two amusement piers, a water park, wall-to-wall arcades, souvenir shops, informal dining like the Sawmill – think pizza, sausage sandwiches, clams on the half shell – and lively evening entertainment.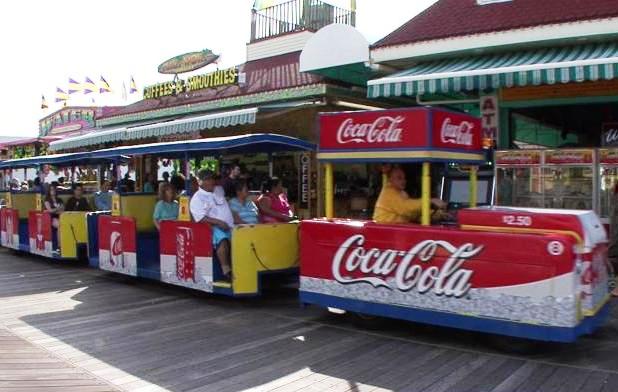 Check out Jenkinson's Breakwater Beach Water Park at Casino Pier, Casino Arcade or the Big Top Arcade to name a few.
Just one block west of the beach is where you'll find full-service restaurants including The El Camino for Mexican, Luna Rosa for Italian and the massive Hemingway's for nearly everything else.
In summer, free seaside entertainment includes movies on the beach, concerts and weekly fireworks displays. Plan a stay at one of the town's accommodations.
Although the summer sun is obviously a big draw, many popular events take place here year 'round, including rollicking Columbus Day and St. Patrick's Day parades and the annual Polar Bear Plunge, where intrepid swimmers dive into the icy Atlantic in winter to raise money for the Special Olympics.
Don't miss:
• Berkely Sweet Shop on the boardwalk, to watch (and sample) saltwater taffy pulling.
• Jenkinson's Breakwater Beach Water Park, a state-of-the-art water park with the largest interactive play area on the North Atlantic Coast.
Nature lovers:
Island Beach State Park, just two miles south of Seaside Heights, features more than 3,000 acres of protected barrier island ecosystems.
And while you won't find games of chance or Boardwalk fries, you will find miles of protected dunes and wide expanses of beach.
After leaving Island Beach State Park on your way back to Seaside Heights, stop at the Atlantic Grill in Seaskde Park or Bum Rogers seafood restaurant for a local delicacy, garlic crabs.