Mackinac Island boasts a rich history—as American Indian summering grounds, as the center of the North American fur-trading business and as a colonial fortress—but it's the gilded Victorian era the island preserves like a living postcard that is the most striking. Horse-drawn carriages clip-clop down vehicle-free streets. Pedestrians stroll and bicyclists pedal past Main Street shops and cafés. Million-dollar Victorian 'cottages' climb up hillsides, and storybook resorts like the world-famous Grand Hotel gaze out over sparkling lake views.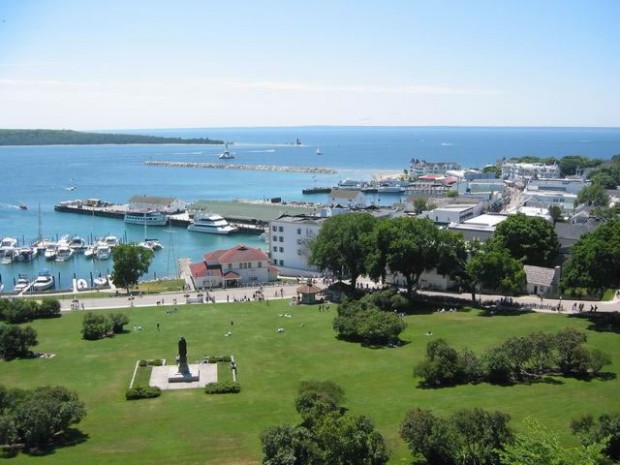 It can seem a bit touristy at first blush, but there's no denying that Mackinac (pronounced MAK-i-naw) is also irrepressibly charming, especially if you venture away from the downtown area's snarl of fudge and trinket shops, linger awhile and succumb to the relaxed island vibe as if a holidaying mogul of yesteryear.
Mackinac Island lies in the Straits of Mackinac, where Lakes Michigan and Huron meet, and where the immense Lower and Upper Peninsulas of Michigan are linked by the man-made tether of the Mackinac Bridge. (One of the world's longest suspension bridges, the four-mile-long bridge is a marvel in its own right.) The clean lake air began drawing wealthy urbanites in the late 19th century by steamship and railroad. As the island's popularity grew, farsighted locals banned the automobile almost as quickly as it arrived, and today more than 500 horses are stabled on the island all summer to pull carriages and haul freight.
All ferries arrive downtown, where you'll be greeted by a bustling Main Street filled with shops selling ultra-rich, ultra-delicious fudge, the island's specialty (and hence the reason locals refer to tourists as 'fudgies'). There are dozens of flavours to choose from—try the turtle, cranberry or maple syrup. Walk off those calories on a hike up to Fort Mackinac, a military outpost built by the British in 1780 to ward off upstart American colonists.
It's a fun place to wander around, with restored quarters, costumed guides, cannon salutes and glorious views of downtown, the marina and a broad sweep of Lake Huron. Seventy-eight per cent of the 2,200-acre island is protected as state park, much of it woodlands sprinkled with wildflowers and limestone outcroppings. A flat eight-mile bicycle path encircles the island, hugging the shoreline and leading to interesting natural and historical sites at a pace those Victorian visitors would appreciate.
But Mackinac's most famous landmark is inarguably the opulent Grand Hotel with its much-photographed 660-foot-long front porch, impeccable grounds covered with blooming flowers and a time-weathered ambience marked by afternoon activities like bocce ball and high tea. Built in 1887 (when rates were $3 (£2) a night for Midwestern tycoons) on its hilltop perch and regally setting the island's gracious turn-of-the-century tone ever since, the white Greek Revival palace is believed to be the largest summer resort hotel in the world. Movie fans will recognize it as the backdrop for the 1980 cult classic Somewhere in Time.
The Chippewa Hotel has its own set of devotees. A lovely Victorian landmark overlooking the marina, its Pink Pony Bar & Grill is a favorite watering hole among sailors, made famous as the 'finish line' of the annual 333-mile Chicago–Mackinac Yacht Race ('The Mac') that turns the island on its head every July.