Great place to visit in Morocco
Morocco is one of the most popular tourist destinations in Africa and rightly so. Incredible sense of culture and a long rich history make Morocco a preferred holiday destination among those who seek a blissful journey through something extraordinary. Morocco is a country that dazzles all with its ever-so apparent diversity – a diversity that engulfs not only the natural landscape of the nation but also impacts the overall aura of the place. Cool azure waters bordering the powdery beaches offer a stimulating contrast to the hot white sands of the desert, just like ultra-modern suburban enclaves are poles apart from the medieval medinas of the cities.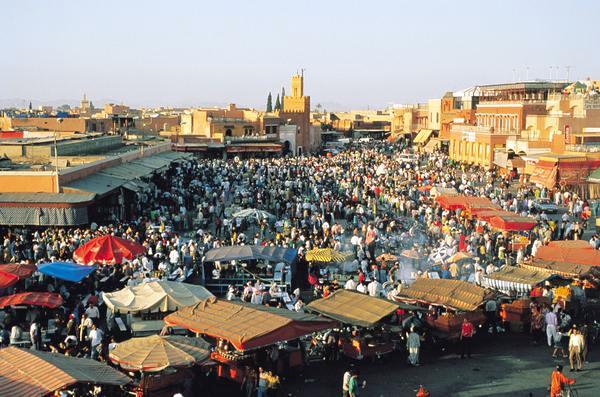 Morocco may be just a step away from the European continent but the country is light years away in terms of cultural experience, brimming with vivid colours and hypnotizing mysteries.
Attractions in Morocco are too many and for the first time visitor to the country it makes real sense to do some homework before embarking upon flights to Morocco. An ephemeral look into the vast and varied charms of this country will surely enable you to make the most of your travel to Morocco.
Citadel of Chellah Gardens
Tempting holiday makers all over the globe to book flights air tickets to Morocco, Chellah Gardens offer a wonderful display of the nature's work. During the spring season, the entire place blooms into its full glory and seems to be a richly coloured palette of a painter! Tourists will also come across the fascinating Roman ruins and elaborate tombstones that leave many a mouths gaping. Roman ruins here date back from 200 BC and includes a temple and craftsmen's quarter.
Djemaa el-Fna
Djemaa el-Fna (Square of the Dead) is perhaps the biggest tourist hotspot in this colourful country. The square throbs with liveliness and seems like a vibrant spectacle of performing artists where the likes of snake charmers, musicians and storytellers jostle with each other to find a favour with the crowd. As the dusk settles in, cheap food stalls of different kinds take over the square. Everything and anything, from boiled snails to fresh salads, is offered to the tourists to quell their cravings. If cheap flights to Morocco are sought so highly all across the globe, major portion of the credit goes to Square of the Dead!
Categories: Abacos, Africa, Casablanca, Marrakech, Morocco
Tags: Adventure Travel, Africa, Marrakech, Morocco, sightseeing