With Cuba's hotels positioned in a variety of beautiful locations across the island, it may be hard to choose between a beach holiday and a stay in a vibrant historical city. Will a Cuban hotel on the coast catch your eye, or would you prefer to stay at the centre of the island's rich urban culture, in the intoxicating colonial towns?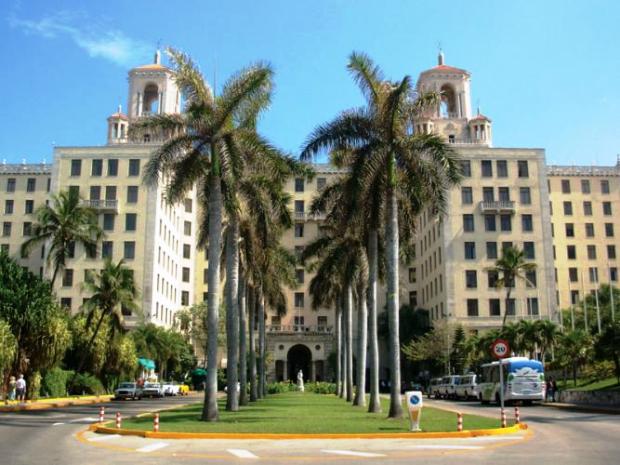 The Cuban Coastline.
Because of its location in the Caribbean Sea, Cuba is a great location for spending time on the beach and in the water. Varadero is a prime example of a coastal resort in Cuba: a beautiful spot for beaches, and located a little more than two hours from Havana. The Cuba hotels in Varadero are grand, modern and luxurious with facilities that make the most of the picturesque setting.
Like many of Cuba's coastal resorts, there are numerous scuba diving sites to be found here, so the hotels will cater to divers of all levels. The Melia Las Americas, Iberostar Varadero, and the Princesa Del Mar Resort and Spa are just a selection of the quality Cuba hotels that offer water sports facilities to enjoy on your Cuban beach holiday.
Cuba Hotels in the Cities
Camaguey is a remarkable city designed like a labyrinth with intricate alleys, and apparently with only one way in or out. It was made this way in the 16th century to make it difficult for raiders to attack the city. The result is a series of interesting and baffling streets and squares that you can explore from your Cuban Hotel. An example of the idiosyncratic buildings you might want to stay in is the Colon Hotel in the old quarter. Although it s facilities are basic this Cuba Hotel has a unique feel to it, with the walls pillars and terrace around the courtyard all decorated in turquoise. Also in Camaguey is the Gran Hotel, a more refined colonial Cuban Hotel with a great location from which to explore the city.
Of course, if you want to experience the rich urban atmosphere of Cuba's cities, you will likely look to Havana first. There are a number of Cuba Hotels to choose from in Havana, each with its own character or style. The Hotel Saratoga is a building with a history dating back to the 1930s when it established itself as a venue for decadence. In recent years it has been restored to its former glory with the addition of modern luxuries. Its rival for the crown of best luxury hotel in Havana is the Nh Parque Central hotel. This is a modern hotel with traditional styling, a great location, an open air restaurant and rooftop swimming pool.
Any of these Cuba hotels serve as a good base for exploring the city. Old Havana is designated as a UNESCO World Heritage site, treasured for its array of Baroque and neoclassical architecture dating back to the early 16th century. The same can be said for Trinidad, a town on the south coast of central Cuba. The hotel that is frequently recommended for a stay in Trinidad is the recently renovated Iberostar Grand Hotel Trinidad. This is a quiet, charming boutique hotel with good facilities for a comfortable stay in a well preserved colonial town.
The Best of Both
With the rich culture of the island's cities and the stunning beauty of its coastline, you may find it hard to decide where to spend your time. For the best of both sides of Cuba you should consider a multi centre itinerary for your Cuba holiday, combining several Cuba hotels and locations for an unforgettable a trip to the Caribbean.