Strolling through history in the nation's capital. You don't need a lot of time to cover a lot of ground in Washington, D.C., and if you enjoy walking (and we do), Washington, D.C. is the perfect city to walk about. Outfitted with Fitbit devices and comfy shoes, we designed our most recent D.C. stay around getting footloose in the nation's capital. We saw all of the same sights we would have seen with the help of a car.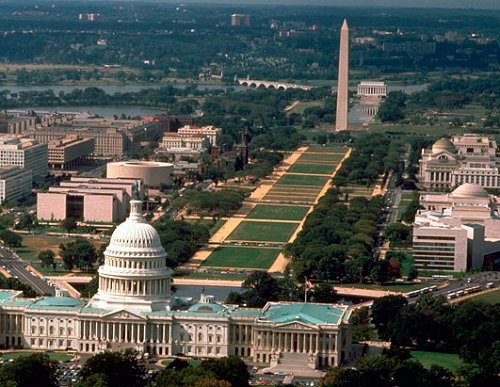 From the National Mall and Memorial Park to Georgetown, there are dozens of walking routes to take throughout this great city, depending on what you're in the mood to see and do. We zeroed in on a two-mile radius bursting with interactive museum experiences.
We started our trek at the Newseum, a perfect spot for self-proclaimed news junkies of every shape and size. The museum is located on Pennsylvania Avenue between the U.S. Capitol and the White House. Inside, the Newseum is chock-full of historic artifacts, Pulitzer Prize-winning photographs, and interactive exhibits that enabled us to relive historic newsworthy moments of yesteryear. We even stepped up to the news anchor desk, read from the teleprompter, and tried our hand at being television reporters. We don't think CNN will be calling us anytime soon.
Next, we moseyed over to the International Spy Museum, which features the largest collection of international espionage artifacts ever placed on public display. When we visited, some of these goodies included the Aston Martin DB5 from "Goldfinger," Jaws' teeth from "Moonraker," and a German enigma machine from 1944. The museum spotlights human intelligence and the role spies have played in world events throughout history. It also offers a number of fun interactive exhibits. At one, taking on aliases we were put to the test to see if we had what it takes to be spies. With feeble midlife memories, we could barely remember our aliases. We were more like a couple of bumbling Maxwell Smarts than cool, calm James Bonds.
Categories: Abacos, USA, Washington DC
Tags: Aston Martin, Aston Martin DB5, City Vacations, Crime Museum, etraveltrips, Ford's Theatre Museum, Grand tourer, Historical site, International Spy Museum, Museums, National Museum of American History, National Museum of History, Newseum, sightseeing, Smithsonian American Art Museum, Smithsonian Institution, travel, United States, Washington DC