Baur au Lac Hotel Zurich, Switzerland
Zurich's venerable hotel, Baur au Lac, boasts a history as breathtaking as its Alp and lakeside setting. Opened in 1844 by Johannes Baur, the property hosted the world-premiere of Wagner's Die Walküre, with Richard himself performing, and Alfred Nobel's former secretary, Bertha von Suttner, conceived of the Nobel Peace Prize in one of the hotel's salons.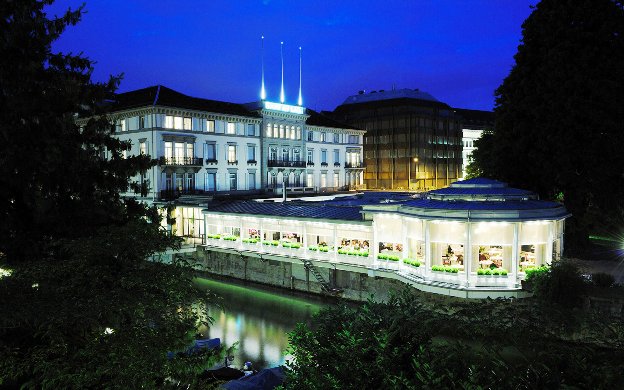 Today, a cast of royals, actors and musicians are drawn to the grande-dame hotel for its stunning views, private park on the lakeshore and location to Zurich's historic sites and the Bahnhofstrasse, a fabulous shopping street. Of the four dining rooms, the al fresco Terrasse restaurant is the city's summer hot spot, where locals and guests flock to mingle over light meals, cocktails, and spectacular views from canopy-covered tables.

Situated in its own private park, a stone's throw from the famous Bahnhofstrasse – home to business, banking, and shopping – the Baur au Lac has been hosting elite travelers since 1844. With three spectacular restaurants, ranging from French haute cuisine to light outdoor meals and cocktails, and boasting a Michelin Star, the diversity of culinary choices is outstanding.
In 2009, the hotel completed a $50 million renovation, which increased the number and luxury of its suites and is sure to help keep the Baur au Lac a preferred destination for generations to come.
Baur au Lac is Zurich's prestigious landmark of unequalled hospitality, elegance, and impeccable service. The hotel has been owned by the same family for over 160 years. Only recently, every room was thoroughly renovated, each one lovingly and uniquely crafted to combine superlative creature comforts with classical elegance and every conceivable technical convenience. The unusually large and light bathrooms, an attractive blend of marble and mirrors, combine practicality with sheer luxury.
Categories: Abacos, Europe, Switzerland, Zurich
Tags: Alfred Nobel, Alp, Baur au Lac, Bertha von Suttner, Die Walküre, etraveltrips, FIFA, Germany, Hotel, Hotel Deals, Hotels in Switzerland, Hotels in Zurich, Luxury Hotels, Museums, Nobel Peace Prize, Switzerland, travel, travel deals, Zurich