Wine tasting is always fun in the town of Yountville. Just walk down Washington Street and pop into a tasting room of your choice. Or drive to the tucked around the corner, off the beaten path wineries for an intimate, personal tasting experience. Browse the winery listing below to plan your tasting itinerary.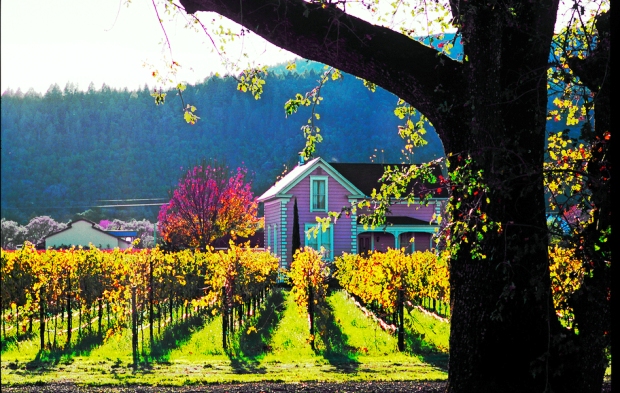 Hestan Vineyards
Located two blocks from the hotel, Hestan Vineyards has opened a new tasting room in town. Hestan is a family-owned estate with 56 low-yielding acres of Cabernet Sauvignon, Merlot, Cabernet Franc, Petite Verdot and Malbec planted on the eastern slopes of Napa Valley. Open every day from 10:00 a.m. to 6:00 p.m. Call (707) 945-1002 for more information. www.hestan.com
Hestan Vineyards is a picturesque, 127-acre ranch located on Napa Valley's eastern slopes at the base of Okell Hill. The vineyard is named for owners Stanley and Helen Cheng, whose passion for fine wines and love for Napa Valley's beauty and charm led them to purchase the property in 1996.
They began planting grapes in 1997, adding blocks over the years to take advantage of the site's myriad of exposures and well-drained soils. Today 56 acres of blocks planted to all five of Bordeaux's principle red varietals – Cabernet Sauvignon, Merlot, Petit Verdot, Cabernet Franc and Malbec – blanket the rolling hills that overlook the property's 11-acre pond.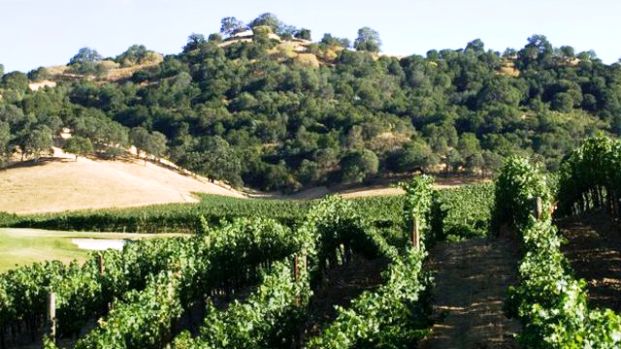 Priest Ranch
A short walk from Bardessono, Priest Ranch's tasting room is located at 6490 Washington Street. We exclusively feature our Priest Ranch wines, which are sourced from the Somerston Estate. While tasting, enjoy an artisan cheese plates or exquisite chocolates to enhance your experience. Visit us to relax on our sofa, plan a private tasting experience or enjoy our outdoor courtyard and rooftop terrace. Open every day from 11:00 am to 7:00 pm. Call (707) 944-8200 for more information or to make a reservation.
www.priestranchwines.com
Tucked away at the far southeastern corner of Napa County, and virtually unknown, is the Blue Ridge Vineyard on Mt. Vaca. Never heard of it? Not surprising. Unknown to many, Blue Ridge has the distinction of being the highest vineyard in the Valley, cresting at 2,810 feet. This elevation produces grapes with unusual character, where the vines ripen slowly, maturing the flavors. Sold exclusively to Girard from the Harris family, some of the Zinfandel vines date back 35 year.
Located very close to Bardessono, Girard's tasting room is located at 6795 Washington Street. Open daily from 10:00am to 6:00pm. (707) 968-9297 for more information.
www.girardwinery.com
Cornerstone Cellars
Two blocks away at 6505 Washington Street in the center of Yountville, just across from the Post Office. Open every day (except Tuesdays) from 10:00 a.m. to 7:00 p.m. (6:00 p.m. Dec. to April). Call (707) 945-0388 for more information and reservations.
www.cornerstonecellars.com
Jessup Cellars
Owners Dan and Becky Blue, Roy and Cheri Eisiminger and Vance and Jana Thompson are proud to present Jessup Cellars, an ultra-premium winery crafting superior wines from the best the Napa Valley has to offer. The Tasting Room is open daily from 10:00 a.m. to 6:00 p.m. They accept Walk-In tasters, as well as Tasting Experiences by appointment. To arrange for a Tasting Experience in one of their private or semi-private tasting rooms, please call at (707) 944-8523.
www.jessupcellars.com
Hill Family Estate
Hill Family is pleased to share their wines with visitors to the Napa Valley wine region at the Sales and Tasting Room in the heart of Yountville's restaurant row. Located at Washington and Mulberry Streets, inside the Antique Fair, guests to their Tasting Room enjoy a unique wine experience, tasting wines in a relaxed, salon-like atmosphere. They are open daily (excluding major holidays) from 10 a.m.- 6 p.m. We suggest reservations be made in advance for guests arriving by limousine. (707) 944-9580.
www.hillfamilyestate.com
Page Wine Cellars
Located at 6505 Washington Street. They are open daily from 10:00 a.m. to 6:00 p.m. Call (707) 944-2339 for more information and reservations.
www.pagewinecellars.com
Domaine Chandon
Join Chandon for a tasting in their vibrant, contemporary Tasting Lounge. The festive and stylish setting is ideal for gathering around the bar, a cocktail table, or shaded patio table to sample our diverse selection of sparkling and still wines by the taste, tasting flight, glass, or bottle. Add breathtaking views, stunning art exhibits, and a wine-friendly appetizer and sandwich menu and you've got every reason to raise a glass and stay awhile. (888)242-6366.
www.chandon.com
Hope and Grace Tasting Room
Located at 6540 Washington Street, just a short stroll from Bardessono. Hope and Grace is open for tastings Monday thru Saturday 10:30 a.m. to 5:00 p.m.
www.hopeandgracewines.com
Ma(i)sonry
Restored in 2008 by Blackbird Vineyards' proprietor, Michael Polenske, this historic 1904 stone building serves as a stylized backdrop for Ma(i)sonry Napa Valley—"a life aesthetic." As an art, design and collective wine-tasting gallery among an outdoor sculpture garden, Ma(i)sonry offers guests a differentiated lifestyle experience in wine country. Wine educators will curate tastings for guests, allowing them to sample wines crafted by world-class winemakers such as Aaron Pott, Philippe Melka, Thomas Brown and Santiago Achaval. Guests are welcome to peruse Ma(i)sonry's galleries seven days a week, with seasonal evening appointments until 9pm.
For reservations for a tasting, please contact our concierge at (707) 204-6011 or [email protected] www.maisonry.com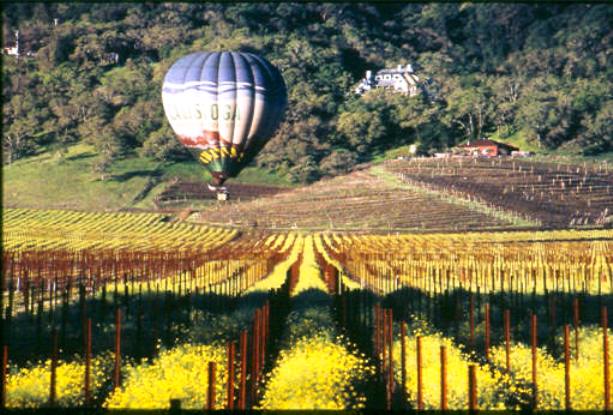 Beyond The Label Napa Valley
Custom wine tours – Beyond The Label offers an exclusive visit with some of Napa Valley's most prominent vintners. Doug White is a third-generation resident of Napa Valley, having grown up in St. Helena. Doug's desire with Beyond The Label is to provide intimate, personalized tours of the vintners wines and food of the Napa Valley.
www.btlnv.com
Napa Valley Bike Tours
Start your ride in Yountville! Napa Valley Bike Tours is a full-service bike tour company located in the heart of the Napa Valley. They've been guiding bike tours visiting Napa Valley wineries since 1987. Tours offered are single-day guided winery tours by bike, self-guided winery tours by bike and bike rentals, as well as custom Napa Valley vacation packages.
www.napavalleybiketours.com
Save