Wrigley Field a great American stadium
When it opened on April 23, 1914, Weeghman Park was a typical stadium of its time, with seating angled close to the field and no upper decks or skyboxes. Today, it's called Wrigley Field, and there's no other place quite like it in baseball.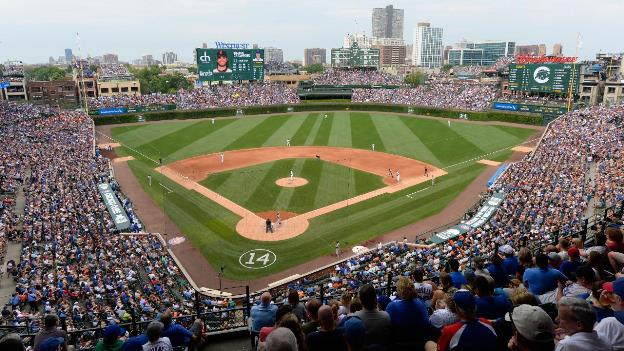 Charles Weeghman built it for his Chicago Whales, a club in the short-lived Federal League. When the upstart league disbanded after the 1915 season, he joined a group of investors to buy the National League Cubs and move them to his stadium—and thus began nearly a century of hardball history (and heartbreak) on Chicago's North Side. Chewing gum magnate William Wrigley gained full ownership of the team in 1919, and the ballpark was renamed Wrigley Field in 1926. It's the second-oldest park in the majors, after Boston's Fenway Park, and the only one remaining from the Federal League.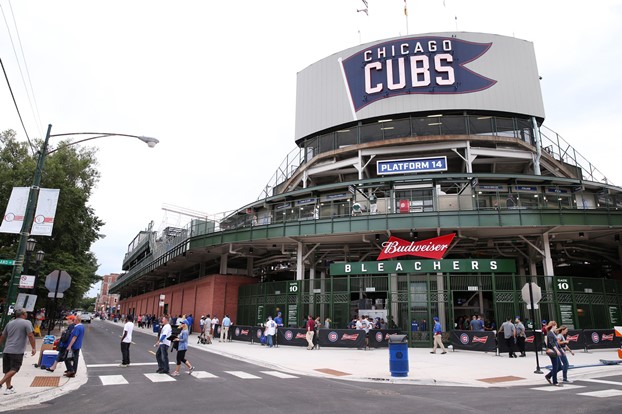 Upper deck and skybox seating have been added over the years to increase its seating capacity from the original 14,000 to over 41,000, but Wrigley retains the intimacy that earned it the name 'The Friendly Confines'. In 1937, the centre field wall was rebuilt in brick-fronted concrete with Boston ivy planted in front of it, creating one of the park's most distinctive features; a ball lost after being hit into the dense leaves is an automatic 'ground-rule double'. The 25-by-75-foot manual scoreboard, one of the last two of its kind (along with Fenway's), was installed the same year—no batted ball has hit it yet—and postgame, a 'W' or 'L' flag still flies above it to announce the result to train commuters.
Wrigley had the first permanent concession stand in baseball (1914), the first organ (1941) and the first cell phone system between dugout and bullpen (2006). It was where fans were first allowed to keep foul balls hit into the stands, and where they first threw visiting teams' home-run balls back on to the field (a tradition that is strictly enforced by a jeering crowd). It was the last Major League park to install floodlights for night games (its first game under lights, in 1988, was rained out after three and a half innings).
Categories: Abacos, Chicago, Illinois, USA
Tags: Baseball, Baseballl stadiums, Chicago, Chicago cubs, etraveltrips, Family vacations, Federal League, Fenway Park, Great Ballparks, Illinois, MLB, New York Mets, Soldier Field, travel, Wrigley, Wrigley Field