2011 California's Best Getaway Announced California's Best Getaway winners for 2011 have been selected by the readers of CaliforniaWeekend.com. Topping the field this year was the luxurious Ojai Valley Inn & Spa, located in the small community of Ojai, not far from Santa Barbara along the Southern  California coast.
If bed-and-breakfast inns are your preference, the second-place winner this year is Aurora Park Cottages, a wine country retreat in Calistoga. And rounding out the top three was Rankin Ranch, a family-run Southern California guest ranch that has been popular with visitors for generations.
Among the getaways receiving the most nominations this year were Curry Village at Yosemite National Park, the Pink Mansion, an intimate bed-and-breakfast in Calistoga, and El Capitan Canyon, a unique luxury tent-camping experience.
Also nominated were the famed Bacara Resort of Santa Barbara and Honor Mansion, a wine country getaway in Healdsburg.
The top rankings were tallied by combining reader response with other reputable rankings, giving special weight to the readers who took time to send in their nominations and comments about the various getaway experiences they have had throughout the state of California. This is the first of what will be an annual ranking by CaliforniaWeekend.com.
If you're wondering just why the top three ranked so highly, here are some of the comments along with information about each of the award-winners
The Ojai Valley Inn & Spa is a luxury resort, long known as a golfer's haven but now also renowned for many other major resort amenities. It's a little off the beaten path, about 13 miles off Highway 101 near Ventura. It's located in the spectacular Ojai  Valley – only about 10 miles long and three miles wide, but famous as an artists' enclave. The resort is on 800 sprawling acres including the inn, its village and the golf course.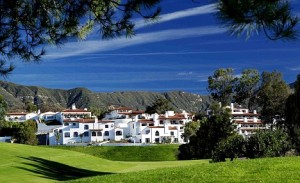 The Ojai Valley Inn & Spa is a true luxury resort and has earned a Triple A 5-star designation. That puts the resort in a pretty exclusive club because only a few resorts in California have achieved that status.
"As a golfer I really appreciate their great championship course," writes Michael Baker from Santa Barbara. " Their spa is incredible for my wife, and the kids love Camp Ojai! Plus there are great hiking and biking trails and the cute town of Ojai is so charming."
Sydney, Australia resident Mark Coyne remembers the quality service. "The staff were absolutely fantastic and could not do enough for us.  I tried the spa for some exercise, massage and jacuzzi and came out floating in the clouds.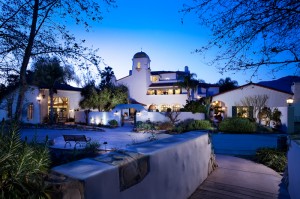 The Monday night footy at the pub was great with fantastic buffalo wings." He recalled how the resort's general manager's wife volunteered to take his wife shopping at the nearby premium outlets.
Jodie Brescia of Alamo Bay wrote that she and her husband are empty-nesters always looking for unique getaways. They have lived in California 30 years and had never heard about Ojai. "We just couldn't believe why we hadn't heard about this place before. The white washed buildings surrounded by a brilliant green golf course took our breath away. This is exactly the atmosphere we were looking for," she wrote.
"From the valet staff to the reception, the check-in service was impeccable. Just when we thought it couldn't get better, we open our room door.  WOW…..it was the most beautifully designed, spacious hotel room we'd ever stayed in (and we've stayed in many 5 star resorts)."
Kareen O'Bryan recently moved to Ojai and stayed at the inn for a few weeks while waiting for her new house to be ready. "The staff was fabulous, our room was gorgeous and the whole property was spectacular.  There was lots to do for the kids, my husband loved the golf course and I could not go past the spa.  It is only a short drive to Santa Barbara and the biggest outlet shops I have ever seen in Camarillo."
Los Angeles resident Lauren Linde was also impressed with the Ojai Valley Inn:  "Aside from its beauty and the park-like grounds, the entire experience is luxury all the way.  The service is impeccable, and you are always welcomed in your room by some fruit, wine, bottled water, etc.  You do not feel nickel and dimed.
"The advantage of this remarkable place is that you have the feel of a private B&B with all the amenities of a great hotel.  I love going there, and have been many times.  Each has been special in its own way.  Finally, it is enclosed and safe.  I can allow my 12-year-old to walk around the grounds without fear.  And so close yet so far from L.A.–Heaven!"
For more information on the Ojai Valley Inn & Resort, phone 1-888-697-87-80
Aurora Park Cottages is in the beautiful wine country city of Calistoga and Aurora Park offers individual cottages, each with a spacious, private deck. Aurora Park pampers their guests with luxurious down-filled beds, cozy overstuffed chairs, a mini-fridge, coffee-maker and a morning basket of scones, croissants and fresh fruit.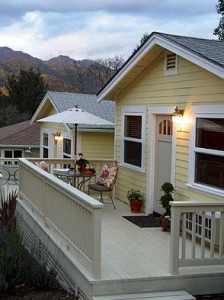 "We've been there several times and have always had wonderful service from the innkeepers, Joe and Celeste," wrote Carole Peterson from Pleasanton. "The cottages are very comfortable and I like that they are separate cottages instead of a room in someone's house."
Ohio resident Luanne Johnson writes that the location is ideal: "It's close to downtown Calistoga but far enough away to be peaceful and quiet.  Each cottage has a private deck with a spectacular view of the Palisades and the furnishings in the charming cottages are both comfy and deluxe. But what makes it really special are the innkeepers, Joe Hensley and Celeste Ford. They are definitely the host and hostess with the mostest."
For more information on Aurora Park Cottages, call 1-877-942-7700.
Rankin Ranch, located 40 miles from Bakersfield, California and near the famous Kern River Valley recreation area, is what used to be called a dude ranch. Nowadays it's called a guest ranch and guests are treated pretty darn well at Rankin Ranch, where 75 percent of the clientele are people who have stayed at the ranch before and just keep coming back for more.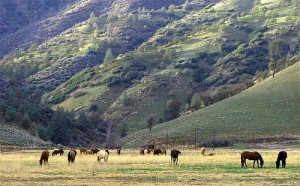 It's a family-run operation, with Bill Rankin and his kids rolling out the red carpet – or the hay, as it were – to welcome guests of all stripes and persuasions. Some are "horse people" and others just revel in the atmosphere that includes some of the best scenery in California. The meadows and pine forests are picture-perfect and there are plenty of recreational opportunities in the immediate area.
For guests, you can be as busy or laid-back as you want it to be. It's easy to stay busy with daily horseback rides, hiking, swimming and lots of social activities that go along with the home-cooked meals. You won't be sitting in your room watching TV because there is no TV.
Los Angeles resident Shawn Harrington wrote to tell us that the Rankin Ranch offers the "friendliest staff on earth" and that the Rankins immediately make you feel like family. "It's the best food imaginable and offers the rest and relaxation we all need now and then. Once you arrive, you don't want to leave."
Teresa Phillips wrote that Rankin Ranch is her family's favorite getaway and, again, pointed out how the Rankins treat their guests like family. "It's the best hospitality ever!!! And the best food too!!!"
For more information on Rankin Ranch, phone (661) 867-2511.