If you are looking for the 5 best hotels in Miami Florida, you are recommended to remember the quote from George Bernard Shaw that reads "The great advantage of a hotel is that it is a refuge from home life". Yes, the hotel that you choose for staying should give you a feeling that you are staying in a home away from your home.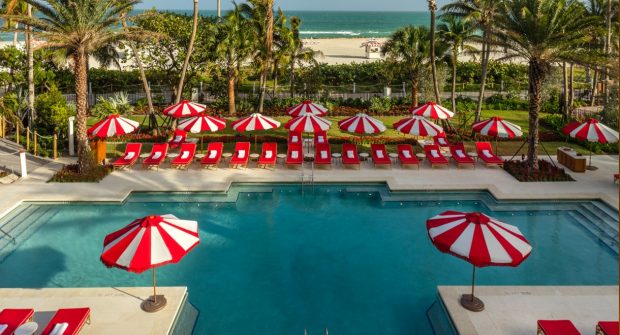 Why choose among the 5 best hotels in Miami Florida?
Michael Mann's saying reads "Miami is one of these great places that are really sensual, physically beautiful place". In such a great world destination, where tourists throng from around the world, I should say that the luxury hotels in Miami will make your trip the most eternal. With these things said, it is time for us to explore the top star hotels in this part of Florida:
Forbes Travel Guide is the best place to start:
As you look for Miami Five Star Hotels with excellent reviews, you can rely on the Forbes Travel Guide announcement. Yes, Forbes Travel Guide announces the Global Star Ratings on a yearly basis. In 2017, some hotels in Miami have won the Star Award from Forbes Travel Guide. So, you can choose the best 5 among them.

Forbes Criteria for evaluation:
In general, Forbes Travel Guide announces the award winning hotels after evaluating the hotels under more than 500 criteria to identify a star rating that takes the guess work out of travel planning and creates a global benchmark, for luxury travel.
Four Seasons Hotel, Miami:

The stellar service and the prime location of this 5-star hotel make her stand out of the rest. It would not be Miami without a little glam and glitz and this hotel on Brickell Key, just outside of downtown, really offers incomparable service.
The suites and rooms in this great place to stay in Miami offer a breath-taking panoramic view of the excellent skyline of Miami and the waters. The natural light at the public areas and lobby will peak your mood with plenty of space to walk around.
Further, the hotel offers spectacular service through the staff members. Besides being helpful and offering a personal touch to their services, they also maintain utmost professionalism. So, if you are looking for a trendy five-star getaway, you can choose from the unique packages on offer at the Mandarin Oriental, Miami.
Four Seasons Hotel, Miami:

If you are interested in dining destinations in Miami, the first term most locals utter is Downtown. But, I should say that the Four Seasons Hotel, which is presently a four-star hotel, has contributed a lot to spark the revitalized energy of this area when she came into operations in the year 2003.
Now, she attracts tourists, business travelers, and also great recognitions for her modern and fresh look. This hotel stands as a tropical oasis in the middle of a bustling urban center. This is what I should say about this hotel.
All accommodations at the Four Seasons Hotel were recently refurbished as a part of a larger multi-million-dollar renovation project. The rooms for guests are inspired by art decorations and the original works from Miami-based artists Vickie Pierre, Annie Wharton and Bruce Tolman provide a warm welcome to the guests, really awesome!
The steakhouse located on the 7th floor of the hotel called Edge serves approachable and healthy dishes to guests.
The Ritz-Carlton Bal Harbour, Miami:

Yet another four-star hotel in the block, The Ritz-Carlton is actually a new member. Yes, even though she joined the hotel domain of Miami only in 2009 before even finishing a decade of existence, she has gained ranking from Forbes Travel Guide. She is standing tall at one of the neighborhoods of South Florida called Bal Harbour Village.
She is a great attraction herself apart from the other attractions in Miami just because of the stunning view of the Atlantic that she offers. Yes, the hotel is residing close to the pristine sands of Miami Beach.
This 18-story hotel offers 124 rooms that provide a direct ocean view. More importantly, there are just a couple of accommodations per floor. So, if you look for some privacy in your accommodation, this is the best place to choose. In short, a great stay awaits you at the Ritz-Carlton Bal Harbour, Miami.
Trump National Doral, Miami:

If you love playing golf, you truly deserve a stay in this four-star hotel at Miami. With 4 golf courses, this hotel is a city in itself. Just located at a distance of about 7 miles from Miami International Airport, the hotel has more than 600 deluxe rooms for guests.
The hotel also hosts a slew of dining options, an extravagant spa, onsite boutiques and shops and even a tropical pool oasis. Means, you can get a great vacation inside the hotel itself without exploring any tourist destinations in Miami during your stay.
From the opening of the resort in 1962, yes 1962 what you have read is right; Doral is considered the hot spot for golf celebrities. She got her present name in 2012, during which a $250 million worth renovation also took place. Now, this luxury resort is spread over an area of 800-acres of land continuing to cater to tourists, business travelers, and locals alike.
Turnberry Isle, Miami:
Even though this hotel has not been awarded, but this hotel has gained the status of being the Forbes Travel Guide recommended hotel. It is a family-friendly paradise.
Your kids will be enthralled when you choose this hotel for your family stay. Yes, there are plenty of options to amuse them. This hotel hosts a truly unique swimming pool with a 1600 foot lazy river and a 180-foot water slide. Can you believe? But, this is the truth. But, you will have a hard time getting back your kid from this place for a breakfast or lunch once he starts playing in this great pool.
Not just golf courses, but the four clay tennis courts will help you keep engaged during your stay at the hotel. There is also a fitness center to keep yourself fit during your stay.
To sum up, remember that 'luxury must be comfortable, otherwise it not luxury'. With your intention to choose a luxury hotel in Miami to spend your vacation, shortlist one of these top 5 Best Hotels in Miami Florida and make your stay in Miami itself an unforgettable experience.