The Milestone Hotel London, UK
The Milestone Hotel and Apartments takes its name from the old cast iron milestone that stands in its original position beside the hotel. The occupants of this site have had many associations, ranging from a mistress of James II, a man who believed himself to be Shakespeare's grandson, and an aristocratic governess to the daughters of George II.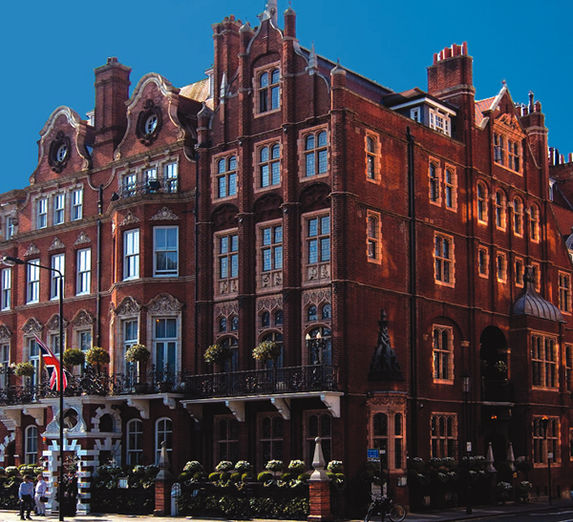 The original dwelling on this site was Kensington House, built around 1689 and first occupied by Foot Onslow, a Commissioner of Excise under William III.  His son Arthur Onslow (1691-1768) was a speaker of the House of Commons for thirty years; he sublet the property to George Davenport, an office in the Royal Bodyguard and the man who claimed Shakespeare as his grandsire.
From 1830 Kensington House was occupied as a private lunatic asylum before being replaced by a second mansion called Kensington House, constructed by the notorious company promoter, "Baron" Albert Grant, the founder of Leicester Square. Grant's shareholders invested the then colossal sum of £24 million in his projects, and never saw the majority of their investments again. Finally, in the 1880's Grant's white elephant was replaced by the two houses we see today.
The first house, No. 1 Kensington Court, was erected between 1883-1884 to designs by JJ Stevenson and constructed by Holland and Hannen.  Among its more interesting occupants was the first Baron Redesdale (1837-1916), the diplomat, author, and grandfather of the famous Mitford sisters.  His former home passed into hotel use around 1922, to be joined by No. 2 Kensington Court in 1925, constructed at the same time as No 1 to designs by TG Jackson.
In August 1986 the Milestone was badly damaged in a fire.  The resulting blaze took three hours to bring under control; the reason for the fire remains a mystery. The hotel deteriorated even further, and was sold to another hotel group, until in October 1998 The Milestone Hotel became part of the Red Carnation Hotel collection.
Categories: Abacos, Europe, London, United Kingdom
Tags: Albert Grant, Arthur Onslow, Baron Redesdale, City Vacations, England Hotels, etraveltrips, Family vacations, George Davenport, Hotel, Kensington Garden, Kensington Palace, London, london hotels, Luxury Hotels, Milestone, Milestone Hotel, Romantic getaways, Shopping, sightseeing, travel, UK Hotels