Did you think a dude ranch could only be seen in old westerns? Well, hold on to your hats partners because it is possible for you to experience and enjoy an authentic Old Western ranch. Surprisingly it is possible for your family to see and take part in one of the real Old West working ranches that are still available.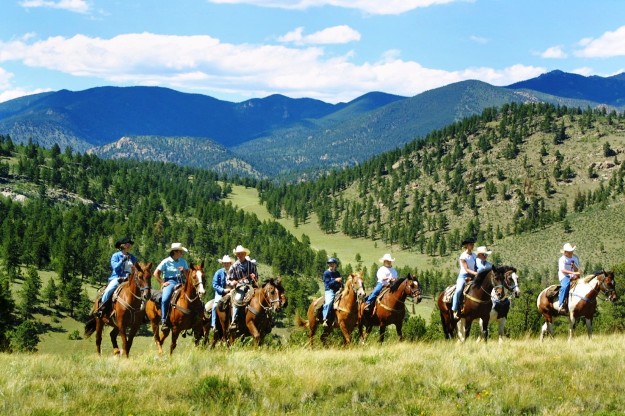 Just about everyone have a dreams or visions of living the life of an old cow hand, in the open range on horseback or sitting around a campfire in the evening. After some investigating, we learned it is possible to locate a typical old fashioned ranch doing things the same way they have been done for hundreds of years in the real old west. You can see how they grow hay, feed the cattle and horses, brand the calves and round up the herds to drive them to grazing areas.
You can now experience dude ranch activities that will delight and entertain your entire family for a few days and nights or a weekend to experience as much or as little that you want of the incredible activities that are available. The dude ranch vacation activities include so many options that it is recommended you stay at least three nights so you can experience as much as possible of all the things they offer.
The dude ranch will offer three ranch meals daily, riding instructions, horseback riding, and opportunities to participate in brushing, feeding and saddling. You can also watch or learn to participate in arena activities including barrel racing. Other activities include archery, hiking, a roping clinic, hay wagon rides, swimming in the old pond, western dancing and of course campfires that include time to relax and just loaf around.
Just picture the view of the rolling meadows dotted with ponds and rivers that you can explore on horseback and even try your luck at some fishing. The facilities provide you with comfort and privacy while they surround you in the western atmosphere. The country-style dining room will emit the tangy aroma of home-style meals and you can even stop by the ice cream shop for a treat or visit the gift shop for some souvenirs.
Or you can choose to check out the dance and recreation hall that offers live music that is perfect for Western dancing. And, they also offer game rooms with billiards and Ping-Pong, a weight and fitness room or a special reading room if you prefer a little quiet to dig into a good book. You are sure to find something for everyone for an experience that you will not forget.