Florence Oregon a beautiful coastal town
The Oregon Coast needs no introduction for people familiar with the scenic wonders of the Pacific Northwest. With its jagged shoreline, beaches, forests and natural beauty, the coast has long been a favorite for Northwest getaway travelers. The central Oregon Coast is no different – except that you start to encounter some things you don't see a lot of along the northern part of the coast. Sand dunes, for example, stretch for 40 miles south of Florence, Oregon, providing a recreation paradise for the ATV crowd as well as nature-lovers. Throw in a quaint historic downtown and 17 lakes and you can see why Florence, Oregon is a popular destination.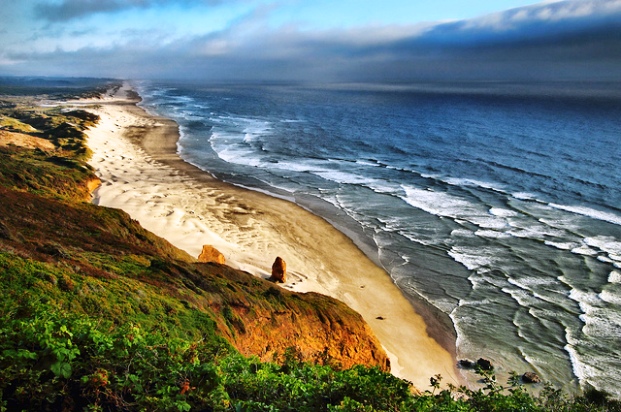 We stayed at the Driftwood Shores on our most recent trip to the area, enjoying a room that almost seemed like a room on an ocean liner because of the expansive ocean view. But in between the hotel and the ocean are seemingly endless beaches where it's easy to wander off and just become totally lost in the moment as you listen to the crashing surf and explore the beach for sea creatures and oddities that may have been brought in by the tides.
The Driftwood Shores offers condo-style rooms with kitchen facilities – although the resort has an excellent restaurant with gorgeous beach views if you don't want to cook. The complex is designed so that most if not all the rooms have excellent coastal views.
Our trip was in early spring when temperatures were still winter-like and the stubborn coastal clouds would only occasionally give way to sunshine. As often happens along the coast, the clouds opened up and gave us some fairly significant rainfall off and on over our two-day stay. But no matter – you don't visit the Oregon Coast in winter for the sunshine – you come here to get in touch with Nature and to feel a little more alive as you experience the storms and winter weather that Nature may have in store.
Categories: Abacos, Florence, Oregon, USA
Tags: Adventure Travel, Beach Vacation, Family vacations, Florence, Heceta Head Light, Oregon, Oregon Coast, Pacific Northwest, Sea Lion Caves, Siuslaw River, United States