Exploring Monte Carlo on any budget
I'm inside the Saint Nicholas Cathedral of Monte Carlo, in Monaco. It is a cavernous church with tall, white stone walls, arches, and pillars. Gold-plated murals line the domed ceiling. Stained glass windows portray biblical tales. Rows of maple brown pews are adorned with red velvet cushions. And the priest's words are echoing off the walls, making it very hard for me to understand his French.

As I sit among friends in a row of pews and crane my neck to see the stunning bride and groom awaiting the moment they'll embrace, I can't help but to feel like I'm living in a fantasy. Most of the time when I am in a place like this, I'm simply passing through as a tourist. But today, I'm taking part in a modern personal celebration in a venue built in the 1800s.
It is here where the royal ceremonies of Monaco take place. Princess Grace and numerous members of the royal lineage are also interred in this very cathedral. But also, local citizens are married here year-round. And I'm here to see one of those weddings.
After the ceremony, the bride and groom make their dramatic exit. Pink and green tissue paper hearts are thrown into the air. More than 100 onlookers, both invitees and passersby, applaud as the blissful couple kisses one more time for all to see.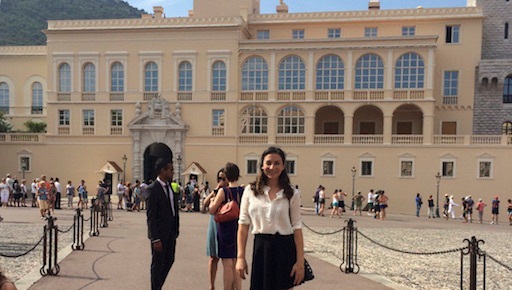 The author standing in front of the prince's palace in Monaco
With the Mediterranean Sea glistening behind us, the scene is nothing short of magical.
Monaco is the second-smallest country in the world (Vatican City is No. 1), wedged inside the French Riviera with France and the Mediterranean Sea as its only borders. The district of Monte Carlo has been popular with the rich and famous for centuries as a place to spend big bucks on gambling and luxuries. But the city is not just for the upper class; anyone can come here to take in the ambiance and play royalty for the day.
Whether or not you spend a penny, walking around the small town of Monte Carlo just makes you feel elegant. The vista of leafy hills and massive homes looking out over a bay flush with yachts of all sizes is mesmerizing.
The palace at the top of the hill, just steps from the cathedral, is the prince of Monaco's actual residence and is open for tours. The winding passageways that make up much of Monte Carlo's old town are home to restaurants, specialty shops, and public park spaces with stunning views.
Viewfinder Tip: To save money, stay in a hotel in France or Italy and drive or taxi (or yacht!) into Monte Carlo for the day.
There are other ways to experience this city on the cheap. It is easy to peak into the lives of high rollers in action at the Grand Casino. The Opera House, built in the 1870s, is another jaw-dropping marvel with its ornate moldings, murals, and an enormous sparkling chandelier. Finally, Monte Carlo by night is nothing short of majestic.
Once you've had your fill of Monaco, it's simple to hop on over to France and the French Riviera. Nice can be reached by a half-hour-drive. What's more, the Italian border is only 40 minutes away.
Finally, if you want to have an experience like mine at the cathedral, stop in at the Saint Nicholas Cathedral on Sundays at 10:30 a.m. for mass. No, you might not get to witness a wedding. But you will get a slice of real life in Monaco. And it won't cost you a dime.