I arrived to the shores of Stockholm by sea. As our ship came up to the river city, the golden spires thrust up through the belly of the fog. I could hear Stockholm long before I saw her. Bells tumbled over one another and the lap of the sea along the pier called to me.

To say Stockholm is a city of art is to practice understatement. The staggering number of popular artists that hail from Sweden should be your first clue. The pantheon of inspirational characters is cast in bronze reliefs throughout the metropolitan center. From legendary playwright August Strindberg, to Ace of Base, the culture of Stockholm is one of expression and pragmatism. And art.
For me, it is amazing to see the city's obsession of filling practical spaces with art. Nowhere is this better encapsulated than in the Stockholm Photography Museum, Fotografiska.
This Art Nouveau building was a customs office in the early 1900s, but since has been transformed into the city's premier gallery for photography. Each square foot has been designed to compliment the rotating exhibits. However, this wasn't enough for Stockholm, so today the building doubles as a public forum with rooms rented out for events. There is even a rooftop cafe/bar with a sweeping view of the water and live music most nights. It all seems so Swedish: Building a place that serves not only the practical needs but also feeds the soul.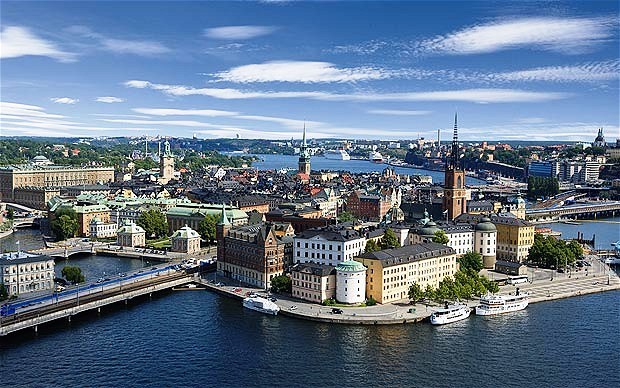 Viewfinder Tip: For about US$60 a day the Stockholm Card grants you access to more than 75 museums and attractions in the city.
Across the frosty bay, we jumped a ferry, and cruised to Djurgården. Throughout the city, establishments placed large candles outside their doors to push back the frosty chill with soft buffers of flickering hospitality. Djurgården was draped with these candles, sparkling like a Christmas tree. This island used to be the royal hunting grounds. Today it is a collection of folk art, theme park rides, and the cornerstone: the ABBA Museum.
Categories: Abacos, Europe, Stockholm, Sweden
Tags: Andrew Paul, Associated Press, August Strindberg, City Vacations, Conor McPherson, Edward Albee, etraveltrips, Government of Sweden, Luxury Hotels, Stockholm, Stockholm archipelago, Sweden, The Dance of Death (Drama Classics), travel, travel deals