Arches National Park with kids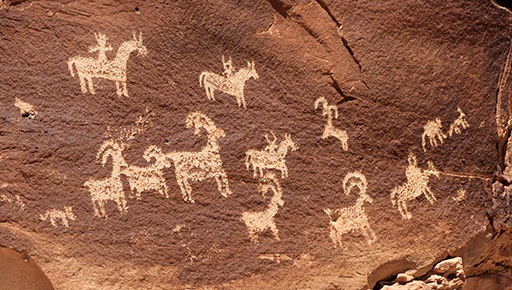 Spotting rock formations and making memories in desert Utah. "Can you see it? Over there on the right. That's its trunk and ears," I say, pointing at a jumble of massive sandstone rocks.
I'm standing on a flat, sandy trail with my two children, then ages 8 and 10, in Utah's Arches National Park, known for more than 2,000 arches carved by wind and water erosion over millions of years, as well as some funky-shaped rock formations with names like Parade of Elephants, Sheep Rock, The Organ, and Three Gossips.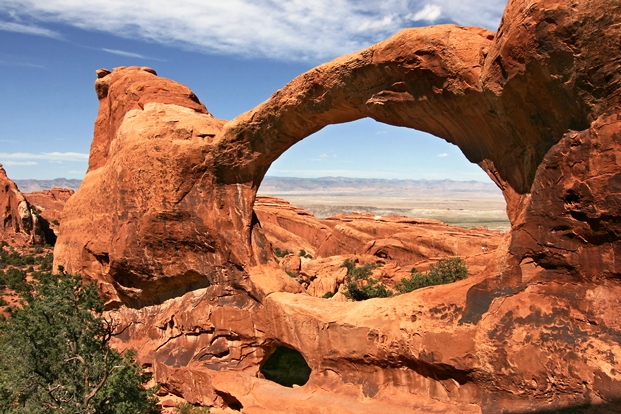 "I see it! And another one! There's another elephant right behind the front one, and those two look like they're kissing," says big sister, claiming spotting superiority over little brother.
"I just see an elephant BUTT," says little brother, convulsing in laughter. (Earlier I'd pointed out Elephant Butte rising from the rocky terrain, and my son insisted on dubbing it Elephant Butt. Funny child.)
It's not unusual for our vacation adventures to involve into some sort of potty humor, and our trip to Arches National Park, a 3.5-hour drive from Salt Lake City and 10 minutes from the outdoor-adventure mecca of Moab, is no different. But I don't scold. I really don't care. I'm just thrilled to be introducing Arches to my kids under bright blue skies, with picnicking and hiking plans on the agenda.
Viewfinder Tip: Late spring and early fall are ideal times to visit the Moab area; midsummer daytime temperatures often soar to 100 degrees.
Another of our plans: Arch-identifying. We make an "I Spy" game of it—who can spot the arch first?!—and play as my husband drives the sometimes-windy roads through the easily navigable park. Dozens of arches are viewable from the paved roads, and it's easy to get up close and personal with some of the named formations—such as Balanced Rock and Double Arch—via short, flat trails that are totally manageable for young school-age children.
Categories: Abacos, General, Moab, Salt Lake City, Utah
Tags: Adventure Travel, Arches National Park, Colorado River, etraveltrips, Family vacations, Friday (1995 film), Hiking, Historical site, Moab, National Parks, Orem, Parade of Elephants, Salt Lake City, Sheep Rock, The Organ, Three Gossips, travel, Utah, Utah County