Adelaide Australia is a city filled with people over one million; it is Australian fifth largest and one of the charming cities which will take you by surprise. Visit Adelaide to fine tune your tastes, likes and explore many more fantasies with your families and friends.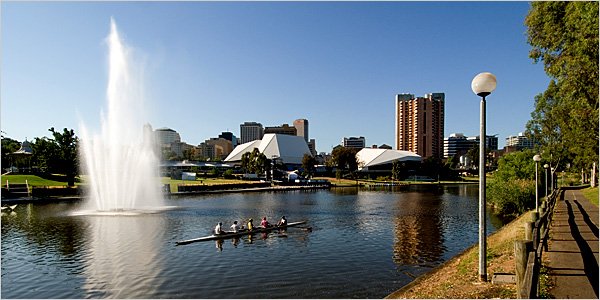 Shopping for shopaholics, relax at the sandy beaches, vibrant nightlife for the youth and exhibitions and art galleries for art lovers and the list goes on. The wine regions surrounding Adelaide produce some of the best wines and great for a romantic dinner for two. Cafe culture with coffees and bakeries is one of Adelaide's most favorite. Stroll through the city, peek in alleys and cycle around to catch a glimpse of the city bustle. Beautiful sights to keep you gazing are in abundance hence quick and short bus rides will allow you to steal glorious views of the never ending city beauty.
Take your kids to beach to play with sea and sand while you relax with a colorful cocktail. The sandy beaches are perfect for a walk during twilight. Architectural icons are spectacular with a touch of style and past. Boutique shopping is all around Adelaide for those who want to own a unique wardrobe.
Catch a historic tram to visit the Glenelg suburb to dine in at many restaurants and cafes. Don't forget to spend the night at the Grand Hotel for an amazing experience of hospitality and delicious cuisines. Take a trip to the Montefiores Hill for panoramic views of the city. For spectacular sights, pay visit during twilight or night.
Love racing and sports – be there in Adelaide to be a part of the Clipsal 500 Super car. The show features car racing with street parties and concert line ups. It's fantastic for those who love sports, racing with a touch of live music.
Art lovers and music lovers mustn't fail to be there to witness the World of Music and Dance festival. Held annually during March, book your tickets in advance to enjoy the best of music and dancing. Bring your loved ones to have an everlasting experience in Adelaide in this colorful music and dance festival.
Museums and galleries are abundant to kill time or for those who are curious about histories and other interesting facts. Art Gallery of South Australia and South Australian Museum are two of the most popular museums of all time among international travelers. Other interesting museums exhibiting quite the different and much loved by kids are National Motor Museum, Port Adelaide Train Museum, Port Adelaide Lighthouse and South Australian Maritime Museum.
Adelaide has a sanctuaries and wildlife parks to those who love wildlife and animal lovers. Cleland Conservation Park features the close ups of Australian native fauna. Kangaroos, wallabies, emus, waterfowls and koalas are some of the most favorite of the visitors. Get this rare opportunity of taking photographs of koalas and you. The park also features an amazing Aboriginal Tour for those who are interested in the history and culture of Adelaide.