Visiting Florianopolis Brazil
Home to stunning long beaches, Florianopolis Brazil is the capital city of the Brazilian State, Santa Catarina. The rich and interesting culture is must to explore from food to friendly people, whilst the rest visit Florianopolis to enjoy the scenic beaches and lovely tourist hot spots.
Over forty places around the city make it here during summer to enjoy the best of the tranquil sandy beaches. Jurere, Daniela, Canasvieras, Ingleses and Brava are popular beaches during the summer. Packed and crowded, tourists love sunbathing and swimming. The restaurants and beach resorts along the beachfront awaits your arrival to indulge you in a variety of scrumptious seafood fantasies and soothing rooms.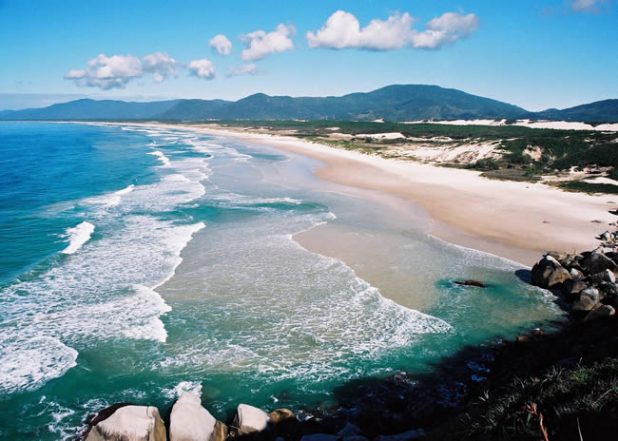 Filled with enormous shopping malls, vibrant night life, glitzy bars and high end restaurants, one does not want to miss the privilege of a luxurious holiday in Florianopolis.
There are few places in the city which is worth visiting. Visit the Catedral Metropoiltana which is regarded as one of the most beautiful buildings in the city. Stroll through the Municipal Market to view some glorious sights and not forgetting the sight of the famous postcard symbol – the Hercilio Luz Bridge.
These are Interesting sights and awe-inspiring for those who loves art and architecture. Make it here to Florianopolis for an amazing sightseeing tour. Take a walk around the large lake in the middle of the island called Lagoa da Conceicao.
There are range of outdoor activities thrilling and exciting enough to attract the adventure lovers and excitement seekers. Paragliding, scuba diving, surfing, windsurfing, sand boarding and trekking are popular activities in the city. Come down to Florianopolis to enjoy a range of mind-blowing fun or make it your first time here.



Shopping and movies goes together in Florianopolis. Enjoy a fantastic shopping spree ending with a popcorn filled good movie. Floripa Shopping is filled with over 100 outlets with 8 movie theatres to give you company. One of the largest shopping mall is the Iguatemi Florianopolis with over 200 shops and one of the largest movie screens in Brazil. Catch the latest blockbuster movie and shop for your favourite dress and jewellery right here in Florianopolis. Shopping Beiramar and Shopping Itaguacu are also major shopping spots among international travellers too.
Categories: Abacos, Brazil, Florianopolis, South America
Tags: Adventure Travel, Beach Vacation, Brazil, Family vacations, Florianopolis, Romantic getaways, Shopping, sightseeing