Visiting Cinque Terre in Italy
The Cinque Terre is a picturesque series of five villages located along the Italian Riviera in the region of Liguria a little west of La Spezia. In fact, Cinque Terre means five lands or "five earths" in Italian. The five villages (alphabetical) include Corniglia, Manarola, Monterosso al Mare, Riomaggiore and Vernazza. This is a great area for hiking and also for swimming, so it attracts many outdoor enthusiasts. It also attracts loads of tourists in the summer because of its awesome and rugged beauty.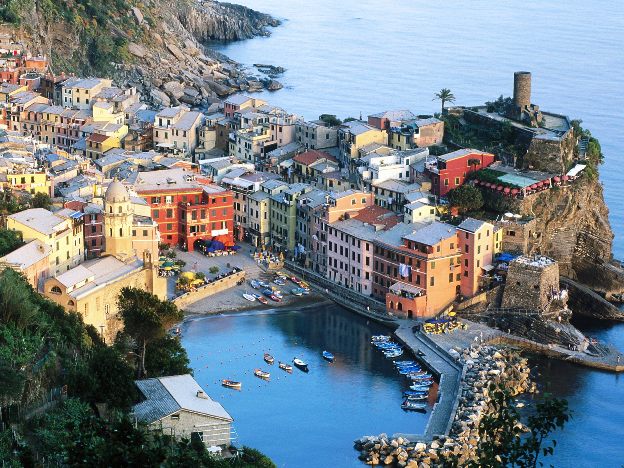 Corniglia
This is the most remote of all the villages, and it is perched high on top of a cliff thus it is the only village that is not located near the water. It is a town of narrow streets and stairways that cut through the hills filled with vineyards. There is also a 14-century church that is located in a pastel-colored piazza (square) called San Pietro. The view from the top is spectacular if you are able to make the climb. For those less physically fit, there is a shuttle bus that can take you there.
Manarola
The black rock that this village is built upon gives Manarola a unique characteristic. It is located in the center of vineyards and olive trees. The pastel-colored houses sweep down the steep hill and overlook a tranquil swimming cove and harbor.
Monterosso al Mare
The largest of all the villages is Monterosso al Mare and it has the only real sandy beach. The water is crystal-clear and turquoise in color and the cliffs are very rugged and steep. It is also full of small and quaint hotels and restaurants. There is an older part of the village and a newer part that is separated by a medieval tower called Aurora on the hills of the Cappuccini. This town also has more festivals than any of the other Ligurian villages.
Categories: Abacos, Europe, Italy
Tags: Adventure Travel, Cinque Terre, Corniglia, Historical site, Italian Riviera, Italy, Manarola, Monterosso, Museums, sightseeing